The news stories that captured East Hampton Star readers' attention in 2019 include headlines involving murder, drunken-driving crashes, major drug busts, fires, and a shooting.  
Police-related news always draws readers, but what stood out among the 20 most-read stories of 2019 was the nature of that news, which included three murders in Montauk in less than a month.
East Hampton Town saw its first murder in a decade and Montauk its first in 22 years on June 6, when 38-year-old Robert Casado was found beaten and stabbed with a pickaxe. Joseph A. Grippo, who had been friends with Mr. Casado at one point, was arrested three weeks later. Prosecutors said he killed Mr. Casado over a woman they both were interested in. The case is still pending.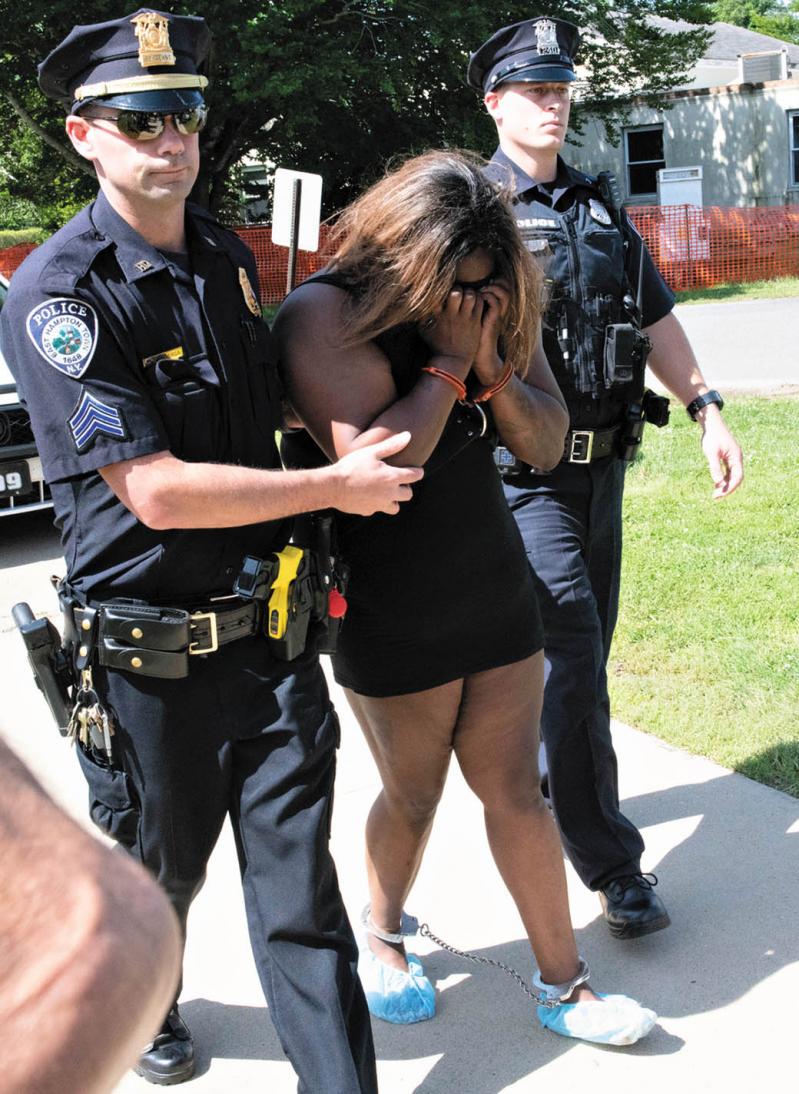 Then, just three weeks later, on June 27, police found a Medford woman, who had called her mother and said she killed her twin 2-year-old daughters and threatened suicide, in Montauk County Park. Jasmine and Jaida Campbell, were found strapped in their car seats, not breathing. Tenia Campbell, a 24-year-old who had been diagnosed as bipolar, was charged with their murder. The case has not yet gone to trial.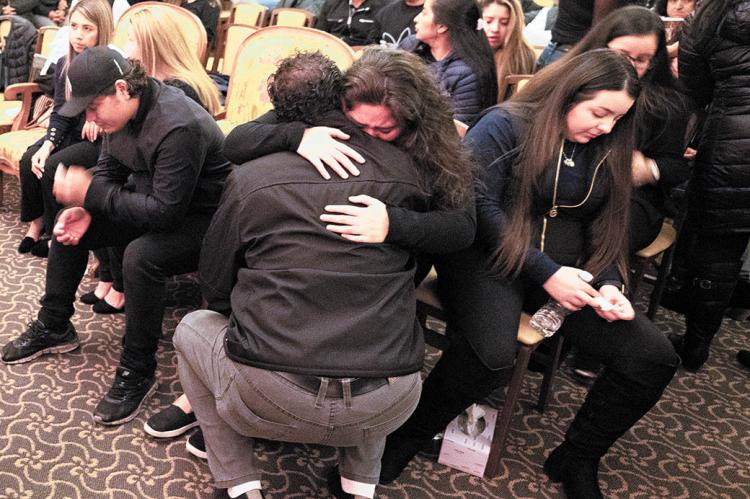 The most-read story this year was one on the tragic death of a 28-year-old man struck by a pickup truck while bicycling home from work at the 7-Eleven in Montauk on Oct. 30. The bicyclist, John James Usma-Quintero, had only been the states since April on a work visa and was sending money back to Colombia to his children and mother. Police said Lisa L. Rooney, the 30-year-old Montauk resident and business owner who hit him, was driving while intoxicated.
Community outrage followed as Ms. Rooney, charged with misdemeanor D.W.I., was released by East Hampton Town Justice Lisa R. Rana on $1,000 bail. Justice Rana cited bail reform laws going into effect in 2020 that would require Ms. Rooney be released without bail. Many believed it had an effect on the election held just a few days later. Justice Rana won the election over Andrew Strong by just 24 votes.
Ms. Rooney has yet to be indicted on more serious charges, though a grand jury has been convened in the matter.
Other drunken driving crashes also captivated readers. Robert K. Futterman, a 60-year-old worth millions after he sold a major commercial real estate agency in Manhattan, was involved in an accident in Bridgehampton in July that sent a mother and her 3-year-old son to the hospital. He was free on bail following an arrest in Sag Harbor Village for allegedly operating a boat under the influence of alcohol or drugs. He also had a prior felony D.W.I. conviction, and had been caught in recent months for ignoring court orders that he drive with an Interlock device, which requires drivers to blow into it to detect if there is alcohol on their breath.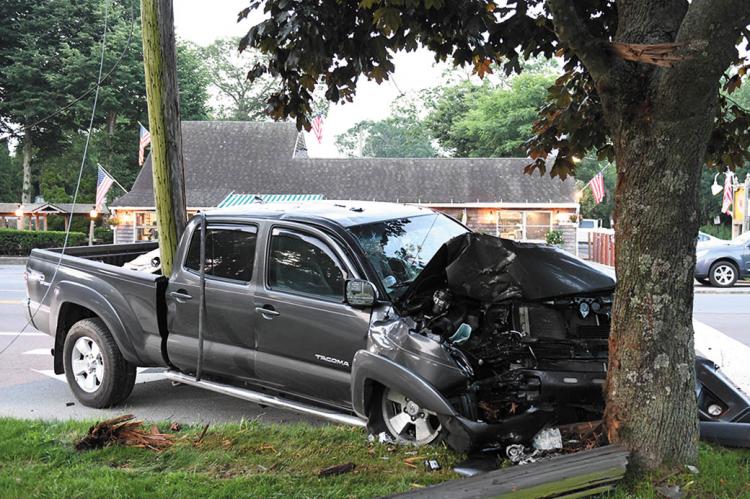 Many will remember the photograph of a severed utility pole standing straight up in the bed of a pickup truck that had crashed into it by Brent's Deli in Amagansett in early July. PSEG Long Island had to work for several hours to remove it from the truck and install a new one, all while traffic went by during the busy Fourth of July holiday week. The driver was charged with driving while intoxicated.
No one was exactly sure how a car managed to land between two buildings in Springs during a drunken-driving crash in September, causing serious structural damage to one building. It would be months before the Springs Auto Repair Shop could reopen. The driver, Kevin Buestan, was seriously injured.
Three people aboard an expensive boat were injured when it slammed into a North Haven inlet bulkhead late one night in July. Gary Lucas was arrested, accused of being intoxicated at the helm when it struck the bulkhead and overturned, throwing him and four passengers into the water by Tyndal Point.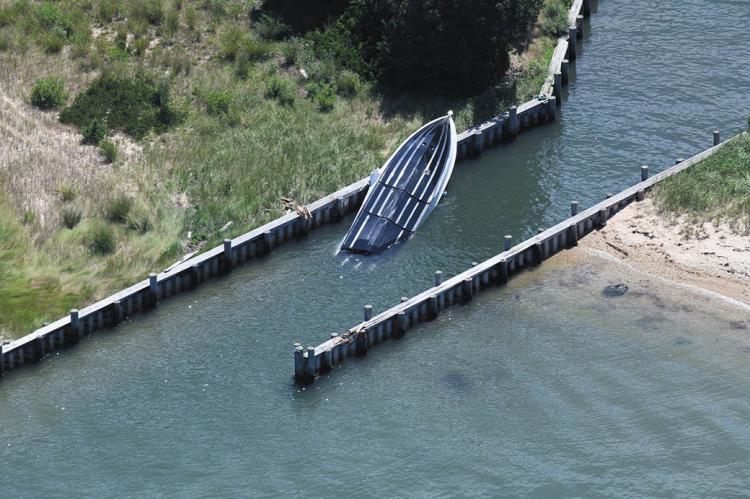 When Suffolk County District Attorney Timothy D. Sini announced the arrest of two dozen people as part of a massive drug ring that distributed more than $1 million worth of heroin cut with fentanyl near the Shinnecock Indian Reservation in October, he said the drug ring was responsible for five fatal overdoses of the deadly opioid cocktail. Raids involved 200 officers, from federal to local agencies, and led to 120 grams of heroin and fentanyl, 90 grams of cocaine, and more than 10 pounds marijuana, as well as numerous shotguns and rifles and an assault weapon, being taken off the street.
The actions of a police officer, and not a defendant, were the subject of one police story that made headlines this year when news surfaced in August that Town Police Officer Anthony Bosco, the president of the Police Benevolent Association, had filed a lawsuit against an East Hampton couple. He said he had been injured on the job after he responded to their call for help when their teenage son, who suffers from mental disorders, was angry.
Ann Grabowski and Kathleen M. Weiss wrote a letter to the police chief, who had been unaware of the suit. "He has to sue two community minded women, trying to make ends meet, raising four children adopted from foster care, to be compensated for his alleged injury?" they asked in the letter emailed to the chief on Aug. 4. "Is this what we can expect when we call for assistance? Is this what my friends and neighbors can expect?"
One of two stories in our top-20 most-read online that did not involve the police was about legal action taken by the Peconic Land Trust when scores of trees were cut down in August on nearly six acres of Amagansett land protected by a conservation easement. The other story? A listing of all the fireworks happening on the East End, ahead of the Fourth of July.
The Star's most-read stories: 
1. Bicyclist Killed in Crash, Driver Charged With D.W.I.
2. Cops: Man Killed in Montauk's Kirk Park
3. D.W.I. Arrest in Bridgehampton Crash
4. Cops: Twin Toddlers Dead, Suicidal Mother in Custody
5. Suffolk D.A.: 24 People Arrested in Alleged Drug Ring on Shinnecock Reservation
6. Montauk Murder Was Over a Woman, D.A. Says
7. Fireworks on the South Fork 2019
8. Firefighters Battled Bridgehampton House Fire for 10 Hours
9. Sag Harbor Man Charged With Boating While Intoxicated
10. Arrest Made in Montauk Park Murder
11. To Serve and Protect, Then Sue?
12. Mother, Child Airlifted After Car Accident in Bridgehampton
13. Car Crash Damages Two Buildings, Driver Charged With D.W.I.
14. CVS Manager Accused in Shooting
15. Grand Jury Likely to Indict in Fatal Montauk Crash
16. Violation of Trust on Amagansett Land
17. Cops: 'Drug Dealer' Arrested After Teen Hospitalized
18.  Fire Breaks Out in Popular East Hampton Village Eatery
19. Shinnecock Nation Warns of Possible Active Shooter After Fatal Shooting