Lisa Rooney, who was charged with drunken driving after she struck and killed a bicyclist in Montauk in late October, had a blood-alcohol content of .13 more than three hours after the crash, a toxicology report has shown. The legal limit is .08.
Her attorney, Marc Gann, told East Hampton Town Justice Lisa R. Rana Wednesday morning that he had received a grand jury notice and expects his client to be indicted and the charge, a misdemeanor, upgraded. If she is indicted on felony charges, such as vehicular manslaughter, the case will then be transferred to Suffolk County Criminal Court in Riverhead. Mr. Gann, who has handled many high-profile cases on Long Island, said he expects Ms. Rooney to be arraigned on new charges after the holidays.
John James Usma-Quintero, a 28-year-old Colombian national who was in Montauk on a work visa, died from his injuries after he was hit by Ms. Rooney's pickup truck on Flamingo Avenue, just after 6 p.m. on Oct. 30. According to East Hampton Town police, she refused to submit to an Intoxilyzer breath test after the accident. The Suffolk County District Attorney's office obtained a blood warrant, and a sample of her blood was taken for analysis at 9:33 p.m., court records show.
Ms. Rooney, who is 30, appeared in court for the first time since her arrest. She entered an in-patient rehabilitation program in the days after the fatal accident and the case was postponed at the request of her attorney last month so she could complete the program.
Mr. Gann, asked after court if the report showed anything other than alcohol in Ms. Rooney's system, said he was not aware of any, but had only just received the county medical examiner's toxicology report. He had not yet reviewed the "reliability of that purported evidence," he said. The report obtained through the court on Wednesday says that a supplemental drug report will follow.
With the court also having received the report, Ms. Rooney was rearraigned on a misdemeanor D.W.I. charge. Her driver's license was suspended. Mr. Gann entered a plea of not guilty on her behalf.
Wearing all black, Ms. Rooney stood by her attorney's side, answering, "Yes, your honor," when Justice Rana asked if she understood her license was suspended, and other questions, before releasing her on her own recognizance. New bail laws that will take effect on Jan. 1 prohibit judges in New York State from setting bail on any non-qualifying offense, including misdemeanor D.W.I. Even though there was a fatality, Ms. Rooney has not yet been charged in the death.
Justice Rana also canceled the $1,000 bail that was set at Ms. Rooney's first appearance, on Oct. 31, because under the new law, she said, Justice Court has to return all bail it is holding — currently half a million dollars worth — by Jan. 1.
A group of family and friends huddled around Ms. Rooney as they escorted her out of the courthouse to meet her mother, Bruna L. DiBiase, a New York City judge, who was waiting to pick her up.  
Ms. Rooney's family prepared a statement, which Mr. Gann read aloud outside the courthouse after she left. "Lisa and her family extend their deepest sympathies to the family of Mr. Quintero," he read, adding that they understand it is "a devastating loss."     
"There are no words that can express their sorrow for the grief that has been thrust upon their family nor are there any words or deeds that can undo the tragedy or can relieve their sorrow. They know there is no greater pain than losing a loved one and are truly sorry for their loss."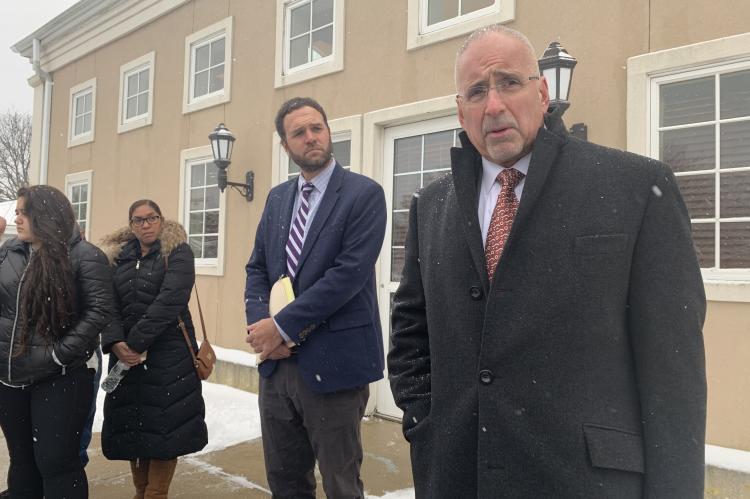 Mr. Gann, a founding partner of Collins Gann McCloskey & Barry, a Mineola firm, said he had instructed his client not to speak publicly and that her mother has "ethical obligations" that prevent her from speaking. Ms. DiBiase, he said, "has tried to distance herself from the court process so as not to even appear to have any kind of influence on what is taking place.
Several family members and friends of Mr. Usma-Quintero also attended Wednesday's court proceeding. Valentina Garcia, 21, the victim's girlfriend, listened as Mr. Gann spoke. "I don't know what's going to happen afterwards, but I just want things to be fair, as if we had done, the Spanish community, had done something like that." She raised questions about the bail.
Asked if it was hard to see Ms. Rooney walk out of court, she replied simply, "Yes."