Prosecutors said that black box data from Lisa Rooney's pickup truck show she was traveling 85 miles per hour just before the truck struck and killed a bicyclist in Montauk this fall. 
At Ms. Rooney's arraignment on an 11-count indictment in a Central Islip courtroom on Monday, Carl Borelli, the acting bureau chief of the Suffolk County D.A.'s Vehicular Crime Bureau, told Judge Fernando Camacho that he has blood work that shows her blood alcohol was .18 after the fatal crash. He said she was at a bar in Montauk for two hours and had "multiple glasses of wine" before she got behind the wheel of a brand new Chevrolet Silverado pickup truck on Oct. 30. 
The Montauk resident and business owner sped north on Flamingo Avenue, driving erratically and crossing over into the opposite lane, Mr. Borelli said. She then went back into her own lane, overcorrected and went onto the northbound shoulder, where she hit John James Usma-Quintero, a 28-year-old bicycling home from work at the Montauk 7-Eleven. The black box clocked her doing 85 m.p.h. a half-second before impact, he said. The speed limit is 40 m.p.h.
She kept driving north onto a grassy area and hit a guardrail, Mr. Borelli said. Police were called just after 6 p.m.
Ms. Rooney performed poorly on all field sobriety tests and refused chemical and blood tests. A warrant was obtained for her blood, which was taken at 9:33 p.m. at police headquarters in Wainscott. That toxicology report showed her blood alcohol was more than twice the legal limit at .18, more than three hours after the crash. 
A toxicology report sent to East Hampton Town Justice Court, where she appeared on an initial misdemeanor D.W.I. charge last month, showed her blood alcohol was .13. That report was actually from blood drawn at Stony Brook Southampton Hospital at about 10:50 p.m., according to Sheila Kelly, the district attorney's spokeswoman.
An ambulance was called to take her to Stony Brook Southampton Hospital at 9:53 p.m. Blood is routinely taken from patients at the emergency room, and the D.A.'s office was also able to obtain a warrant for that blood.
Mr. Borelli also said Ms. Rooney was in possession of cocaine on the night of the crash; police found several baggies, including on the floorboard and around her truck. A toxicology report did reveal some trace of cocaine in her system, but she was not charged with driving while ability impaired by drugs, according to Ms. Kelly. 
On Dec. 30, a grand jury indicted her on six felony charges, including the top count of aggravated vehicular homicide, first-degree vehicular manslaughter, and second-degree manslaughter. She is also charged with five misdemeanors, including aggravated driving while intoxicated. 
Ms. Rooney, who is now 31, stood silently beside her attorney, Marc C. Gann, who entered a not guilty plea on her behalf. About a dozen of her supporters accompanied her to court.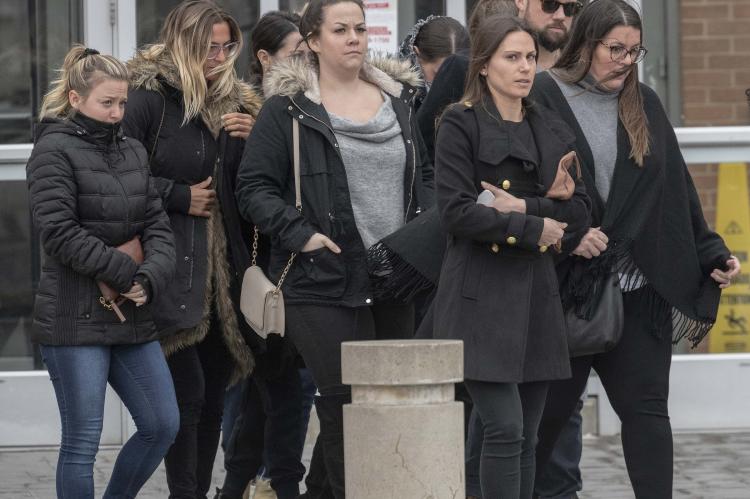 None of those charges are qualifying offenses that would allow the judge to set any monetary bail under the newly enacted criminal justice reform laws. If convicted on the top charge, a class B felony, she faces 8 1/3 to 25 years in prison.
However, a lesser charge of second-degree assault, which was included in the indictment, is a qualifying offense under the new state laws. Even though it was not one of the top charges, by state standards it is considered to be the only violent felony with which she is charged and it can trigger monetary bail. 
The D.A.'s did not ask for bail for the lone qualifying offense, though. Ms. Rooney has been free since her first arraignment on Halloween. She entered an in-patient alcohol and drug rehabilitation program in the days after the accident. 
Mr. Borelli did ask that she surrender her passport and that she continue treatment and provide proof of it to the court on each court date. He also wanted her to wear a SCRAM bracelet — a form of continuous alcohol monitoring that attaches to a person's ankle and looks for the presence of alcohol in sweat.
Mr. Gann objected only to the alcohol monitoring bracelet, telling Judge Camacho that she is under 24-hour supervision in New York City, where she is living now. Her case worker was with her in court and has accompanied her to her attorney's office for meetings. Mr. Gann asked the judge not to impose the alcohol monitoring until she completes the program. He did not object to the conditions and surrendered her passport, which he had in hand. 
Ms. Rooney, who is due back before Judge Camacho on March 2, quietly left the courthouse.
"Every single life that is lost because someone made the selfish, reckless decision to drive drunk is one too many," District Attorney Timothy Sini said in a statement. "This tragedy was entirely preventable. With this indictment, we will do everything in our power to hold this defendant accountable for her actions."
Mr. Usma-Quintero's aunt Mercedes Giraldo of Montauk and his cousin Jennifer Cano of East Hampton sat on the opposite side of the small courtroom gallery from Ms. Rooney. Afterwards, they said it was difficult hearing the additional details of the crash that emerged on Monday. 
"How can someone go so fast and going up the hill? It takes a little while to reach that point," Ms. Cano said. "Plus, when she hit my cousin the car continued, so his body was under the car. We're not talking a small car, it was a truck, a big car, so his complete body was destroyed." She said she went to the hospital that night, where he had been pronounced dead. "It's like an egg when you throw it —  everything inside is like that." 
"We want justice," Ms. Cano said, adding that her family is hoping Ms. Rooney receives the maximum sentence. 
Mr. Usma-Quintero is survived by two daughters in his native Colombia. He had only been in the United States for four months, after getting a work visa. 
Ms. Giraldo said in Spanish, with Ms. Cano translating, that it was sad to see how many people are supporting Ms. Rooney. In court. "They are supporting someone who killed a person. . . . it's really, really sad." 
"She destroyed our whole family," she said. 
Simon Q. Ramone, a White Plains attorney, accompanied Mr. Usma-Quintero's family in court on Monday. He said he is helping them navigate an anticipated civil case. The public administrator's office for Suffolk County will be making the application on behalf of Mr. Usma-Quintero's estate.