A 28-year-old man was bicycling home from work on the evening of Oct. 30 on a dark, unlit road in Montauk when he was hit by a pickup truck driven by a woman now charged with drunken driving.
East Hampton Town police said Lisa L. Rooney, a 30-year-old Montauk resident and business owner, was northbound on Flamingo Avenue behind the wheel of a 2019 Chevrolet Silverado four-door pickup truck when it struck John James Usma-Quintero, who was biking on the shoulder, near Falcon Place. He was thrown off his bicycle. The truck also hit a guardrail, ripping several feet from it. Witnesses called 911 just after 6 p.m.
The Montauk Fire Department transported Mr. Usma-Quintero, who reportedly had severe bleeding and chest injuries, to Stony Brook Southampton Hospital, where he was pronounced dead. Montauk Fire Chief David Ryan said first responders had considered calling for the medevac helicopter, but it was not flying due to the weather. It was raining that evening and foggy.
Ms. Rooney remained at the scene, said Detective Sgt. Dan Toia. He declined to answer further questions about the crash, including whether any drugs were found in her vehicle, pending further investigation.
"I don't know what happened, I swerved to avoid a car in the middle of the road, and I hit the guardrail," Ms. Rooney told police after the accident, according to court records. "I didn't see the bicycle. Is he okay?"
Police, however, said she showed signs of intoxication, ranging from a strong odor of alcohol on her breath to slurred speech, and performed poorly on field sobriety tests. The truck's airbags went off, and she had bruises on her head, but refused medical attention, according to an accident report.
She was placed under arrest and charged with misdemeanor driving while intoxicated at 6:34 p.m.
At Ms. Rooney's arraignment last Thursday, Jamie Greenwood, an assistant district attorney with the Suffolk County D.A.'s office, said that she had refused to submit to an Intoxilyzer breath test following the accident. The D.A.'s office obtained a blood warrant, and her blood was taken for analysis at 9:33 p.m., court records show. More serious charges, such as vehicular man­slaughter, are being con sidered, Ms. Greenwood told East Hampton Town Justice Lisa R. Rana.
The D.A.'s office requested bail in the amount of $50,000 cash or $100,000 bond, but Justice Rana set bail at a much lower amount, $1,000. She gave several reasons, among them that Ms. Rooney is a lifelong resident who owns a business, Girltauk, in Montauk. Justice Rana also noted that bail laws in New York State will change in January, at which time she will be prohibited from setting bail at all on a misdemeanor D.W.I., even though there was a fatality.
During the arraignment, Justice Rana said there was "a very good chance" the misdemeanor would be upgraded to a felony, and then bail could be increased. Ms. Rooney had not been indicted on new charges as of yesterday.
In the meantime, her license has been suspended. She is not eligible for a hardship license because she refused the breath test. 
"I'm going to be very clear with you," Justice Rana told her. "If I find out you are operating a motor vehicle, the case will be returned to court and bail will be significantly increased."
"Don't drive."
Ms. Rooney's family, including her mother, Bruna L. DiBiase, a New York City judge, was in court for her arraignment. Her sister posted her bail at the courthouse, and she was released from custody there. She left quietly with her family and her attorney, Chris Carillo. Ms. Rooney's stepfather is Wyatt Gibbons, who was elected Tuesday as a judge of the New York Supreme Court, 11th Judicial District (Queens).
Victim Pursued "American Dream"
Mr. Usma-Quintero, who was known as James, had just finished a shift at the Montauk 7-Eleven and was heading home when he was hit, his aunt, Mercedes Giraldo, said after the arraignment.
He leaves two children, 15 and 8-year-old daughters who live in his native Colombia. He came to the United States in April on a work visa in pursuit of the American dream, his brother, John Fredy Usma, said from Colombia yesterday.
"He took very few clothes in a small suitcase, but his heart was full of many dreams," he said in Spanish. 
He sent money back to support his daughters and further their education, and to support his mother, Mr. Usma said, adding that once his brother got to Montauk, he wanted to help many of his relatives. He stayed in touch with them often, video chatting at least once a week.
He was the youngest of four children and grew up of little means in Armenia, Colombia. "The truth is, our life was not easy at all, especially his life," Mr. Usma said. In Colombia, he had worked doing a little of everything, from being a mechanic to a construction assistant. He changed jobs often, as he did not like routine, his brother said.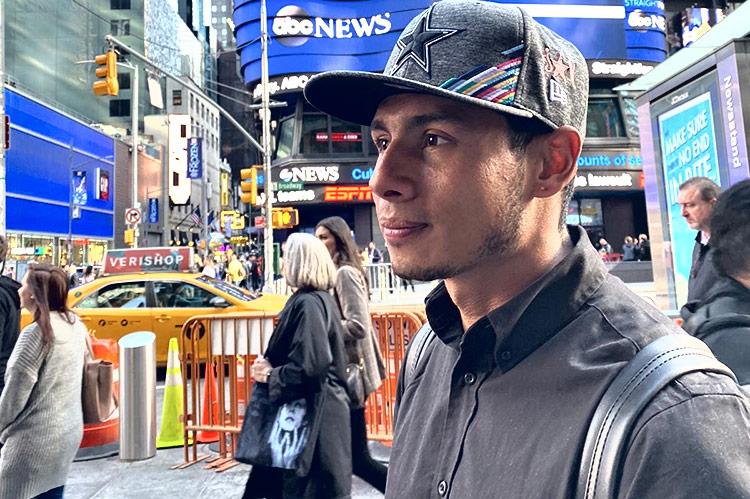 "Even though he died young, he was an ambitious person with the desire to fulfill many dreams."
In Montauk, Mr. Usma-Quintero enjoyed going to the beach and had found a girlfriend, his aunt, Ms. Giraldo, said. His brother said, "He fell in love with the tranquillity of the place" and that "he liked the North American culture. He did miss Mom's food."
"He was a very happy person. He enjoyed all things. He was very funny — he almost never looked angry," Ms. Giraldo said in Spanish. She described him as a "very good father, and above all an excellent son." She said he spoke to his daughters often and worked hard to provide for them. "He dreamed of buying a house for them. That's why he came here, because of the dream of having a house in Colombia for his daughters and mother." 
A GoFundMe page was set up to help his family and cover the funeral expenses. It raised $17,590, exceeding its goal of $10,000, and was no longer taking donations as of yesterday.
A wake was held for family and friends at the Yardley and Pino Funeral Home in East Hampton on Sunday. Mr. Usma said he expects his brother's ashes to arrive in Colombia tomorrow; a memorial service will be held on Saturday in Armenia.
After news of Mr. Usma-Quintero's death reached Colombia, many were angry that the driver had been let out on such low bail. Mr. Usma said he and his family were upset. "Is this what the safety or life of a person is worth" I understand that the criminal system in the United States works that way. Where you make a mistake you pay bail and you leave," he said. "I think it is not fair. In spite of this, I believe that no matter what the bail, the woman should not have been released, at least until her case had been resolved, since the evidence presented by the police officers was overwhelming."
He said he trusts that ultimately "the judge will make a wise decision."
Mr. Usma also expressed some compassion for Ms. Rooney and her family. "All this must be a nightmare for them," he said, adding, however, that decisions have consequences, and "if the woman was driving drunk, she must accept her mistake, maybe ask our family for forgiveness and pay a prison sentence. This is not going to bring back my brother, but it will leave a precedent for people to drive responsibly."
"We don't want any other family to go through this pain," he said.