An Aug. 10 explosion and fire that shuttered the Stony Brook University Food Business Incubator at Calverton is bringing ongoing stress and strife to East End food entrepreneurs who rely on the commercial kitchen facility to produce their wares. Stony Brook opened the incubator in 2012 with a mission to help food-startups get off the ground on Long Island, especially those operated by women and minorities. According to the university's latest estimates, the facility may not be fully up and running until November. Tenants are meanwhile making do while East End foodies confront a shortage of favorites like biscotti, gluten-free puffs, and Jamaican patties.
Tracy Stoloff moved to Montauk from Los Angeles about seven years ago to start Night Owl Baker, which specializes in producing a wild-yeasted, gluten-free sourdough bread that takes five days to make. Ms. Stoloff has been working out of a kitchen owned by a friend of hers in the catering business since the fire and says she has been drilling out loaves of her signature health bread at a third of her typical rate of production as she awaits the incubator's reopening. Ms. Stoloff ships her bread to a dedicated base of online customers and has stocked the shelves at Provisions in Sag Harbor, Amber Waves in Amagansett, and Balsam Farms in Montauk. 
Following the explosion, she reached out to her online clients and offered refunds for their preorders, but she says most declined the offer and told her instead, " 'Let me know when you're back up and running.' That took a lot of the pressure off," said Ms. Stoloff, who was able to send bread to those online customers last week along with delivering 17 loaves to Balsam, "and they used to fly through 40 in a weekend." 
Milla Benevides at Milla's Puffs, based in East Hampton, similarly reported a big downturn in production. "The Stony Brook oven explosion has had a significant setback in our puff production," said Ms. Benevides, whose gluten-free cheese puffs are based on a Brazilian recipe and are available at numerous shops in the East End, including the Provisions outlets in Sag Harbor and Water Mill. 
"We haven't been able to produce at full capacity since we were forced to rent a smaller kitchen while the incubator is undergoing repairs," said Ms. Benevides, who also suffered damage to a freezer. A GoFundMe account was created to help keep companies afloat, and Ms. Benevides struck an optimistic note in observing that "positive opportunities and changes can happen from misfortunes like these. . . . We will all bounce back from these losses of product and equipment."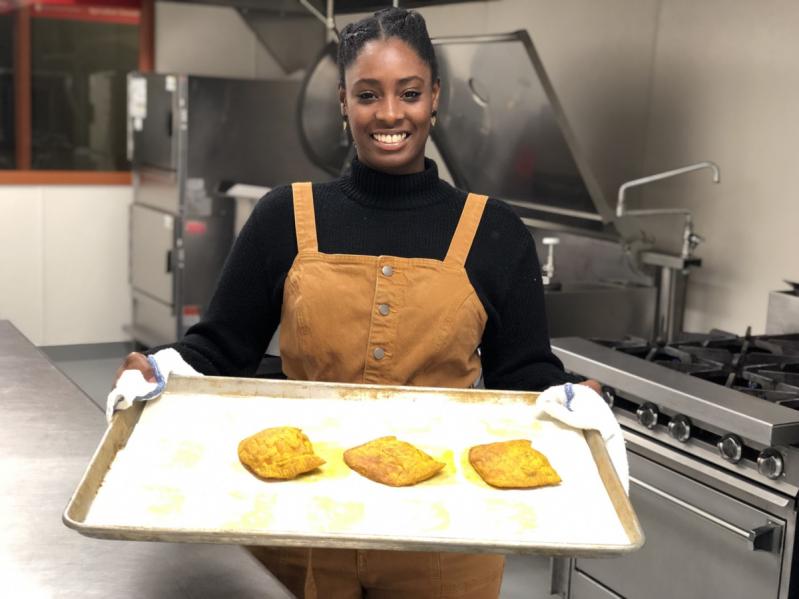 Some incubator tenants have deployed to the East End Food Institute at the Stony Brook Southampton campus as they wait out repairs, but that's not an option for Paulette Satur of Satur Farms in Calverton. She used the incubator to create single-serve salad dressing packets to complement the farm's renowned output of organic greens. 
"Our big business is in or own facility where we wash, pack, and ship our greens," said Ms. Satur. "The dressing was a separate project that started before Covid. We had just scheduled a production run of our honey-balsamic dressing the day before the fire," said Ms. Satur, who quickly added that "other producers there have it much worse -- they're scrambling to find other spaces. It's what they rely on for their income." The salad dressing business is on hold owing to a piece of specialized pouching equipment at the Calverton incubator that packages the organic dressing into foil containers. 
"We can't just load it up and move it somewhere else," Ms. Satur said, lamenting a lack of availability of that honey balsamic dressing just as late-summer tomatoes are ripening and readied for the table with a complement of mozzarella and basil.  
Several company owners characterized Stony Brook's response to the explosion as slow out the gate, but said that the university quickly stepped up with communication and suggestions for displaced tenants. 
Nick Rytting of Uncle Nick's Cauliflower Crusts said the explosion was "especially devastating to those of us that rent private spaces at the incubator to manufacture our products and run daily operations of our businesses. We've had limited access to the facility while safety tests and repairs are being done, but we understand that this is necessary for a safe reopening." 
Mr. Rytting was able to fulfill orders for his gluten-free pizza dough with backstock for a while, "but we have completely exhausted our inventory."
While Stony Brook did find space for Uncle Nick's and others at the Suffolk County Community College campus in Riverhead or the nonprofit East End Food Institute, Mr. Rytting was not alone in noting that those places don't have the capacity the companies are accustomed to. 
Mr. Rytting baked up to 120 crusts at a time in Calverton and sold them at Serene Green in East Hampton, Amber Waves, Schiavoni's Market in Sag Harbor, and elsewhere. Now he is producing a fraction of that. "We are all trying to get creative," said Mr. Rytting, "but ultimately we just want to get back into the incubator as soon as possible." 
Bruno LoGreco founded the Biscotti Company in January 2020 and said the Calverton incubator was the clear choice for his business after he scoped out numerous other commercial kitchens for rent. None came close to what the incubator provided. "It's not just the equipment," said Mr. LoGreco, "it's the setup and having the ability to create your own establishment within the establishment." 
He is producing a quarter of the product he did before the explosion at the East End Food Institute and spends a lot of time, he said, driving to the Calverton incubator's storage facility to pick up ingredients for his biscotti, which he sells at the Share the Harvest Farm stand in East Hampton and elsewhere on the East End. "I can't begin to tell you how disruptive this has been," said the Southampton baker and life coach. He hopes the incubator reopens in time for a holiday season that's traditionally "prime time for biscotti." 
Maria Camassa of Lake Grove recalled getting an email after the Aug. 10 explosion, which also badly injured a Stony Brook employee, letting her know that the facility had been shut down for repairs. No further information was provided, but Ms. Camassa said the university subsequently stepped up to the point where "they are now including us in the decision-making." Ms. Camassa founded Lucky Lou's rice pudding after years serving the popular dessert at an UpIsland luncheonette she and her husband owned. She, too is working out of the East End Food Institute at far below her business's typical capacity, which she started in 2016 and saw quickly grow to between 120 and 130 accounts, including One Stop Market, the I.G.A., and Villa Italian Specialties in East Hampton. 
Ms. Camassa highlighted efforts by local elected officials and business leaders for tuning in to the plight of the 70-plus companies displaced by the explosion. The Suffolk County Alliance of Chambers hosted a fund-raiser in Islip on Wednesday, which Ms. Camassa attended as she awaits the all-clear from Stony Brook. 
"We survived Covid, we survived inflation, we survived a shortage of supplies, and we survived a labor shortage," said Ms. Camassa. "But we didn't think we were going to survive this."