I had the great good fortune of dining at Sant Ambroeus in East Hampton twice recently, within weeks of its opening. The place was so shiny and spruce you could still smell the high-gloss lacquer paint.
It is a small (50 seats) restaurant with a high ceiling. There is one long banquette to the left and a smaller one to the right of entrance upholstered in nubby, speckled Loro Piana fabric. The tables have comfortable cushioned rattan chairs and the floor (also glossy) is painted in a darker tone of the eatery's signature salmon pink color. The lighting is dim, coming from lovely sconces and candles all around.
There are eight Sant Ambroeus restaurants in the United States, three coffee bars, and one in Milan. Another will be opening in Aspen soon. So it is no surprise that with all that experience, the East Hampton team managed to hit the ground running immediately upon opening.
Upon being seated you receive an amuse-bouche (literally translates to "mouth entertainment), a tiny savory bite to get your tastebuds ready for the evening ahead. It was a dollop of butternut squash puree topped with a few roasted rosemary-scented cubes of butternut and some roasted pepitas drizzled with olive oil.
A variety of warmed breads are brought to the table along with a dish of superb fruity olive oil. There are small slices of wheaty nutty bread, baguette, and black olive rolls. We began our meal with Caesar salad, beef carpaccio, and tuna carpaccio. On the previous visit we also tried the artichoke salad, which was excellent, citrusy with shavings of great Parmesan cheese.
The Caesar salad is a pretty presentation, with thick wedges of romaine lettuce in a creamy dressing topped with logs of crisp croutons and showered with grated Parmesan. The salad was good, but was a bit too refined for my Caesar tastebuds, not very garlicky, lemony, or anchovy-ish.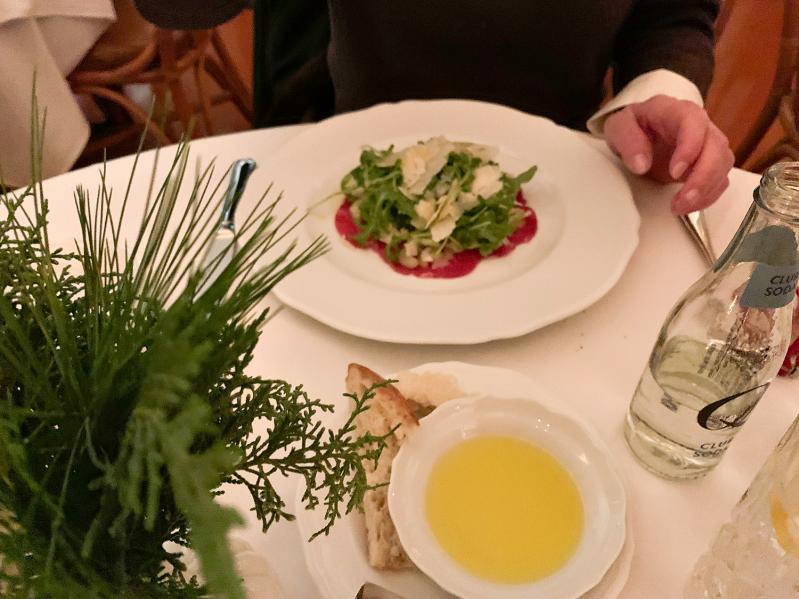 The beef carpaccio was excellent, prepared with paper-thin slices of beef filet, topped with slivers of celery, big leaves of arugula, and Parmesan shavings, olive oil and flaky sea salt. The tuna carpaccio was even better. It was slightly thicker slices than the beef, artfully arranged and topped with a mild citrus dressing and scallions. The tuna was exceptionally tender so I'm guessing it could have been the chutoro or otoro cut of the fish.
For entrees we ordered the eggplant Parmigiana, tagliatelle with Bolognese sauce, and spaghetti aglio olio e peperoncini. In Italy one is expected to start a meal with a small portion of pasta (after antipasti), then move on to a meat or fish, hence the somewhat small portions of pasta. All of them were delicious, served in piping hot bowls nestled into a linen napkin on another warmed plate.
The eggplant Parmigiana was a very refined version -- no globs of mozzarella melting on top of breaded eggplant slices swimming in marinara sauce. This was a neat little round disc filled with all of the flavors and topped with basil leaves. The tagliatelle with Bolognese sauce was another winner, the pasta perfectly al dente and the meat sauce mild and rich. Nothing could be simpler than noodles coated with garlic, oil, and pepperoncini, but this rendition was perfection. The spaghetti was cooked just right, salted perfectly, and coiled in the bowl with visible bits of parsley and rings of hot peppers. I kept stealing more bites from my guest's plate. For research. Strictly for research. It is worth noting, as well, that on our previous experience dining at Sant Ambroeus I had the linguine vongole and it, too, was perfectly prepared, laden with Manila clams and green from a puree of broccoli rabe and lots of parsley.
The service on both visits was excellent. Our waitress, Kingjalee, was attentive and professional and even tolerant of our desire to linger long after we had finished our dinner. The general manager, Jorge, is everywhere at once, lighting upon each table like a hummingbird, making sure every guest is well tended to.
We asked what had taken so long to open at this location. The signs were up in early spring and it didn't open until November, a risky, off-season time to open a high-end restaurant. Turns out it took months to clean it up and get the kitchen back in working order.
The prices are high. Appetizers and salads are $29 to $46, pastas are $31 to $41, meat and fish are $29 to $69, sides are $17. Desserts are $17. In a nod to its location, it has clam chowder, lobster rolls, and reasonably priced hamburgers on the menu.
We tried three desserts, the millefoglio, gianduia, and tiramisu and all three were elegant, fresh, rich, and very pretty. The millefoglio is the same as the French dessert millefeuille, which translates to "a thousand sheets." The sheets are the many layers of crisp puff pastry with pastry or whipped cream in the center. Sant Ambroeus's version has bruleed sugar on each layer, giving it a crisp shatter of caramelized sugar when you slice into it. The vanilla Chantilly cream was piped between the three layers in five puffy rounds. The gianduia was also rich and beautiful, with layers of hazelnut chocolate mousse, a nutty sponge cake, more layers of hazelnut filling, crisp wafer, a glossy ganache coating, and candied hazelnuts on top. The tiramisu had all the flavors and moistness one desires: espresso, rum, spongecake, cocoa, and whipped cream.
It feels like I reviewed a plethora of high-end Italian restaurants this past summer (molto Dopos!) but I would have to say this one is best. My dining companions have already returned for multiple visits and I hope to return on occasion, when I'm feeling as rich as a slice of gianduia.