Heritage is as important to Kristina Felix Ibarra as expression, and she has found a way to incorporate both in her love of food. It may sound simple, but it's not. Like much in her life, it's actually quite complicated.
She initially came to East Hampton with an education and background in studio art to manage Eric Firestone's gallery on Newtown Lane in 2014. Following an artist residency, her inspiration shifted to food production, and she has been working as an assistant to Ina Garten since the fall of 2018. There she has learned the essentials of cookbook writing and recipe testing and is using the lessons to inform her own efforts in the medium, something quite different and unexpected.
Consider the tortilla, commonly thought of now as what makes a sandwich a "wrap" in whatever form that takes: white, low-carb, whole wheat, spinach, etc., but almost entirely wheat flour based, sealed protectively in its own plastic wrapper, and easily purchased in a store.
But that's not a tortilla to Ms. Felix and it shouldn't be a tortilla for us. Her tortillas start in the traditional way, with dried corn kernels that she mixes with lime water to make a material called nixtamal, the foundational element in much of Mexican cooking. It's a process she herself describes as "gunky" and "slimy."
In the recipe for nixtamal on her website, Ms. Felix promises (threatens?) that it will take "time, patience, and observation to prepare, but you will only improve with each batch you make." However, the recipe's pedigree -- "informed by generations of Mexican artisans and chefs, and by the Ibarra family who prepared nixtamal on their farm in El Zape, Guanacevi, Durango" -- is the gentle prod needed to take it on: the dangled carrot of authenticity and the enhanced taste of integrity.
Nixtamal and tortillas are central to her current project: a cookbook proposal that incorporates traditional Mexican recipes from or inspired by her family, starting with her parents, who both emigrated from northern Mexico and met and married in Illinois. With the title "Recipes From a Post-Colonial Kitchen," it also addresses the story of her "process of unlearning the myth that all good food, good art and culture originates in white, Western European societies."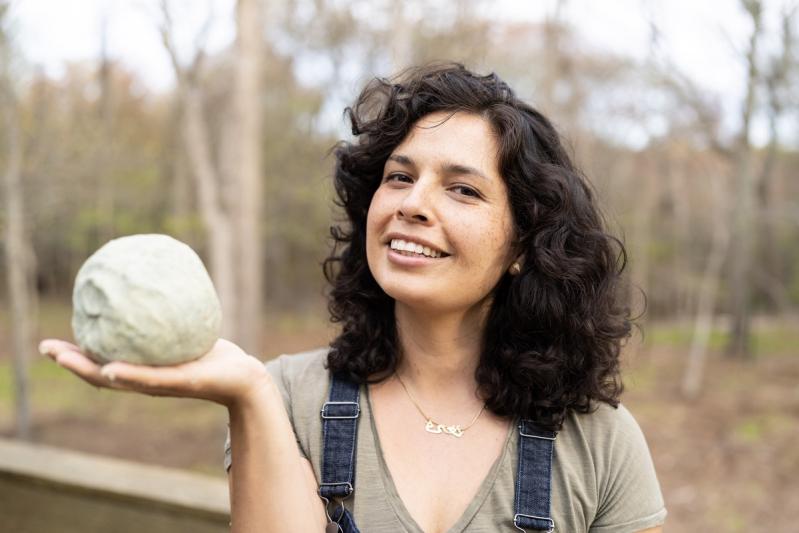 In the introduction, she describes how she will include her recipe for corn tortillas, which she developed with more than two years of research and practice, but "will also illustrate the resilience and wisdom of my family, and all immigrant families, while sharing what I've learned from the many inspiring people I've met on my journey toward decolonizing my mind and diet of the oppressive myths and half-truths one is fed growing up in this country."
It sounds heavy, but the message is celebratory and approachable. The projects are populated with illustrations, photographs, and other visuals that lighten the tone and keep the work from being too didactic.
In a volume devoted to maize, she shares the history of her family, redefines corn, explores Mayan myth and legends, and adds a recipe for blanco con salsa de chile guajillo y chile ancho, artwork, and a puzzle.
Having worked so much with corn for these projects, she has become quite expert in its various forms, uses, and controversies. Corn's role as an unhealthy sweetener, subsidized fuel, and poster child for the G.M.O. wars has not escaped her notice. It's "why it fascinated me," she told The Star. "And the labor involved drew me in, because it's not labor that anyone sees." Once machines started making tortillas, people stopped thinking about it, she observed.
"But to go through the process of actually trying to make some from scratch, I learned so much about everything," from food preferences to the history of corn in this county and in Mexico, and food-access issues. "It seems like such a niche sort of thing to focus on, but then you think about everything that's made from corn or corn products. You can make anything out of it."
The first in her family to go to college, she went to art school in Chicago and then earned an M.F.A. at the University of Texas at Austin. "The art that I was making was in your face, it was performative." She then received a Fulbright scholarship to study back-strap weaving in South America, "the most opposite sort of technology to video that exists."
It was there that "my whole world unraveled. I realized working with these artists, that my entire art education was based on one perspective, and my view of art was so narrow." She found the concept of time and reciprocity in the artists of South America "so avant-garde and so much more artistic. That made me sort of question my entire schooling to the point where I wanted to deconstruct it."
During her residency at the Vermont Studio Center, she had a chance to do just that. She started making ceramics without any prior experience. "They all came out like dishes." The dining theme led her to thinking about recipes and storytelling. Then she realized "it's always been about food." Even her first experience of the art mecca of New York City, which she traveled to on a Greyhound bus at 18 with her best friend, was more about going to Les Halles, which Anthony Bourdain had just made famous in his first book. "We were still kids, we couldn't even order wine."
In art school, there wasn't a model for what she ended up doing. "Now, what's happening in food is really interesting. There are more people thinking about food in this holistic way." A recipe can also be a poem or a story that "will lead you to a place and also show you how it got there." Noting that Ms. Garten's approach to recipes is much more straightforward, she said it inspires her as an "almost perfect contrast to what I want to do."
Along with the upheaval of the pandemic came a baby girl, Frankie, and a new house that she purchased with her partner, Bill Delano. In March, they were in the process of moving in when the baby arrived two weeks early. She has been on maternity leave, but before that was working remotely.
Working for Ms. Garten involves recipe testing, managing social media, sourcing ingredients, and helping with photo shoots. "Anything you can think of is what we do, but Ina does the majority of the work." Every morning at 9:15, she, Ina, and another assistant "sit and chat about anything then figure out the day." During the pandemic, those conversations have happened over FaceTime with more of an emphasis on news, but there is still much to do.
Ms. Felix's other food connections revolve around farming. "I'm drawn to people who grow things." She is on an advisory board of the Quail Hill Farm in Amagansett, and the farmers offered to grow special corn for her tortillas. It was a learning experience. "You can't grow two varieties of corn together," as it affects the cross-pollination necessary for it to thrive. This year, she said, she will try growing corn in her yard instead.
Although she said she's not good at planning, if she sits in the studio and starts making things, certain other things will just come out. "Then I realize, 'Oh, that makes sense.' " It's the same indirect way she found her way out here, and she feels fortunate for it.
"This place has shown itself to me in this really wonderful way. I know, it gets a bad rap. But most of my friends are farmers. And I speak Spanish to so many people in my life," she said. "It's so much more diverse than it gets credit for."