Cherry season is upon us and it will come in waves of varieties, so get them while you can.
There are basically three types of cherries, the most common being sweet black cherries. Most of those grown in America are grown out west, although New York, Pennsylvania, and a few other East Coast states grow them. Sweet black cherries are the dark ones you eat out of hand. These are the stars of cherry pit-spitting contests, a big deal in Michigan, with the current champion victorious with a spit of 48 feet, 2.25 inches.
Some common varieties are Bing, Lambert, Chelan, Sweetheart, and Tulare. When you buy them at the farmers market or grocery store, look for shiny, firm fruit with the stems still attached. If the stem is still green, all the better.
Cherries should be stored in the refrigerator and not washed until just before eating. Besides being a swell snack, these cherries are great as part of a cheese platter, especially with tangy, mild goat cheeses; delicious in a chicken salad with almonds and green onions; brandied; folded into ice cream, and in the classic French dessert/pudding, clafoutis. The French usually leave the pits in the cherries because they impart an additional almondy flavor, but that is up to you. The flesh of sweet black cherries is a dark red-purple to mahogany color.
Most sour red cherries are grown in Michigan (about 75 percent of the United States crop, according to Epicurious), and most are destined to be dried or juiced or baked into pies. Two of the more common varieties are Montmorency and Morello. These are bright red and softer than dark cherries. If you see these cherries, snap them up, they make the best pies.
The third kind of cherry, available midseason, is the sweet pink or yellow variety, like the Rainier and Royal Ann. These are lighter and slightly less sweet than dark cherries. Look for those with plenty of blush, this is where the sun kissed them.
And what the heck are those maraschino cherries that taste and look like nuclear candy? I'll let the venerable and often amusing Harold McGee explain what they are, from his book "On Food and Cooking, the Science and Lore of the Kitchen": "The familiar 'maraschino' cherry originated several centuries ago in northeastern Italy and the neighboring Balkans, where the local marasca cherry was preserved in its own liqueur for winter eating. In the modern industrial version, light-fleshed varieties are bleached with sulfur dioxide and stored in brine until needed, then infused with sugar syrup, dyed cherry red, flavored with almond extract, and pasteurized. After all that, what's left of the original cherry is mainly its skeleton, the cell walls, and skin." Eww.
Cherries are native to western Asia and southeast Europe, and sour cherries are possibly the children of sweet cherries. Cherry flavor comes mostly from almondy benzaldehyde, a flowery terpene (linalool) and essence of clove (eugenal). Heating cherries with the pits still in them increases these flavors, which is why the French keep the pits in clafoutis.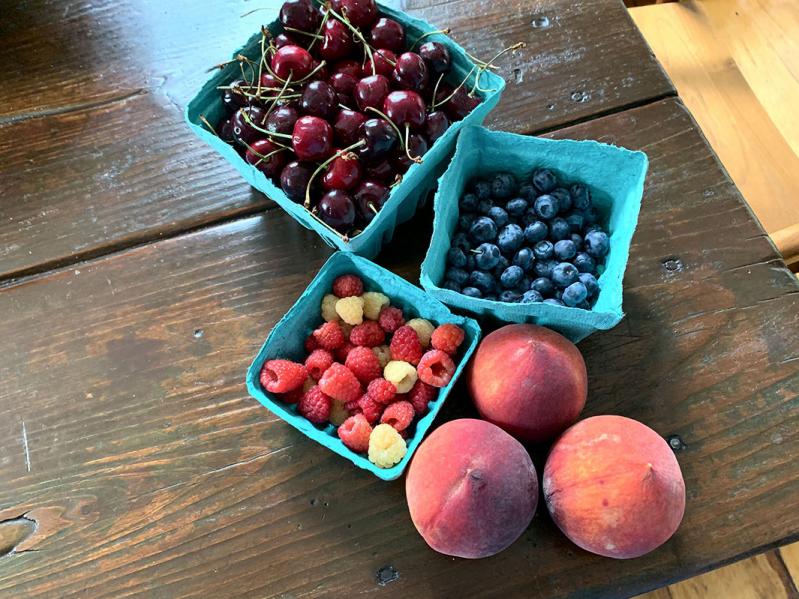 According to the "Oxford Companion to Food," the number of cultivated cherries around the world is now around 900 sweet and 300 sour. Cherries are, along with plums, peaches, apricots, and almonds, members of the rose family.
Cherry season will run through August, so you have plenty of time to try different varieties, experiment with recipes, freeze, or just set them out at a party or in front of the TV for snacking. If you are serious about cooking with them, get a cherry pitter, you will find it also comes in handy when you pick and prepare beach plums later this summer.
Cherries are a super food, a good source of fiber, vitamins, minerals, and antioxidants. They can reduce inflammation, lower blood pressure, speed recovery after exercise (especially tart cherry juice) and improve sleep because they contain melatonin. A portion of 14 cherries counts as one of your "five-a-day" fruit and vegetable recommendations. If you're the kind of person who frets dreadfully over sugar, the stress of worrying about sugar is probably doing you more harm than the sugar you're eating. So enjoy those sweet and tart cherries while you can. 
Cherry Chicken Salad
This is a great, light, summertime salad. Be aware that the cherries will probably bleed into the rest of the salad, so add them shortly before serving. I don't remember where this recipe came from, it seems to have been written in shorthand so forgive how vague it is and play with it.
Serves about four.
1 1/2 cups cubed cooked chicken
1 cup sliced celery
1/2 cup diced green or red bell pepper
1/4 cup sliced green onions
1/4 cup lemon juice
3 Tbsp. canola oil
2 Tbsp. vinegar
1 tsp. grated ginger
4 tsp. sugar
2 cups pitted sweet cherries
1/2 cup toasted whole almonds, roughly chopped
Soft leaf lettuce
Combine all ingredients but lettuce in a bowl and, I assume, add some salt and pepper to taste. Serve on lettuce leaves.
Black Cherry Clafoutis
This recipe for black cherry clafoutis is from the "Saveur Cooks Authentic French" cookbook. I make a lot of fig and pear clafoutis (from Patricia Wells's "Bistro Cookbook"), but have never tried cherry. This recipe looks wonderful.
Serves eight.
1 Tbsp. butter
1 Tbsp. vanilla extract
6 eggs
6 Tbsp. sugar
1 1/4 cups milk
2 Tbsp. kirsch
Pinch salt
3/4 cup flour
3 cups black cherries, pitted or unpitted
Confectioner's sugar (optional)
Preheat oven to 425.
Generously butter a nine-inch cast iron skillet or a baking dish. Combine vanilla extract, eggs, sugar, milk, kirsch, and salt in a blender. Blend for a few seconds to mix ingredients, then add flour and blend until smooth, about a minute.
Pour batter into buttered skillet, then distribute cherries evenly over top. Bake until a skewer inserted into batter comes out clean and a golden brown crust has formed on top and bottom of clafoutis, about 30 minutes. Dust with confectioner's sugar if you like.
Roast Duck with Cherries
This recipe sounds like a great way to combine our Long Island duck with seasonal local cherries. It is from Mimi Thorisson's "French Country Cooking."
Serves four to six. 
1 whole duck (approximately 3-4 lbs.)
8 Tbsp. butter, at room temp.
Salt and pepepr
5 large garlic cloves, unpeeled
A few sprigs fresh thyme
A few sprigs fresh rosemary
1 lb. cherries, stemmed
1 Tbsp. honey
1 Tbsp. balsamic vinegar
1/3 cup Calvados (an apple brandy)
Preheat oven to 375.
Put duck in a roasting pan. Rub the skin generously with six tablespoons of the butter, and season inside and out with salt and pepper. Put whole garlic cloves, thyme, rosemary, and a small handful of the cherries inside the cavity. Roast until golden brown, cooked through, and tender, about one and a half hours.
When duck is done, let it rest for about 20 minutes to let the juices settle before carving.
Meanwhile, in a large saucepan, melt remaining butter over medium heat. Add remaining cherries, honey, and balsamic vinegar and shake the pan. Pour in the Calvados, light a match, and carefully ignite the liquid to flambé. (Alternatively, I think you could just simmer the mixture for a few minutes.)
Place the duck on a serving platter, pour the juices all over, and scoop the remaining cherries around the bird.
Serve immediately.