The Israel-Hamas war, now in its second month, continues to reverberate on the South Fork. Sag Harbor's Long Wharf has become a local flashpoint.
The war began on Oct. 7 when Hamas militants crossed the fence dividing Gaza from Israel to kill some 1,200 people in southern Israel and kidnap more than 200 others, including Americans. In the weeks since, feelings on all sides of the conflict have been passionate and clashing perspectives on Israel's response have been debated on Long Island, as around the globe.
For the second consecutive week, the Sunday afternoon gathering of East End for Ceasefire, an activist group calling for an end to hostilities, was met with a counterrally at their protest site, the Long Wharf in Sag Harbor. On Sunday, half a dozen counterprotesters showed up early to claim the usual piece of land at the tip of Main Street that is usually occupied by the cease-fire activists.
The cease-fire activists, who numbered 20 by 3:40 p.m., instead set up across the street and closer to the windmill. "We decided to yield the corner to them because there's no reason to get into it," said Jonathan Wallace. The previous week, he said, counterprotesters were "standing one foot away screaming 'murderers' in our face and following us up and down the street. . . . We've had one of these guys come over to us already and tell us that we're idiots. We think they may be here to be a bit provocative. This is a nonviolent, very peaceful, very pacifist group," he said of East End for Ceasefire.
At first, the counterprotesters held up an Israeli flag but remained largely silent. On Nov. 5, however, according to Francesca Rheannon, a cease-fire activist, a louder and more confrontational counterrally group had assembled to shout them down after an event the same day called Rally for Israel and Peace, which drew hundreds to Herrick Park in East Hampton Village. "The ironic thing is that most of us here are Jews," Ms. Rheannon said, a point made two weeks ago by Kathryn Levy, another cease-fire activist.
"I think they have a warped view of the issue," said David Saxe, one of the organizers of the pro-Israel counterprotest. "We don't feel they properly present the issues that need to be presented."
The most heated friction point between the two groups could be described as a "sing off." As East End for Ceasefire members sang the African-American gospel song "This Little Light of Mine," which became a civil rights anthem in the 1950s and 1960s, the counterdemonstrators crossed the parking lot to sing their own song, "Hatikvah," the Israeli national anthem, in an effort to drown out the cease-fire group. Some sharp words were exchanged, with one of the counterprotesters calling a cease-fire activist a "ghetto Jew."
"You're sounding like an antisemite," responded the pro-cease-fire man.
The cease-fire protesters then sang John Lennon's "Give Peace a Chance" and, shortly after, the counter-protesters disbanded. It was cold, said one, and football was on television.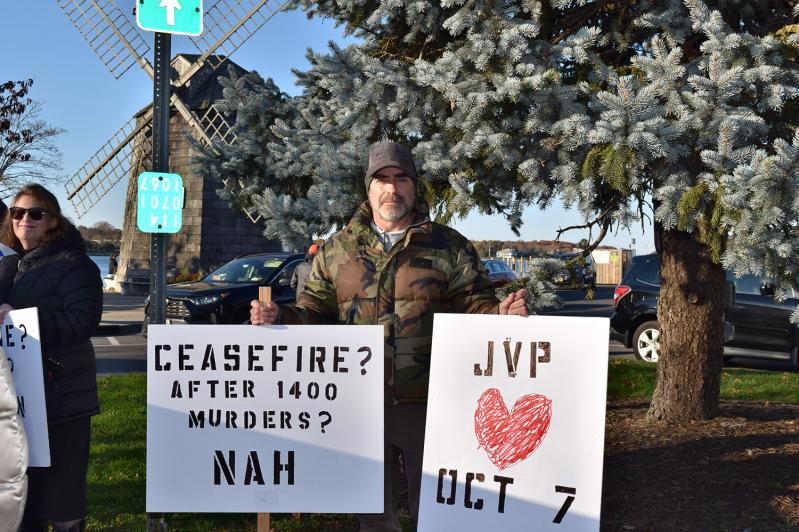 Chris Manthey, who lives in Montana and is also a longtime homeowner on Napeague, stood with the counterprotesters. He held signs, one of them bearing the message "Ceasefire? After 1,400 murders? Nah." (An initial estimate that 1,400 Israelis had been murdered was recently revised to around 1,200.) He lamented the death of all noncombatants, he said, but criticized groups affiliated with East End for Ceasefire, including Jewish Voices for Peace, which he said misplace blame for the current hostilities. "It's an overused example, but how would they have dealt with Hitler?" he said, referring to the cease-fire group.
"I am a lifelong Democrat, and have never really been a huge supporter of Israel," Mr. Manthey said. "I think Israel has done a lot of stupid and aggressive things. I think the settlers are out of control, but when you start cutting people's heads off and doing what they do — you've got to live in the world that we live in, you know? It would be great if everybody was touchy-feely. They're not. They're just not."
Early in the counterrally, Mitchell Agoos, who co-organized the Herrick Park rally, held up a corner of the Israeli flag. "In order to achieve peace, you have to win the war," he said. "If East Hampton was bombing Sag Harbor all the time, no one would tolerate it. If the world does not allow Israel to finish them off, it will just be a repeat performance a few years from now."
Ms. Levy, one of the organizers of East End for Ceasefire, echoed concerns about history repeating itself and violence begetting violence, but took a different view. "It's going to happen again if Israel kills half of the Palestinian population," she said. "This is a guarantee that the cycle of violence will continue. What is needed is to end the cycle and have a serious peace process that results in equal rights for every Palestinian and every Israeli."
She was distributing a flier written by what she called "an amazing minority" in the Middle East with the title "A joint Jewish-Arab declaration for peace." It read, in part: "Countless innocent children, women, and elderly lost their lives on both sides; hundreds of thousands lost their homes and their world — harming innocents on one side does not balance the pain of the killing on the other side, it just adds more pain to the immense pain."
At times, the protesters engaged in drive-by debate with people passing in cars. One woman stopped in her vehicle and, in response to a "cease-fire now" chant, called out "Free the hostages!" Another motorist, less interested in political debate, rolled down a window to yell a profanity before the vehicle was followed down Main Street by a marked police vehicle.
The police were visible throughout, doing loops up and down Main Street. An unmarked car carrying two officers drove through the Long Wharf parking area adjacent to the protests. Before the rally began, an officer stopped his car to speak with East End for Ceasefire protesters.
"I think if you polled the Israeli and the Palestinian people, they both want to live in peace," said Sag Harbor Mayor Tom Gardella, who said the police would dedicate whatever resources are needed to making sure the rallies were safe for all. "I don't think it's going to be figured out on Long Wharf."
Mr. Agoos agreed — to an extent. "I don't think anybody wants a war, any of these people. There's just two ways of looking at it. Actually, to me there's only one way. These animals and barbarians have to be finished off. It's a Hamas thing. Any good person hates what's happening with the Palestinian people. It's a horror. But what Hamas committed was a horror. I don't think I'm irrational, but no one thinks they're irrational."
"What you need first is a cease-fire," said Ms. Levy. "An international peacekeeping force could come in, humanitarian aid provided, and then the beginning of a peace process. That's how you defeat the extremists on both sides."
Sigrid Ridmeinel of Hampton Bays summarized the cease-fire activists' position in a statement she read aloud. "We call on the U.S. to work for an immediate cease-fire and to provide access to humanitarian aid," she read. "We oppose continued U.S. military aid to Israel. We call for a release of hostages and political prisoners. We know that fear can stop us from acting — we see Islamophobia and antisemitism on the rise. We believe we can't look away in the face of this violence. We have to continue to show up."