From the outside looking in, jail is jail. We see bars, high fences, and barbed wire to keep inmates away from the public. But inside, a juggling act is in constant motion: where and how to house the incarcerated, and, perhaps most important, how best to keep them from coming back.     
Suffolk County's correctional facilities are jails, not prisons. Jails hold those awaiting trials, those who have pleaded guilty and are awaiting sentencing, and people sentenced to less than one year. Those sentenced to longer are usually sent to state prisons.     
When Sheriff Errol Toulon Jr., who oversees the county's correctional facilities, took office in 2018, he homed in on an often forgotten part of the jail population — those over the age of 50. At the time, there were 250 people in custody who fell into that category.       
"You wouldn't want to put an 18-year-old in a pod with a 58-year-old, you're not helping either one out," Sheriff Toulon said during an interview last week. His office has since carved out a program at the Yaphank correctional facility for those 55 and older. It is believed to be the first of its kind in the country.     
A 2018 report from the Department of Justice's Bureau of Statistics suggests that adults age 55 and above are at low risk for recidivism, while those 24 and under are high risk. There is even a bill before the State Legislature considering parole for older prisoners.       
In his 30-year career in corrections, Sheriff Toulon said he has seen first-hand the differences between younger and older inmates. Young men, he said, are stronger physically and tend to be "a little bit more reckless," while older men have more experience and concerns, including health problems.     
Back in 2018, he recalled, an 18-year-old inmate at the Yaphank jail assaulted a 45-year-old. "He didn't like the way he looked at him," the sheriff said. "You will generally not have that in a 55-year-and-older pod."     
"I remember when I worked on Rikers Island, older inmates with some of these young kids — it didn't make sense to me," he said. "I often wondered, why don't we segment them where we can understand what the populations are and what is going on and how can we assist."     
During a visit to Yaphank last Thursday, there were 18 "seniors" living in what is known as the Senior Pod. The oldest was 69, the youngest 55. (At this facility, inmates live in two types of housing: dorms, which are open areas, and pods, which have individual cells and an open common area. There is room for about 50 in the pod.)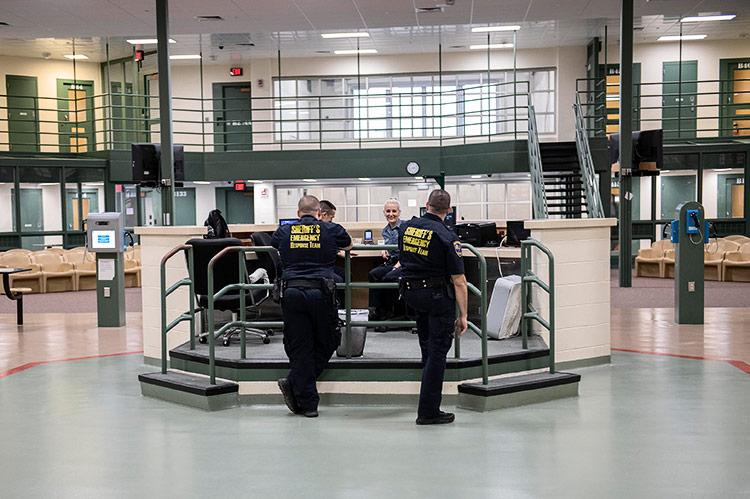 The Senior Pod, when it was created in mid-2018, was combined with an already-existing pod for inmates who are veterans, the oldest-running and one of the most successful programs at the jail. In their combined area, flags hang on the wall from each branch of the armed forces.     
Not every inmate over 55 goes to the senior pod. No one is forced to go who doesn't want to. Those who do go must meet certain requirements other than age: They cannot require protective custody, for instance.     
When defendants are brought into the jail system, they are housed separately, in a "reception pod," for at least five days while they go through an intake and classification process. A lot goes into deciding where to house an inmate, taking into account medical needs, gang affiliation, past history, substance abuse and mental health needs, and more. Officers have to ensure that the inmate will be "a good mix with whatever population they are going into," Sheriff Toulon said.     
The staff is also thinking, when inmates arrive, about what will happen to them when they leave, said Deputy Warden Vincenzo Barone, the commanding officer at the county jail in Yaphank. Ultimately, they will probably re-enter Suffolk County communities. "I'd rather them be shopping than shoplifting," Sheriff Toulon said. He has established a new program at Yaphank to help that happen and to prevent recividism. Such programs are too often missing from correctional facilities, he said.     
"Programming works as far as I'm concerned," Mr. Barone said. He has worked in corrections since 1989, and saw for himself the "revolving door" that the county jails were back then. One of the most effective ways to combat recidivism, he said, has been targeted programing. "I believe it not only makes our communities safer, but stronger."     
In the Senior Pod, inmates have ser­vices come to them. On Mondays, the Department of Labor sends representatives in to help with post-incarceration job search; on Tuesdays, the Family Service League comes in. Other programs include Paws of War, in which inmates train service dogs for veterans; Alcoholics and Narcotics Anonymous groups, and prison ministries.     
The pod is a large, light-filled, open space with two stories of individual cells and a guards station in the middle of the room, which has built-in tables and benches. It was clear we had interrupted a chess game during our visit. Inmates can walk around freely when outside their cells. Several televisions are placed throughout the room, often tuned to sports.     There's workout equipment in an enclosed area with a basketball hoop. It allows for some fresh air, but has no direct access to the outside. A large garage door can go up and down to let in more light.ˇ     
Each cell has a toilet and a sink, but the showers are at the end of each corridor, with an extra one on the first floor. Several smaller rooms allow for one-on-one counseling and group meetings. Inmates have access to a computer in a mini-version of a law library.     
Another room has an industrial washing machine and dryer. Mr. Barone explained that the inmates can use it to wash their socks and underwear, items they are allowed to bring in themselves. Anything that is issued by the jail, such as sheets or uniforms, is washed elsewhere.     
A number of older inmates have health concerns, such as hypertension and diabetes. They receive nutritional counseling and assistance in finding health care once they get out. The new approach did not cost taxpayers any extra money. It was simply a matter of moving "the pieces of the puzzle around" and "training officers to understand this type of demographic," Sheriff Toulon said.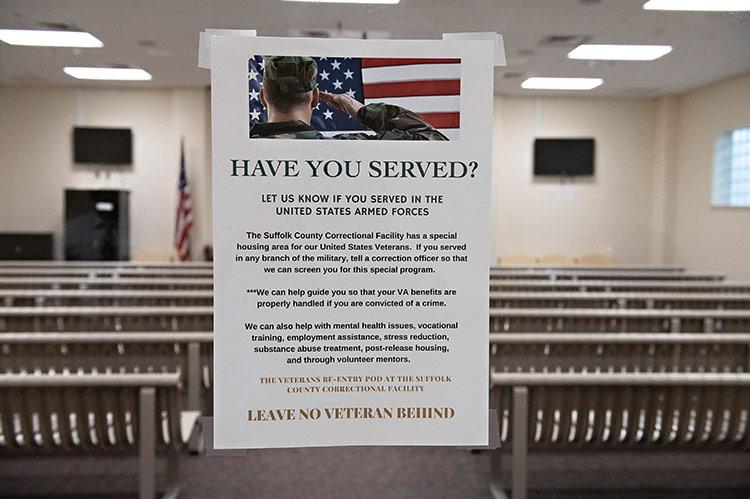 The more contact older inmates have with these services while in jail, the more likely they are to stick with them upon release. "If you've been meeting with Joe in jail, you're more likely to meet with him when you get out. Joe might even come pick you up," Mr. Barone said. His staff and the service providers who come in push the idea that "you're never too old to learn something new."     
Most of the older population has been in and out of the system their whole lives, Sheriff Toulon said. "They have been draining taxpayer dollars for years. We're trying to stop the cycle."     
He said he has had three inmates tell him they committed a crime in part because they could not afford health care, and that they knew they would receive medical care while incarcerated. "That was a little bit disturbing."     
As a corrections officer on Rikers Island, the sheriff said, it was not uncommon to hear homeless men say they had committed minor crimes in October or November in order to be in jail for the winter. They knew their cases would be adjudicated by spring and they would be back out when it was warmer, he said.     
At Yaphank, a "fatherhood initiative," available to men of all ages, helps "older gentlemen to reconnect with their children," Sheriff Toulon said. Some have been disconnected for years from their families, he said, while others, at the opposite extreme, may be primary caregivers for grandchildren.     
The Star requested to speak to the inmates housed in the senior pod, but they declined to be interviewed. Many are ashamed at their predicament, and some keep the fact of their incarceration from children and grandchildren.     
The senior pod is only for men. Sheriff Toulon said there were not enough women behind bars to create one for them. Last week, he said, out of 61 inmates over 55, only two were women. Women average one-tenth of the overall inmate population.     
There are programs for women, but on a smaller scale. Sheriff Toulon created the first initiative in the nation targeting human trafficking when he took office, after identifying a high number of victims. "They are inmates, but they are still victims."     
"We are starting to see some successes," he said. A few former detainees have reached back to the corrections staff to ask for help with finding services, which is especially encouraging because "generally, there is a lack of trust" when it comes to anyone in law enforcement.     
His measure of success for those housed in the senior pod, he said, is twofold. First, that "they never return back, and two, if they are starting to have some issues, they know we are a resource to help them."