Not long to go until the belly-heaving, belt-busting, slobber-feasting season is upon us. Soon, we'll all be as stuffed as the turkey itself. So, consider this a palate cleanser, the opposite of the Dickensian largesse we are about to face, a meditation on the simplicity and cleansing purity of Japanese food. 
On a recent weekend, Isao Yoshimura was busy performing culinary wizardry in the kitchen of an Amagansett home. About eight lucky diners (including this writer) watched his performance art unfold, a scary-sharp knife deftly slicing through a slab of watermelon-colored fish, each succulent piece then placed on little cushions of rice. Soon, plates of mouthwatering, thimble-sized offerings began to emerge: slices of glistening salmon, tuna, yellowtail, and scallops; tiny bricks of rice topped with more fish or squiggly crustaceans, some wrapped in a ribbon of seaweed, like a gift.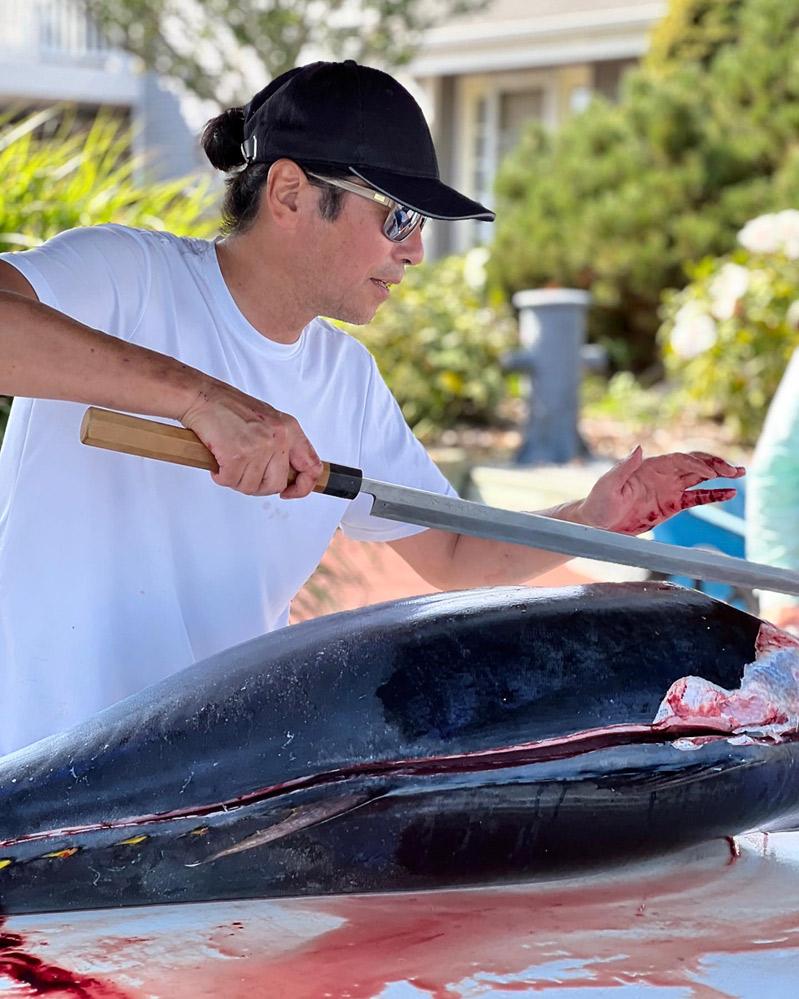 A skilled magician, Mr. Yoshimura then seamlessly redirected our attention away from the intensity of this pleasure to another, and another still: bite-sized pieces of crispy rice topped with raw, finely chopped tuna mixed with a creamy, spicy dressing, generous platefuls of golden-brown crispy karaage -- Japanese fried chicken, skewers of marinated beef, tempura shrimp and vegetables encased in a lacy batter, steamed dumplings made from scratch, his special soy sauce with an extra flavor bomb and umami kick thanks to the bonito flakes and seasoning he added -- a recipe he learned while working at Kosaka, a Michelin-starred restaurant in Manhattan. On the table, there was also a bright ginger dressing, made from fresh Japanese ginger root that Mr. Yoshimura cultivates on a friend's Maryland farm, and which he said could be drizzled on just about everything.
"I really love my ginger dressing," said Mr. Yoshimura, seated off to one side, wearing a white chef's jacket and watching the smiling diners feast, buffet style, on his meal that as well as being delicious was a textural thrill.
Although he was trained in the Edomae style of sushi that dates back to the Edo period in the early-18th century, and which is regarded as "classic sushi," Mr. Yoshimura said that he never really cared about any particular style, opting instead to blend traditional techniques with contemporary sensibilities. Today, he works as a private chef hired by a number of East End households for gatherings that range from elaborate, upscale dinner parties to small, family-style meals. New customers find him on Instagram but many of his regulars were first introduced to him at the Maidstone Club in East Hampton, where, for the last 10 years, he has prepared a sushi and sashimi buffet every Saturday and Sunday during the summer months.
Mr. Yoshimura, 49, was born in Kumumoto Prefecture, on the island of Kyushu in southern Japan. At a young age, his family moved to Saga -- "the countryside, rice paddies everywhere," he said -- where his father worked as a furniture salesman. As a 19-year-old economics student at a local university, he got his first job in a restaurant. 
"It was very hard work," he said. "Long hours and not a lot of time off." After graduating, an uncle suggested that he continue down the culinary path and join him to work in the restaurant business in New York City, which is where he arrived in 1996, aged 21.
"I really learned how to cook and prepare sushi at East, a Japanese restaurant on 55th Street and Broadway. It was near Carnegie Hall and a lot of people would come there after seeing a show." His traditional training under the tutelage of a sushi master, known only as Mr. Yachi, was, he said, "Hard, a lot of harsh words, and lots of pressure." Desperately unhappy, he wanted to return to Japan after a year but decided to stick it out, knowing that he was learning skills from a serious Japanese talent. "Mr. Yachi was an old sushi chef, one of the first who came to America in the 1960s when no one ate Japanese food, especially not sushi. So, he really brought Japanese sushi culture to the United States and he had been trained in Japan at a very famous restaurant."
Mr. Yoshimura stayed at the restaurant until 2011, rising through the ranks to an executive level. In the end, he left because he had been coming out to the Hamptons, where he loved to fish, and decided he wanted to do something on the East End.
In 2011, he became the sushi chef at Banzai Burger, which opened in the much-maligned spot along the Napeague stretch that now houses Dive Bar Pizza, which has actually survived longer than most of its predecessors. The Star's restaurant critic, Laura Donnelly, summed up the Banzai Burger's vibe: "It is not grand, fancy, expensive, or trendy. It is whatever you want it to be. Banzai has a sushi chef, Isao Yoshimura, who goes fishing for his own menu specials. Banzai Burger can be anything you want it to be. An affordable place to take the family for burgers or a fun aprez-beach place for the freshest sushi on the East End." 
Banzai Burger lasted only two years but it helped Mr. Yoshimura establish valuable East End connections. After meeting Chris Monte, the son of the former partner in Gurney's Inn in Montauk, he opened a sushi bar at the beachfront hotel, which he ran for a year. 
"It was exciting to operate the bar myself. A really great experience and I made a lot of local contacts," he said, adding that a stint helming a similar sushi bar at Rick's Crabby Cowboy Cafe in Montauk, followed. After that came the Maidstone Club as well as becoming the go-to sushi chef for the Janet O'Brien catering empire.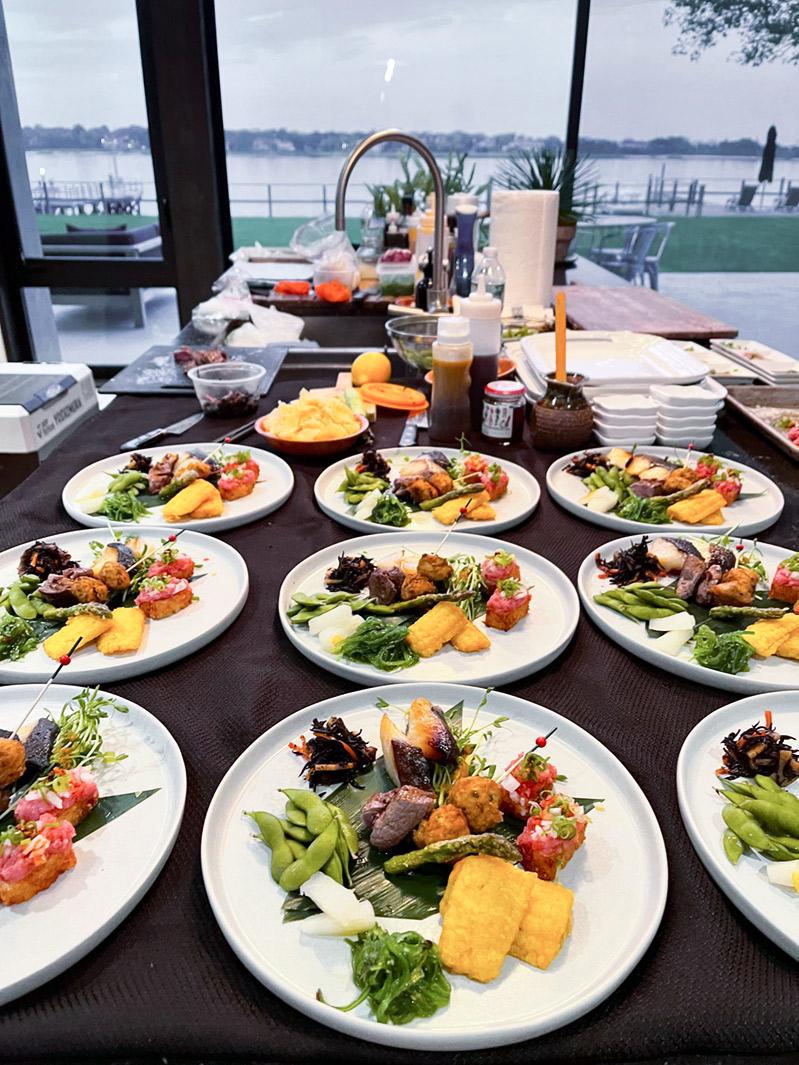 Omakase menus, which roughly translates to "I trust you, chef," have become a big thing of late, with restaurants charging well upwards of $300 per person for a 15 or 18-course set menu of delicate and impeccable morsels, prepared especially for the diner by a master sushi chef who expresses seasonality through a mind-boggling diversity of seafood.
Mr. Yoshimura's menus operate in a similar manner except that his feature more flexibility in terms of budget and dietary preferences. While he does offer a traditional multi-course, fish-led omakase experience, they're only available for a maximum of four people. Usually, he said, his menus are based on dishes that his friends love, yet always rooted in authentic Japanese flavors. "Most people aren't that interested in eating strange fish from Japan," he said, of omakase. "When my clients are at home they mostly want a casual, family-style meal."
Although his meals are a mix of raw and cooked dishes, he said he is best known for his sushi and sashimi, which hinge upon selecting the highest grade fish, special slicing techniques, and ensuring that his sushi rice is served at the correct temperature and texture, and seasoned perfectly with his specially-formulated vinegar. 
Unsurprisingly then, and rather thankfully, he knows a lot about fish. "Atlantic puffer fish is fine to use during the summer and fall but during the migratory season, it can be poisonous," he explained. "Warm water fish, like the local mahi-mahi has a lot of bacteria, so you have to be extra careful and keep the cutting board and knives extra clean." For these reasons, he often buys his fish at the Japanese seafood market in Jersey City because the quality is superior.
"I touch, I smell, I know immediately the quality of the fish," he said.
The upcoming holiday season will be busy for Mr. Yoshimura on the East End and in New York, with many of his clients craving a more-delicate diversion after the all-too-often bleak landscape of our festive meals. Others may even throw tradition out of the window and invite Mr. Yoshimura to provide an altogether different holiday banquet, ditching the turkey or ham for something that's clean and invigorating. 
Ultimately, however, just like our annual food gatherings, a good sushi dinner at home is all about the joy of being surrounded by loved ones. As you watch chef Yoshimura shape a piece of warm rice in his hands and carefully lay a slice of fish on top, you are reminded of the intimacy of connections and the human touch. With each morsel you feel so cared for, so lucky to be there, a part of this lovely world -- the alchemy of sharing good food with good friends at home.