Rita Cantina
28 Maidstone Park Road
Springs
631-329-3663
Wednesday, Thursday, and Sunday, 4-10 p.m.
Friday and Saturday, 4-11 p.m.
When the Nick and Toni's empire opened Coche Comedor in Amagansett a few years ago, it was met with both relief and anticipation. This haute Mexican restaurant brought new flavors to a Hamptons cuisine scene flooded with American and Italian restaurants. High prices and questionable portion sizes, however, gave some diners pause. 
Now Coche Comedor faces stiff competition from Rita Cantina, another haute Mexican restaurant just opened at Maidstone Park in Springs. 
And it is very good. You can feel something genuinely exciting happening at Rita Cantina, especially when you pull up at 4:45 on a weekday, as we did, and discover a full parking lot and already packed bar. This is because happy hour is underway, with $1 oysters (topped with a chili/vinegar mingonette) and an array of delicious margaritas. We enjoyed the watermelon and passion fruit options, a little on the sweet side, but well made and strong on the tequila.
Rita Cantina takes over the cottage-style building previously held for years by Michael's Restaurant, and most recently by Bel Mare, neither of which ever solved the space's dated interior and architecture. The completely renovated Rita, by contrast, couldn't be more contemporary, with its bright BoHo-style decor and new tiled bar. Even the self-labeled hot sauces and stylish menus speak of care and attention.
So it is with the food. You wouldn't necessarily call the chef Eric Miller's menu authentic Mexican, but it is inspired and almost always excellent. Mr. Miller -- previously of Bay Kitchen Bar, among others -- has assembled a cuisine focused mainly on small plates -- grazing is the best way to navigate the food here. Along with the oysters, which were perfectly cold and midsized, your table should include the tuna ceviche, which is a heaping portion of tuna tossed with avocado and charred pineapple, served on a crunchy tostada.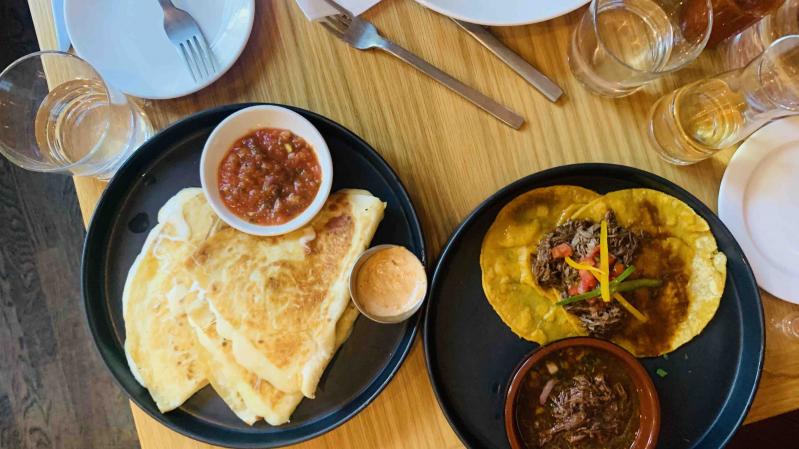 As if to encourage grazing, tacos are served individually. The fried local fluke, battered and served with cabbage and crema, needed a little hot sauce to come alive. More flavorful was the short ribs birria, braised in adobo sauce. The braising liquid made the taco shell a little soggy, so this can become more of a knife and fork taco, but there was no arguing with the richly flavored filling.
At this point you may want to take a breather -- perhaps another margarita to keep the appetite going. The staff, which is both gracious and attentive, keeps checking in after each round of food to see if you want to keep going. We did, moving on to two more "small" plates, including a large and tasty three-cheese quesadilla, served with salsa roja and spicy chipotle cream. Littleneck clams received the Mexican twist as well, steamed in Tecate beer and served with diced chorizo sausage and serrano chiles. 
We were a party of two, and most sane couples would have surrendered by now. But in the name of public service we took on an entree of duck carnitas, which turned out to be a roasted half duck. Diners can take out a knife and fork and eat it in the traditional way and it would be very good, but Chef Miller includes some soft tacos, butter lettuce, salsa and guacamole -- and so it becomes the best tacos in the house. It's $36 -- most plates come in well under $20. But with plenty of meat and toppings, the half duck could be shared by at least two or three people.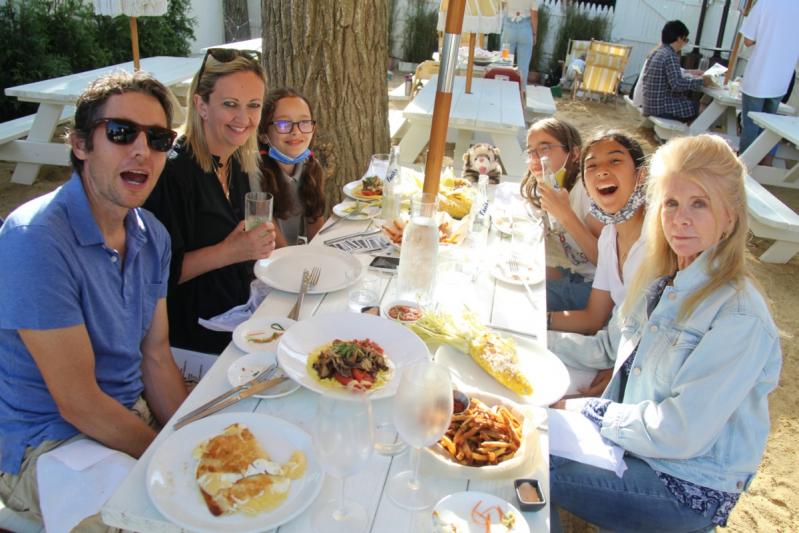 What do you drink with Mexican food? Once you've knocked down a margarita or two, a beer is probably the best way to go. If you prefer wine, white is probably better. We had the albarino by the glass, a hearty and full-bodied Spanish wine that mostly stood up to the spicy food.
No we didn't have dessert. Are you bonkers? We ordered the churros, dusted with powdered sugar and served with melted chocolate. More of a doughnut, really, so technically not a dessert. And we didn't even finish it -- there was still some powdered sugar left on the plate. So there. 
Parking, incidentally, is a bit of a problem. There are about 10 spots in front, which go fast. Then you're on your own -- this means parking on the street, where there are few signs and regulations are anybody's guess. 
But make no mistake, Rita Cantina is a certifiable hit. It is a restaurant of both style and substance.
See you at happy hour.