If the outside world's impression of East Hampton is that of buxom and pale hydrangea Macrophylla bowing to the ocean breeze, tables laden all'aperto with crisp blue linens and shiny white Apilco porcelain, wealth and celebrities, country clubs and fabulous restaurants, well, then, this glossy quasquicentennial "The Ladies Village Improvement Society Cookbook" will firmly cement that impression.
But let's not judge a beautiful book by its cover! Or by its brief foreword (Martha Stewart), or introduction by the editor, Florence Fabricant. Let us begin with Bess Rattray's wonderful eight pages about the L.V.I.S.'s history: "Who We Are." Everyone should know all the good works the L.V.I.S. has done over the 125 years of its existence since 1895, from caring for the stately elms of the village to road improvements to getting the power companies to bury unsightly power lines. It keeps the ducks fed and rosebushes by the train station neaty-pie. It also gives many scholarships to local students, a fact that previous L.V.I.S. cookbooks emphasize mightily.
Ms. Rattray, editor of The Star's East magazine, describes "lemonade mornings" and "wide porch afternoons whiled away in old wicker as the light turns mellow-gold" and "the endlessly rolling ocean waves." Her final firm declaration that "our community is more than a cliche. We aren't just mansions and movie stars, privet hedges and hedge fund managers" is a wee bit ironically placed beneath a photograph of the Bouvier family, certainly one of the wealthiest and best known families of the entire East End.
This is the 13th cookbook by the L.V.I.S. In a recent conversation, Florence Fabricant described how her participation came about. A cookbook committee of five L.V.I.S. members approached her several years ago. From there she was able to bring in the swells and a big publishing house, Rizzoli.
When it was decided that the book would be arranged into seasonal menus, the real challenges began. First of all, she pays great homage to previous L.V.I.S. cookbooks by republishing old recipes with improvements and updates. She was determined to have a good clam pie recipe (and is quite pleased with the result).
"I'm practical from the standpoint of where the cook is going with a recipe. My mind goes to reorganizing the recipe. 'Bake until done' has to be clarified. Some recipes didn't have pan size. The technical details are important, especially for the cook who relies on them." She added that "what impressed me most was how good some of these women were."
Of the hundreds of recipes solicited and submitted, those with convenience foods as ingredients were immediately eliminated. Heck, in the good ol' days of previous L.V.I.S. cookbooks, at least a third were based on canned, powdered, or frozen ingredients, but such were the times.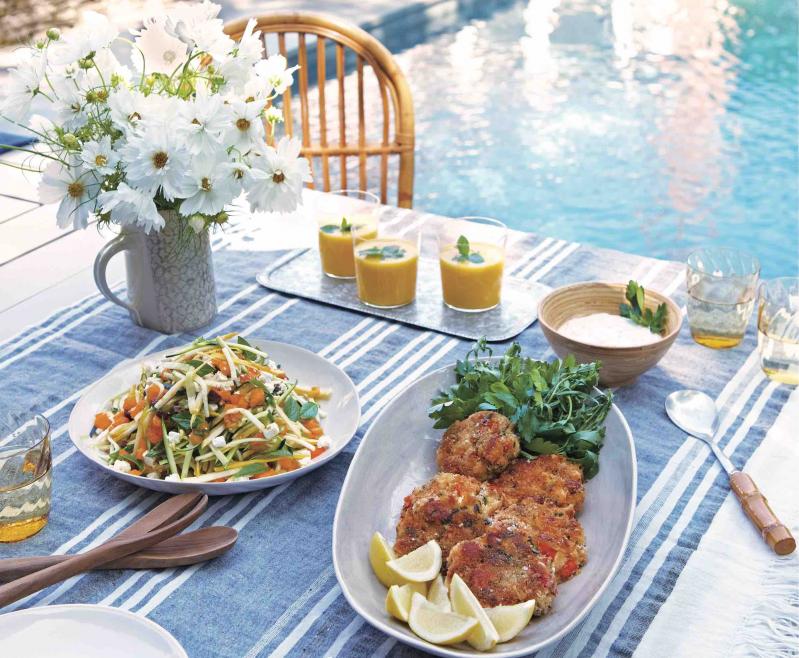 "Celebrities were wanted from the beginning," Ms. Fabricant said. "Laurie Anderson's recipe is wonderful! I make it every Thanksgiving. Eric Ripert's is pure magic." Ralph and Rickie Lauren's brownies also get an enthusiastic shout out. A few recipes from famous people came from their own previously published books, like Ina Garten's iceberg salad and Hilaria Baldwin's shake and cookies. Ms. Fabricant regrets not having been able to reach Jessica Seinfeld for a contribution and I would have to agree; her "Food Swings" book is excellent.
It is worth noting that Ms. Fabricant's daughter, Patricia, designed this gorgeous book. It is their sixth together. Doug Young is responsible for the evocative photography throughout. Take a look at the frosty Southside cocktails on the dock of the Devon Yacht Club and the lobster rolls with yuzu-lemon aioli from Topping Rose House and you will wish it were July.
I also had the opportunity to chat at length with Charles Miers, editor in chief of Rizzoli, and Aliza Vogelson, senior editor, about how this powerhouse publishing company came to choose a book from "that tidy little town on the far tip of Long Island" as The New York Herald Tribune described East Hampton in 1949.
"We always save a few slots for good causes and charitable cookbooks," said Mr. Miers. "We have worked with Florence on others like 'Park Avenue Potluck.' What we publish is all very visually driven, so there's unity there from the start. You've got the convergence with coastlines, farms, and villages."
"There is a sense of community," added Ms. Vogelson. "This cookbook is transporting, which is what we wanted. The blend of historical and contemporary stuff, the variety in the book is amazing. Cooking is something nurturing and distracting. It's being with loved ones."
A favorite juxtaposition of Ms. Vogelson's was the fact that many professional chefs submitted very simple recipes whereas home cooks submitted rather elaborate offerings.
Some of the great surprises in the book are seeing the recipes for such iconic local delicacies as the Seafood Shop's Thai red curry seafood soup, Jason Weiner's Brussels sprouts Caesar salad, and Rowdy Hall's steamed mussels.
Gone are the days of L.V.I.S. cookbooks with chapter titles like "For Men Only" and recipes for gingersnap tongue and Long Island Hurrah (salt pork layered with potatoes). The 60th Anniversary cookbook chapter called "Sea Foods" included four recipes for clam pie but no more than a mention of bay scallops.
I have worked at the baked goods booth at the L.V.I.S. summer fair for many years. Homemade jams and jellies are practically nonexistent and the majority of the baked items are commercially made and donated. (Suffolk County Health Department rules are mostly responsible for this dismaying trend.) Our booth is surrounded by food trucks from afar. The times they are a'changin'. But this book manages to combine the misty-eyed nostalgia for the East Hampton of yore with modern updates (there's a vegan menu!) and transportive images and text. This quasquicentennial lady may still be wearing white linen, a green apron, and a straw hat, but now she's accessorizing with an Herm's scarf and she looks mahvelous!
This is not meant to be a review, but a few corrections are in order. Hey, my column, my corrections. Strawberries do not grow on vines, they grow on plants with runners. Michael Nolan is not the chef at Fresno, Gretchen Menser is the chef. I can take being referred to as just a person "who worked in the kitchen" at the Laundry Restaurant (I was the pastry chef), and I can even try to correct the utter simplification of one of my recipes in this book, chutney cheese spread. Please spread the mixture in a one-inch layer, do not form it into a cheese ball. Top with mango chutney and lots of chopped scallions, not mint. Without the crunch and punch of the addition of the mild allium, this will be ghastly. Sorry, I gotta live in this town!
Lastly, a headnote refers to my grandparents, Sara and Gerald Murphy, merely as "famous partygoers." Ouch. In fact, Grandpa was for a brief time a successful artist whose works reside at the Museum of Modern Art, the Whitney, the Dallas Museum of Art, and several other museums. He also made his family leather goods company, Mark Cross, a huge success. They are the subjects of six biographies and were the inspiration for their friend F. Scott Fitzgerald's Dick and Nicole Diver in "Tender Is the Night." They could also be credited with bringing a whole new generation of artists and writers to the East End of Long Island.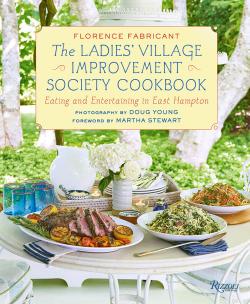 Here are some recipes from the latest edition of the venerable "The Ladies Village Improvement Society Cookbook."
Melon Gazpacho
This recipe from the brilliantly talented and charming Eric Ripert is as simple as can be. Long Island is famous for its cantaloupes, so this will be a must come summertime.
Serves six.
1 ripe medium large cantaloupe or local musk melon, peeled, seeded, roughly chopped
3 cups ice cubes
1 Tbsp. fine sea salt, or to taste
Generous pinch of ground white pepper
1/2 cup high quality olive oil
6 small sprigs basil
Purée melon in food processor. Transfer to blender with ice, salt, and pepper. Purée until smooth and frothy. (If you have a Vitamix you can eliminate food processor.) Drizzle in olive oil while machine is running.
Transfer to large bowl or container, cover, and refrigerate for at least one hour or up to two days. To serve, check seasoning, transfer to bowls, mugs, or glasses, and top with basil.
Southside Cocktail from Devon Yacht Club
Southsides are served all over Long Island. The Devon Yacht Club makes a great one. This is a homemade version that serves two. Feel free to make with vodka instead or top the white rum version with a floater of Myers's rum.
Serves two.
2 oz. simple syrup (combine 1/2 water, 1/2 sugar, boil briefly, let cool. Leftover syrup will keep for a few weeks)
4 oz. white rum
2 oz. lemon juice
1 oz. lime juice
Couple sprigs of mint
In cocktail shaker shake together the rum, simple syrup, and juices with ice. Strain into two stemmed cocktail glasses. Garnish with mint.
The Devon Yacht Club purées the mint into the mixture with a cup of ice cubes.
Cabbage Salad
Here's a simple charmer from Joyce Tuttle, an L.V.I.S. member.
Serves 8 to 12.
1 medium head green cabbage (about 3 lbs.)
1 tsp. salt
1 tsp. minced garlic
1/2 cup extra virgin olive oil
Juice of two limes
Quarter, core, and finely cut the cabbage in long thin threads and layer it in a large bowl, sprinkling with the salt as you go. Let stand 30 minutes. Combine garlic, oil, and lime juice and beat lightly. Pour over cabbage and mix well with your hands.
Let salad stand at room temperature for at least two hours before serving, or refrigerate overnight. This can be made up to three days in advance.