The reason for the short visit to Los Angeles was to celebrate my former NPR boss and friend, Susan Stamberg, getting a star on the Hollywood Walk of Fame. What an occasion! Susan is now 82, still works for NPR, and is the first woman to anchor a nightly network news broadcast. She was also a damn fine boss, warm and encouraging, always making you want to do more and better for her.
The celebratory luncheon after her star was revealed and her son, the actor Josh Stamberg, and Annette Bening had spoken, was at Musso and Frank Grill, the oldest restaurant in L.A., circa 1919.
I figured that if I only had three days, I would attempt to cover the food scene with one wonderful restaurant (Republique), one classic (Musso and Frank), and one iconic fast food spot (In-N-Out Burger, naturally!). Besides the event itself and seeing old friends, I was most excited over the Musso and Frank menu: classic martinis, stuffed celery, herring, jellied consommé, calf's liver, smoked tongue, lamb kidneys, New York cheesecake. Is this place stuck in a Holly­wood/New York time warp or what?
Leaving Sag Harbor at 3 a.m. and arriving in L.A. at 10:30 a.m. allowed time for lunch by the pool at the Hollywood Roosevelt Hotel. This place is also iconic, beautiful in its aging glamour way but attempting to appeal to a younger generation by blasting music all day until 10 p.m. by the pool. The hotel is currently owned by Pakistani Airlines, which has been trying to unload it for quite a while. The lunch of fried cauliflower with tomatillo salsa, guacamole and chips, and an arugula salad with grilled prawns was pretty good.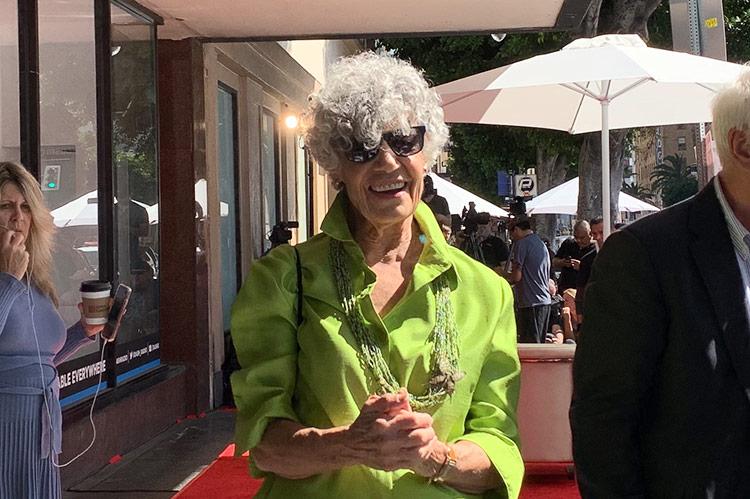 Republique restaurant is in a beautiful old building built in the 1920s to be Charlie Chaplin's offices and studio. It also housed Campanile, Nancy Silverton and Mark Peel's popular restaurant, for over 20 years.
There were three of us and we simply asked our waiter to bring us Republique's most popular, representative dishes. We began with a small cup of delicious potato leek soup dotted with droplets of chive oil. This was followed by a warm crostini topped with tuna tartare, smoked tomato, and kaluga caviar. Next was a Little Gems lettuce salad with sliced radishes and toasted pumpkin and sunflower seeds in a Green Goddess dressing full of fresh herbs. Everything was very light and full of flavor.
The warm octopus salad was one of our favorite dishes. The pieces of octopus were tiny, mixed in with cara cara orange segments, very finely shredded cabbage, crunchy pistachios, frizzled shallots, and chiles. The next warm salad was beautifully charred stalks of broccoli with bagna cauda, Calabrian chile aioli, and pecorino. Bagna cauda, which translates to "hot dip," is a gutsy mixture of garlic, anchovies, and oil for dipping or dousing raw and cooked vegetables. Calabrian chilies are the current darling of the chile world, more warm and smoky than "clobber you over the head with their high range on the Scoville heat scale."
The restaurant also has a big bakery attached and each table gets a freshly baked ficelle (that's a small pointy-tipped baguette) and a pretty mountain-top-shaped hunk of butter from Normandy.
At this point we were completely full but we had not yet received our main course or small sampling of a house-made pasta. This pasta was spinach cavatelli, kind of like skinny gnocchi, swimming in a buttery sauce with chanterelles and black trumpet mushrooms — silky and subtle. And then came the whole roast chicken in a sizzling cast iron pan served with potatoes boulangere and a little copper pot filled with roast chicken jus. We literally took a few bites each and then bestowed the leftovers on our lucky friend, Marty. The chicken was superb, moist inside, crisp outside. The potatoes were cut into round discs, covered in lots of butter, and topped with a very generous amount of bacon lardons. Oof. There was no room for dessert, not even the house-made sorbets.
The following day was perfect for Susan's event, sunny and a comfortable 70 degrees. It was a mercifully short ceremony and then we were off to Musso and Frank Grill, a few blocks down the boulevard. Having just seen Quentin Tarantino's "Once Upon a Time . . . in Hollywood," the red leather banquettes, dark wood paneling, and beautiful murals were instantly familiar. There is a huge dining room with a long, long bar and a grill in the front, then another huge dining room and long bar to the right of the front door.
I immediately latched on to a friendly manager who gave me a back-of-the-house tour. I told him I couldn't wait to try the famous dishes, especially the native sand dabs, which I wanted to compare to our native fluke and flounder. He informed me that our group already had a set menu, but perhaps I could ask our waiter for a little something extra on the side. Very nice!
Here are some things to know. Musso and Frank is hugely famous for "stirred, not shaken" martinis. The martinis are poured into small (2.5-ounce) glasses, with the extra cocktail placed into a tiny carafe which is placed into a tiny hammered metal bucket of ice. The restaurant uses Gilbey's vodka and gin, no vermouth, and — horror of horrors — our bartender shook the bejesus out of our martinis! So much for history and tradition.
Musso and Frank Grill is 101 years old and it truly is a staggeringly beautiful space, but I am sorry to tell you, some of the food made me sad, particularly the side dishes. We began with wedge salads, which were one of the better things we were served. Next was a choice between steak or salmon with creamed spinach, green beans with mushrooms, and mashed potatoes served family style at the table. The salmon was simply grilled and was a very large piece, at 10 ounces. The green beans with mushrooms were soft, so soft, and swimming in water. The creamed spinach was baby food soft, and seasoned as such. The mashed potatoes tasted devoid of milk, butter, salt, or pepper.
Before our main courses arrived, I very discreetly asked our waiter if I could have a sampling of the jellied consommé for my story. (I knew this would be the easiest thing to throw in a bowl and I tipped him three times the price of the consommé.) Why this retro bouillon? Because in the old days, there was no air conditioning, and they believed that an ice cold bowl of meaty-beefy-salty gelatin would refresh the stars, producers, and agents who frequented Musso and Frank. Nowadays it's called bone broth and we pay 10 times as much for it!
Desserts were New York cheesecake and key lime pie tartlets, and they were both pretty good. Everybody thought my geeky knowledge of all things Musso and Frank Grill was hilarious.
The last day in L.A. was devoted to a long hike in Echo Park, a research trip to a cannabis dispensary, and then the grueling decision of what to order at In-N-Out Burger. In-N-Out Burger was the first drive-through hamburger stand started by Harry and Esther Snyder in 1948. Harry also invented the two-way speaker box in his garage, enabling guests to order from their cars. As of 2018, In-N-Out had 334 locations in six states. Its "secret" menu with terms like "animal style" and "double double" is no longer secret and the food is pretty good. I'd say it's on a par with Five Guys, but not quite Shake Shack quality. The "animal style" patties are coated with mustard before going on the griddle, which adds a nice, crisp tang. McDonald's French fries are better, no offense, L.A.!
So that was the L.A. food scene compressed into three wildly different meals — the high-end representation of French/California cuisine at Republique, the iconic and historic Musso and Frank Grill, and the cheesy, fun, fast food that caters to California's car culture, In-N-Out Burger.