The casual dinner for friends was coming to an end. I had begun to pick up the flotsam and jetsam on the table, but my friend Bill blocked my reach for the salad bowl.
"Wait! I want the salad bottoms!" he exclaimed.
He was wise to protest, and I agreed that the bottoms, which an hour ago had been the toppings that inevitably gravitate to the bottom, were the best parts and deserved to be finished. Savored, in fact.
I am a salad freak. I eat one every day. Salads are easy, don't require much, if any, cooking, are a good way to use up leftovers, and kind of fulfill a lot of nutritional requirements in one tasty bowl. When I am a guest at someone's house and they attempt to serve me salad, I insist on digging into the bowl on my own. I want those bottoms!
Let's begin with greens. If you are making a hearty salad with lots of ingredients, you want sturdy greens like romaine, iceberg, or kale. (Lacinato, please, not curly.) If you are composing a daintier salad that is more of a standalone course or palate cleanser, then a delicate green like Boston, butter, spinach, Bibb, or mache is good.
The current darling of the salad world, Gem lettuce, will happily fit in anywhere. Arugula and watercress are full of assertive, peppery flavor but they wilt quickly. These greens should be treated gently when dressing, but can be accompanied by other strong flavors. The bitter chicories like endive, radicchio, and escarole have their place — I like them in small doses. Frisée, feathery and pale green, is not very bitter and is a favorite of the French, paired with lardons, a barely cooked egg, and garlicky croutons. If you ever come across Treviso radicchio, buy it. It is a beautiful claret-and-white color, mild and crunchy, and is great on its own or shredded into salads or risottos.
There are many other greens that are not as commonly used in salads, like dandelion, beet greens, and Swiss chard. If you have the opportunity and space to do so, grow any of these greens and lettuces in the spring and you will save a lot of money, not to mention notice the difference in flavor.
The next step in salad making is logical. Make a dressing that is compatible with your base greens. For instance, freshly squeezed lemon juice and good olive oil for arugula, perhaps walnut oil for a heftier green, combined with toasted walnuts and crumbles of Roquefort cheese. It is very important (if you really care about making good salads) to have a variety of vinegars and good olive oil. If it doesn't really matter to you, then just have one good mild vinegar like sherry or white wine. Balsamic turns everything else brown. Keep citrus fruit in the fridge as well, to make zesty dressings.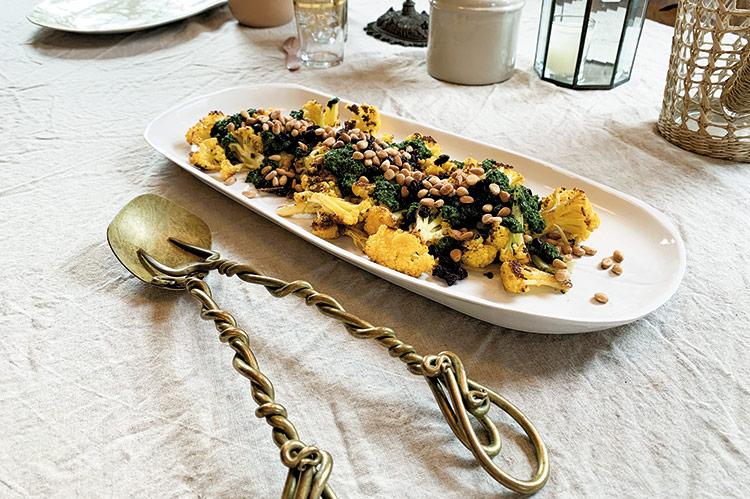 Now let's get to the bottoms, I mean toppings. Have a good variety of nuts on hand and keep the oily ones in the refrigerator, like pine nuts, pecans, almonds, and walnuts. Always toast them before using; this bumps up the flavor and crunchiness. Dry roasted sunflower seeds, pumpkin seeds, and pistachios are also good to have for nibbling with cocktails, then tossed in your salad.
Fresh and dried fruits can have their place as well in a salad, such as melon with curried chicken, apples, or pears in a wintry chicory salad; grapes, grilled nectarines, slices of plum, fresh figs, even mango in a coleslaw. I frequently toss sliced dried apricots or currants into a salad; the little bits of chewy sweetness are a nice surprise. Avocados are another very popular climacteric fruit to add,
only problem is making sure you have a ripe one, so that kind of salad takes advance planning.
Next are cheeses and proteins for your salad "bottoms." Cheeses like parmesan, various blues, feta, ricotta salata, and goat are highly flavorful and salty, so a little goes a long way toward adding flavor and calcium without a lot of fat. For proteins, you can add that last little bit of grilled salmon to a citrusy Asian-style salad, or sliced steak or chicken. Of course crumbled bacon is always a treat, especially for the numbskulls who believe in the keto diet. I would advise only using this sodium nitrite-loaded meat in small doses. Another alternative is frizzled prosciutto. A little bit goes a long way, adding mysterious crunch and umami. Smoked trout flaked over a simple green salad adds a lot of flavor; this is one of my favorites for hot summer days. Hard-boiled eggs are always handy.
Beans, legumes, and grains can make a salad healthier and more filling. If you like a creamy element, then chickpeas or lima beans add that richness.
Lastly, my personal favorite salad topping/bottom is croutons. Big ones, little ones, herbed ones, oily ones, it doesn't matter as long as they are homemade. Do not be lazy and buy those packaged ones at the supermarket — they are full of gross stuff. Everyone has bagels or baguettes or sliced bread that is on the verge of going stale. Pop that stuff into your freezer until you have enough bready scraps to make croutons. You can make big cubes coated in dried herbs and garlic, or simply bake little crumbles tossed with olive oil and LOTS of salt and pepper. They will keep forever in an airtight container, and you will find they also come in handy as a soup topping, on pasta dishes, green beans, and more.
So get creative with your salad bottoms, add some naughty bits in moderation, keep the fiber high and the fats low, think about compatibility, flavors, textures, and color. "Eat the rainbow" may come from a creepy Skittles candy commercial, but it is an apt exhortation. Let's toss some bottoms!