Le Chef Bistro
75 Job's Lane
Southampton
631-283-8581
Lunch and Dinner,
Tuesday through Sunday
How is it possible that the darling little Le Chef Bistro in Southampton has slipped under my radar all these years? It's right there on Job's Lane in Southampton, albeit in a part where the glittery shops begin to dwindle. It is tiny, with a burgundy awning out front, and in summer you will find all of two tables with market umbrellas and the window boxes filled with seasonal blooms. The restaurant makes its own country paté, there are two kinds of mousse (lemon and chocolate), and you can get Pomerol by the glass for a mere $14. Very French, non?
The interior is fairly simple, there is a long zinc bar to the left, some wooden tables and chairs, wainscoting on the walls, and some sconces. The artwork displayed at the time of our visit was big paintings of motorcycles and racecars by Andrew Morris, a local artist.
As there were only two of us for dinner and the place was relatively quiet, we opted to dine at the bar. This was a good decision because the longtime bartender, Christine, was fun. The restaurant did fill up later with two large groups of guests.
We began our meal with a romaine and roasted beet salad, country paté, and oysters Rockefeller. All three were excellent.
The romaine and roasted beets had toasted sliced almonds and crumbled goat cheese on top and a drizzle of very good vinaigrette. Sometimes restaurants boil beets, which leeches out a lot of the flavor. These beets were definitely roasted; they were sweet and slightly caramelized.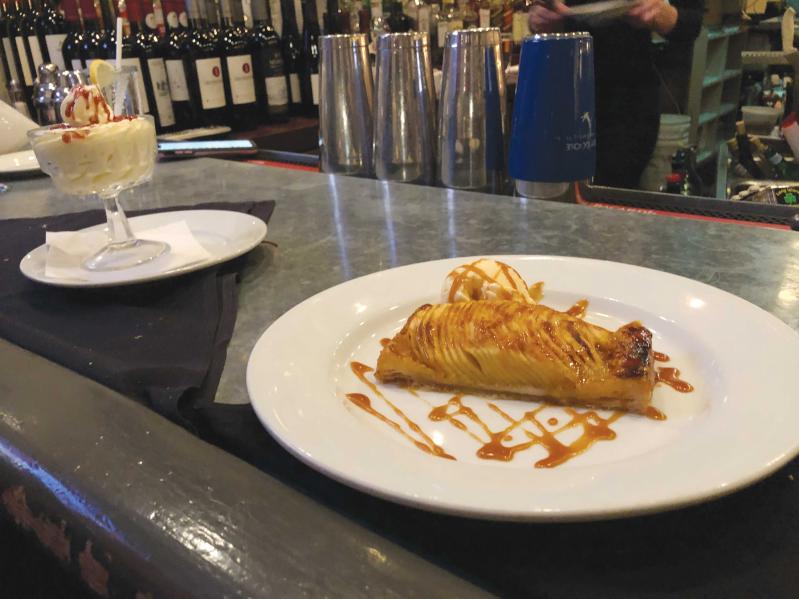 The country paté, made in house, was so good I would go back for that alone. The three thick wedges of coarse paté were served with eight dainty toast points, cornichons, a sharp Dijon mustard, and a small salad topped with spiralized carrots and beets. When Christine heard me comment on how good it was, she said, "The owner is from Galway, they eat a lot of paté in Galway." Whah?! You learn something new every day.
The oysters Rockefeller, four big ones per order, were also excellent. They were served on top of a pile of superfluous mesclun, and there was a little mound of frizzled leeks in the middle of the plate, which we didn't really notice until later. They were delicious and went on top of my fish entree. The oysters were briny and juicy and the spinach topping had just the right hint of Pernod. If we were to find any fault with them, I'd say the amount of breadcrumbs and Parmesan cheese was a tad heavy-handed. 
For entrees we ordered the walnut-and-almond-crusted flounder, New York strip steak, and a side of ratatouille. Both entrees were served with a pile of very good French fries. They were probably frozen, not hand-cut, but they were piping hot and crisp and perfectly salted.
The flounder was very good, super fresh, and the nut crust added some texture. What stood out was the tartar sauce, which tasted and looked more like a remoulade, lightly pink, slightly chunky with pickle and onions and full of flavor. The steak platter looked a little sad with just a piece of meat and fries on it, so my guest asked if she could get some kind of sauce to go with it, something like a Bordelaise. Lo and behold, within two minutes, out came a well-constructed Bordelaise sauce. Bland steak crisis averted. The ratatouille was good, but I am not a ratatouille fan in general so my opinion is irrelevant. What's important is that the guest who ordered it enjoyed it.
The prices at Le Chef Bistro are moderately expensive. Appetizers are $10 to $19, entrees are $22 to $42, sides are $8, and desserts are $10 to $12. There is a very popular prix fixe menu offered every evening from 5 to 6:30 that is $35. As I mentioned before, our bartender, Christine, was a delight, friendly and knowledgeable. As my friend, the chef and restaurateur Tom Schaudel, says about the advantage of dining at a restaurant's bar: "You have a captive audience."
For desserts (all made in house) we tried the lemon mousse and apple tart and I took a chocolate mousse to go. All three were very good. The lemon mousse was light, tart, and airy and had real whipped cream on it. The apple tart had paper-thin caramelized apple slices on a puff pastry crust, and was served with a scoop of vanilla ice cream and a drizzle of caramel sauce. The chocolate mousse was even good the next day. It was a bit pale but had good chocolate flavor, a few strawberry slices, and again, real whipped cream.
The final question I always ask myself and guests on a restaurant review is, "Would you come back?" The answer for Le Chef Bistro is a definite "yes."
This establishment has been open since 1980, 40 years! It's a shame this is the first time I have been. I look forward to going back.