The Guild Hall Members Exhibition is an event that promotes community and creativity in a decades-old art colony. Yet it can also spark fierce competition, roiling jealousy, and absolute perplexity as one brave outsider comes from away every year to choose the best among the more than 400 works on view. The results tend to leave at least a few scratching their heads and wondering how those selections were made.
For the past two years, the museum has allowed a peek behind the curtain just after the appraisal has finished. On Friday, this year's jurist, Susan Thompson, an associate curator at the Solomon R. Guggenheim Museum, offered insights into her methodology in a forthright and thoughtful way.
"In a situation like this, I am tapping into my own taste and subjectivity," she noted. As a curator who works with artists from around the world, "the things I am drawn to are influenced by the things that I'm seeing all of the time."
Her choices reflect her interest in "work that is activating unique materials in different ways," she said. "In any context I come to, that will be what I respond to." She wanted to reward work "that inherently distinguishes itself and causes me — and I hope that extrapolates to other viewers — to pause and look longer, become intrigued, begin to form questions, and ultimately want to see more."
For top honors, which went to Darlene Charneco's mixed-media piece, she said she kept the solo exhibition prize always at the top of her mind. "With Darlene's work it was a case of the uniqueness of the medium and her really interesting activation of the materials." Both palette and composition intrigued her. She wondered how her other works varied in scale, how they related to each other, and whether the one on view was representational. In short, "I wanted to see more."
Ms. Thompson winnowed down the options from a daunting amount of material by photographing and tagging the ones she liked with Post-its to isolate them from the densely packed installation. In a room outside the exhibition, she put together a chart with more Post-its and the different award categories. "Many of the works floating to the surface could have found themselves in any one of the categories. A lot of it was determining who would get each specific award."
Christina Strassfield, the museum's director and chief curator, said most judges go around with Post-its several times, some writing what category they might consider the work for on the note. "Usually there are one or two that are always vying for that top position." Although she said it was really important to see the actual works, she liked the idea of isolating them with a photograph. "You need that bit of calm."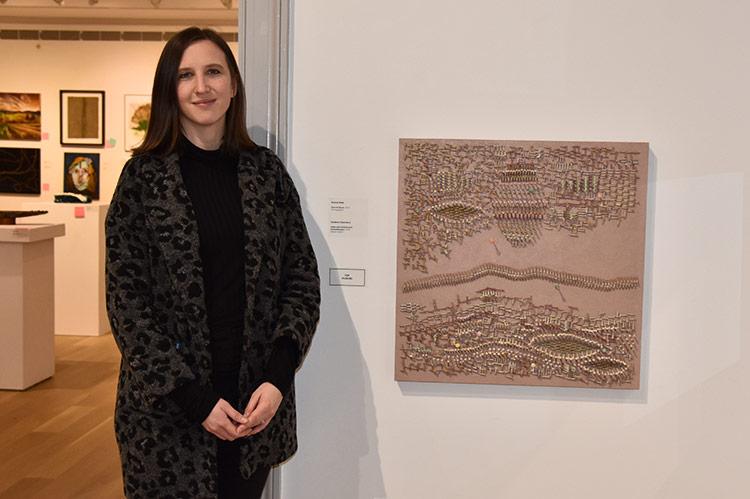 Ms. Thompson agreed that the photograph of the work was only a tool and not the main focus of her judging. "A lot of the work we see here has a lot of texture or uses materials in a certain way. That may not have translated well if I had just seen it in a photograph."
Bastienne Schmidt's piece of cut-and-applied canvas, which won the best abstract award, "jumped out at me in my first pass. I loved the bold lines of it, but also the craft aspect of the sewn fabric." The piece touched on contemporary art's "return to craft and the handmade," with an emphasis on female makers. She "loved the handmade feel and that inherent unevenness that keeps your eye moving around but also seeing how those lines and colors show through that top layer. It's a really compelling work."
She gave Amanda Church the best representational award after her work "stopped me in my tracks for how much it compelled me to keep looking and continue to try to decipher it." While not a classically representational work, its "Self Portrait" title and mostly recognizable subject matter helped place it. "I feel like I'm still trying to figure out exactly what's going on in this piece. The imagination that it sparks and the confusion and dissonance are productive."
Similarly, the Catherine and Theo Hios Best Landscape Award that went to Daniel Jones's abstracted photograph was not an obvious choice. "It was another one that jumped categories," Ms. Thompson said. "It was a difficult choice as there are a lot of landscape pieces throughout the exhibition. I just kept coming back to this one. I love the long exposure, how it veers into abstraction while still remaining legible as a landscape. . . . It has this sense of temporality as opposed to the stillness we think of in the genre of landscape."
Her choice for best sculpture was a return to material and texture with Tracy Jamar's mixed-media three-dimensional work. "I thought this was a really creative expression and masterful execution." She praised the hard and soft dichotomy and the sense that it offered an aerial view along with evoking the female body. "It stood out to me and seemed to require a long look."
Although she chose a traditional work on paper, a collagraph by Mary Twomey, for that category, its evocation of texture also influenced the choice. "This is not fabric or any of that, but the idea of texture recurs in this work and the variation of those textures." She said she was "pulled into the vanishing point and perspectival treatment of the subject matter. I also really enjoyed how each of the different zones has its own approach to patterning, and the palette she chose for it as well."
The mixed-media award went to a thread, pin, and watercolor paper piece by Renee Gallanti. Ms. Thompson said the work's allusions to color theory and the use of new materials were what attracted her to it. "Despite being pretty controlled, there still seems a bit of whimsy to it. Particularly in its application onto watercolor paper, there's a feeling of that texture and sense of fiber in the stratus as on the surface."
Julie Solomon, awarded best new artist, also used common materials in striking new ways, this time bobby pins, glass beads, and velvet. "It's not only a compelling design, in a more decorative mode, but what it is saying through its chosen material about adornment and self-decoration and presentation."
The best photograph award went to Johnny Miller and his "07/04/2019 Springs, New York," an elegant and diminutive photo of a slice of watermelon on a plate. "It's such a sweet and tender image somehow that I found it compelling and continued to return to it. Compositionally it's very strong, but I also feel like it emanates a real sense of its place and moment." She also found the economy of the image and the softness of the lighting "pretty masterful."
The honorable mention winners were John Wittenberg, Pamela Topham, Sharon Mroz Hopek, David Yohay, Beth Giles, and Isabella Rupp. The exhibition will remain on view through April 18.