And now for something completely different . . .
A reader reached out to The Star on Thursday with photos of what he said might just be another Montauk Monster, the famously gruesome creature found in Montauk in 2008 that became a viral internet sensation. 
Evan Didyk of Montauk was walking on the beach with his girlfriend, headed west toward where the sand starts to turn into rocks, when they noticed a "faint animal-rotten smell," he said on Friday. The two had been searching for driftwood to take home, but around 3 p.m. they found something completely different: a dead, decomposing creature of unknown origin. 
"I continued on walking and the smell worsened," he said in an email. "It became very foul and pungent. As I'm looking down, I see this hideous, bloated, dead creature. At first it blended into the surrounding rocks. I performed a double-take and saw it lying there."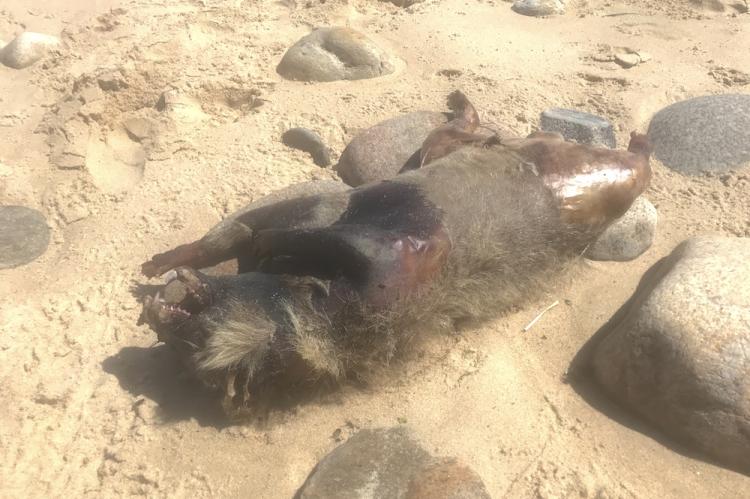 He's used to seeing dead fish or an occasional seagull carcass, he said, "but this was very different and a first for me." He recalled the Montauk Monster from popular news reports in July of 2008, when images of a grotesque beast drew speculation that it was an escaped Plum Island Animal Disease Research Center resident, or the outcome of the Montauk Project time travel experiments, or the subject of one of many other conspiracy theories. 
"In general, I was very surprised, shocked, taken off-guard for sure," Mr. Didyk said. "I snapped a few pictures and decided to end my walk there, and went on with my day." 
He apparently wasn't the only one making the connection.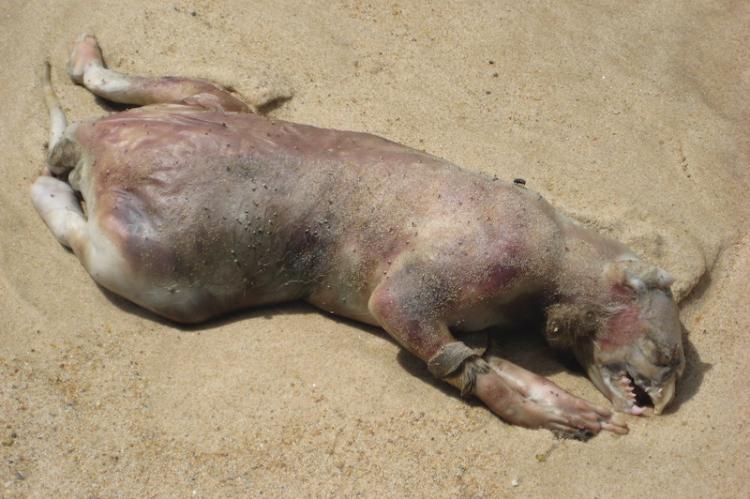 The original Montauk Monster was found by Jenna Hewitt, Rachel Goldberg, and Courtney Fruin on the beach in front of the Surfside restaurant. The photo they took made its way around the world, and even 12 years later the women still get calls about it, Ms. Goldberg said by text on Friday. "We just took a pic because it was so odd looking," Ms. Goldberg said. She and her friends had been surprised that it got so much attention. She's even heard people talking about it in such far-flung places as Hawaii and Australia. 
Since then there have been a fair share of similar sightings, but none with quite the impact as theirs.
By Friday afternoon Ms. Goldberg had already seen a photo of this "monster." A friend spotted it on social media and sent her a screenshot. Asked what she thinks it is, she said she has "no idea."
As for the original? "A friend kept the bones. He has it in his garage."
Yuck.
With Reporting by Carissa Katz