East Hampton Town police, aided by a Suffolk Police helicopter crew, were searching Wednesday afternoon for a driver who fled a hit-and-run accident involving as many as three people that took place just before noon on Route 27 in Amagansett.
According to reports, a red pickup truck with equipment in the back struck the three, including a woman and an infant at 11:45 a.m. today, and fled east. Police may have located the truck on Gilbert's Path, a residential street that connects Napeague Lane and Marine Boulevard. Suffolk Police Helicopter 2, which had flown one of the victims to Stony Brook University Hospital, returned to aid in the search.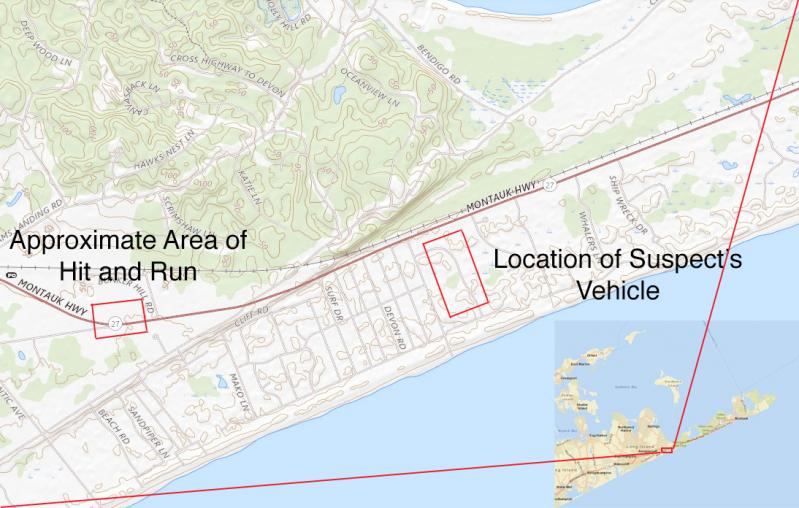 ---
The accident happened in east Amagansett, on Montauk Highway near Bunker Hill Road and a Shell gas station. One helicopter landed in a large field nearby and took a victim aboard; another met an ambulance at East Hampton Airport. A third victim went in an ambulance to Stony Brook Southampton Hospital. A Suffolk Sheriff K-9 team was called in as well.
The driver, as of about 2:15 p.m., was said to be moving west on foot through a wooded area. He was described as a slim adult male, about five feet, six inches tall, wearing a green, short-sleeved shirt.
As of 4:30 p.m., Montauk Highway at the accident scene remained closed, and traffic was being diverted onto Bluff Road.
East Hampton Town police can be reached by phone at 631-537-7575 with information related to the incident.