The first officer to respond when a man fell through the ice while trying to save his dogs last February has been named the East Hampton Town Police Department's Officer of the Year.     
Officer Robert Greene will be honored Friday night at the Atlantis Grand Ballroom in Riverhead, along with officers from other agencies that serve the East End. This will be the Southampton Town Kiwanis Club's 50th annual police awards dinner.     
Chief Michael Sarlo said the rescue was not the only reason why the supervisory staff selected Officer Greene. He described the officer as "a hard-working and dedicated young man, who does a great job day in and day out," adding that "he faces the challenges of policing with a great attitude and represents the department well in his everyday work."       
The lifesaving rescue took place on Feb. 3, 2019, in the icy waters of Napeague Harbor. With several good Samaritans and other officers, Officer Greene helped to save Randy Parsons, who fell through the ice after running in to save his two dogs. "The quick-thinking and selfless devotion to performing his duties, along with Sgt. [Daniel] Roman, ultimately helped save Mr. Parsons' life that day," Chief Sarlo wrote.     
Officer Greene joined the department three years ago and has consistently demonstrated "outstanding work ethic and police instincts," the chief said in an interdepartment announcement. He was also near the top of the entire department last year in the number of arrests made, 32, summonses issued, 250, calls handled, 662, and drunken-driving arrests, 10. He also assisted with 46 arrests. He is one of the busiest officers.     
"His consistent excellence, dedicated activity in enforcing the law, assisting the public and his fellow officers make him an excellent choice for this year's award," Chief Sarlo concluded.     
The Southampton Kiwanis Club has been recognizing police officers for their good work for the last 50 years. "The East End law enforcement community cannot thank the Southampton Kiwanis Club enough for their enduring support of our local officers and departments," the chief said. "Taking the lead in recognizing our outstanding members, and giving us an opportunity to come together every January has been a legacy every officer appreciates. We can't thank them enough."     
The East Hampton Village Police Department is recognizing three officers who helped revive a woman who had collapsed on a bus during the May 11 village street fair. They are Detective Brian Eldridge and Officers Jenn Dunn and Sean Christian.     
Another passenger ran off the bus in search of help after the woman was found unconscious in her seat. Detective Eldridge found she was in cardiac arrest, placed her on the floor, and began cardiopulmonary resuscitation while Officer Christian grabbed an automated external defibrillator. Officer Dunn assisted in using the A.E.D. The woman  was eventually revived and was soon released from the hospital.     
Officer Christian has been with the department since 2003, Detective Eldridge since 2005, and Officer Dunn since 2013.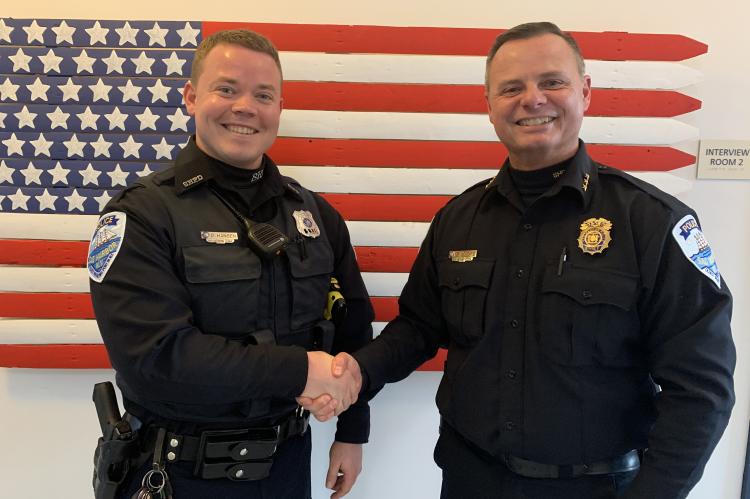 In Sag Harbor Village, Officer David Hansen, who found a loaded handgun in a car during a routine traffic stop in 2018, is being recognized this year as the department's top cop. "His police instincts kicked in and he knew something was wrong," Chief Austin J. McGuire said.     
Officer Hansen found that the 19-year-old driver, a known gang member, had a backpack between his legs, which turned out to be holding two pounds of marijuana and a loaded 9-millimeter handgun with "one in the chamber," the chief said. "He took a gun off the street and a dangerous felon from the community."     
The officer is an Amagansett native who graduated from East Hampton High School in 2010. He joined the village department as a part-time officer in 2016, and became a full-time officer a year later. Right after his interview, he was directing traffic when he was hit by a car, tore his anterior cruciate ligament,  and was out for six months.     
"That's how he started his career," Chief McGuire said, adding that since returning to duty he has consistently been one of the officers with the most arrests. "He is conscientious and respectful and professional. And he always has a smile on his face."