Residents can cast their ballots on Tuesday in fire district elections across the region, granting five-year terms to commissioners who oversee finances and operations in local fire departments. The Springs and Bridgehampton districts have contested races this year; in Amagansett, there is a separate proposition on the ballot.
Patrick Glennon, the incumbent candidate in Springs, is facing a challenge from Peter Grimes.
"I think that the commissioners' role is changing from what it has been in past years," Mr. Grimes said. "The amount of calls on the department side is changing. Some of their needs and necessities are changing."
A former member of the Montauk Fire Department, Mr. Grimes joined the Springs department in 2008. He was its chief in 2016 and 2017 and currently holds the rank of lieutenant. He said he became interested in the board of commissioners while he was chief.
"It interested me. It's good for younger guys to get involved in it," said Mr. Grimes, who is 36. "It's a nice succession when you come out of chief, because it's fresh in your mind what's going on."
He owns East End Excavating with his wife, Nicole. The company recently volunteered to install a septic system in a house built by Habitat for Humanity, where a Springs couple — who are first responders — now live.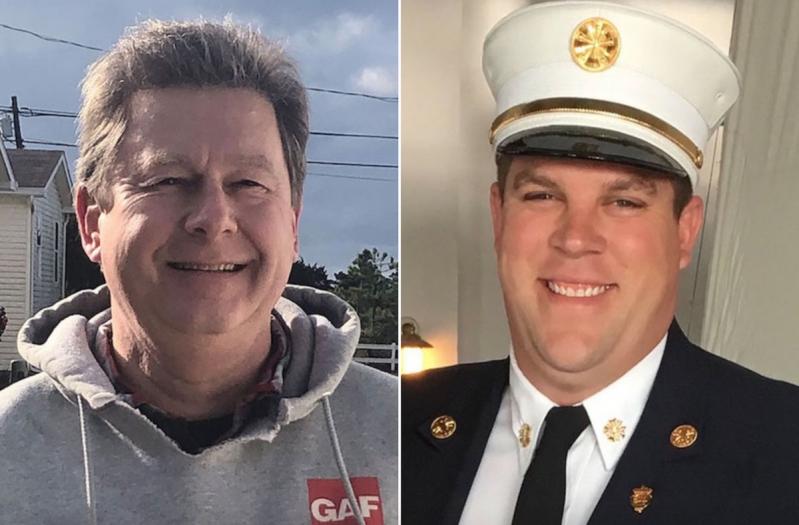 Mr. Grimes said he wanted to ensure fiscal responsibility while also providing what the department needs, and to bolster communications across the district and department.
Mr. Glennon is just finishing his third five-year term as a commissioner. He said he would like to see Springs's controversial cellphone tower through to fruition, and wants to continue maintaining a reasonable budget.
"It's important because of the control of the taxes. . . . You have a balancing act that you have to do there," he said. "You have to give the members the best protection possible and still make sure that the budget doesn't go crazy."
Mr. Glennon has owned a construction company since 1987 and used to coach a girls' Little League team. Another coach got him interested in joining the fire department 30 years ago; before that, he was a volunteer firefighter, and he has been a critical care technician for 20 years now.  He has held various ranks over the years, including lieutenant, assistant lieutenant, assistant captain, and captain.
"I feel I'm probably the best candidate with the most experience," Mr. Glennon said. "I have more time on the board than three of the four other board members combined."
Voting in Springs will be at the firehouse, 179 Fort Pond Boulevard, from 6 to 9 p.m. on Tuesday.
In Bridgehampton, a longtime commissioner, Fred Wilford, has chosen not to run for re-election. The contested race is between Elizabeth Whelan Kotz and Charles Broadmeadow.
Mr. Broadmeadow, a former first assistant chief in the Bridgehampton Fire Department, is now captain of the fire police. He has 22 years of service to the department.
"I just want to make sure the guys get what they need, when they need it, and not have to wait forever to get it," he said, describing himself as "detail-oriented" and "somebody who's gone to the commissioners before and asked for things, and waited for it for a long time."
In 1986 Mr. Broadmeadow joined the Navy, serving for eight years. He was stationed on the U.S.S. Carl Vincent out of Alameda, Calif. While in the service, he said, he took every fire-school course available. "When we did firefighting in the Navy, we had rubber boots, rain pants, and a raincoat to fight a fire," he said.
Ms. Kotz is the first assistant captain of the Bridgehampton ambulance company. A past trustee of the Hampton Library for 15 years, she was a Bridgehampton School Board member for nine years. She is also an incident safety officer and provides exterior-scene support for firefighters. If elected fire commissioner, she would be the first woman in that role in Bridgehampton.
"This is something I can do," Ms. Kotz said. "I feel like there is a need for a bit of a liaison role between the district and the department, and between the district and the community. With my background of having been on boards, knowing how things must go and must work inside of the law is important, and knowing how to work together in a group to bring consensus is very important."
Voting in Bridgehampton is from 6 to 9 p.m. on Tuesday at the firehouse, 64 School Street.
In Amagansett, Carl Hamilton, who has been a fire commissioner since 1991, is up for re-election after his most recent five-year term, running unopposed this year. He has lived in Amagansett all his life, and signed up for the fire service at age 18. He worked his way up during 45 years as a member, beginning as company number one's secretary-treasurer, assistant captain, and captain. Then it was on to second assistant chief, first assistant chief, and, from 1986 to 1989, chief.
The tether for Mr. Hamilton is simple. "I like the fire service," he said. Because he is an ex-chief, he is also able to help chiefs run investigations — made convenient by the fact that his work keeps him local. He is a house watcher and a doer of odd jobs as well.
There is a proposition on the Amagansett ballot this year with regard to the fire department's length-of-service awards program, which would encourage volunteerism by allowing members to earn additional years of service credit from the pension program set up by the state.
Those registered to vote in Amagansett can go to the polls at the Amagansett firehouse, 439 Main Street, from 6 p.m. to 9 p.m. on Tuesday.
In Montauk, John Mark is running unopposed to take the commissioner seat of Michael Mirras. Mr. Mark has lived in Montauk since the 1980s and has served in the fire department for the last five years. He worked as an emergency medical technician for four years.
Having served as a member of various church and school organizations in Suffolk County, Mr. Mark is a former president of St. Michael's Lutheran Church in Amagansett. A former board member of St. Michael's senior housing complex, he has been on the fire department's budget committee for three years, with the help of an accounting degree from SUNY/Geneseo. He assists in a less official capacity with training and ambulance calls.
Mr. Mark ran for commissioner last year and came in second to Bill Pitts. "We have a great department and a great bunch of volunteers, and I want to work on what we have. I'm a very big fan of communicating with the public and more public outreach," he said.
Polls at the firehouse, 12 Flamingo Avenue, will be open from 2 p.m. to 8 p.m. on Tuesday to district residents. There are no propositions on the ballot.