No one was seriously injured an accident involving three vehicles that took down a utility pole and snarled traffic on Montauk Highway in East Hampton Village during the Monday evening commute. 
East Hampton Village police were called to the accident, just west of the western end of Georgica Road close to Wainscott, at 4:45 p.m. Officers are investigating exactly what caused the crash, which left a Ford Focus wedged against a tree along the highway. Its entire side appeared to be ripped off and its airbags were deployed. A BMW station wagon was crushed against the Ford, and a pickup truck had crashed into the utility pole, which appeared to be broken in half and dangling over the highway. 
Village Police Chief Mike Tracey said it was not clear yet who hit what.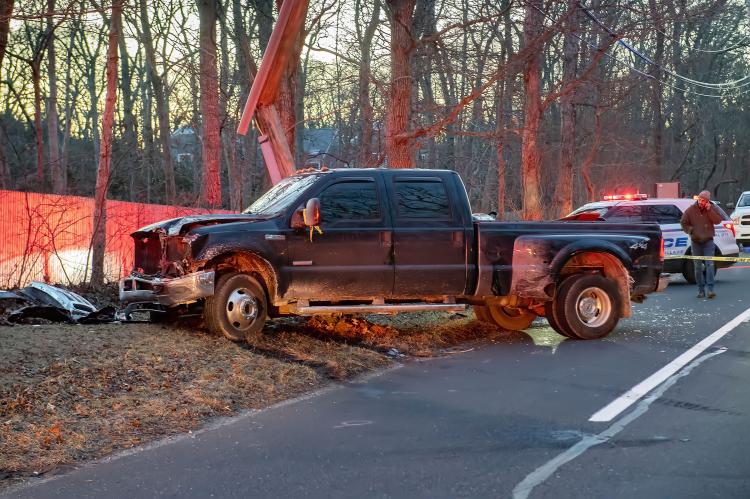 Between the three vehicles there were eight people involved, but only one was hurt, the chief said. The East Hampton Village Ambulance Association took that person to Stony Brook Southampton Hospital with minor injuries. 
The East Hampton Fire Department's heavy rescue squad, known as the White Knights, was called to the accident when it was reported that passengers might be trapped in the vehicles, but no one needed to be extricated.
Firefighters did assist in stabilizing the Ford Focus by inserting chocks and cribbing underneath a tire, and helped someone out of the car, according to Fire Chief Gerard Turza Jr.
Firefighters also assisted with assessing the damaged utility pole and helped police with traffic control, the chief said.
Montauk Highway was shut down, and traffic was diverted onto Stephen Hand's Path. Police are awaiting PSEG-Long Island workers to repair the pole before they can reopen the road.