East Hampton Town and Village will have strict protocols in place as their beaches open on a limited basis this weekend. Following is a quick rundown of some of what beachgoers can expect. 
Lifeguards will be on duty and bathrooms will be open from 9 a.m. to 5 p.m. at four East Hampton Town ocean beaches on Saturday, Sunday, and Monday of Memorial Day weekend. These are Indian Wells and Atlantic Avenue Beaches in Amagansett and South Edison and Ditch Plain Beaches in Montauk. Parking will be by permit only, with reduced capacity. Daily passes and nonresident parking permits will not be available. 
People will be asked to wear face coverings in parking lots, at the beach entrances and exits, in bathroom areas, and while walking on the beach whenever they cannot maintain a six-foot distance from others. The town will require that family or household groups keep their blankets and chairs at least 10 feet from those of other groups, and sports will not be allowed. Separate entrances and exits will be set up at each beach.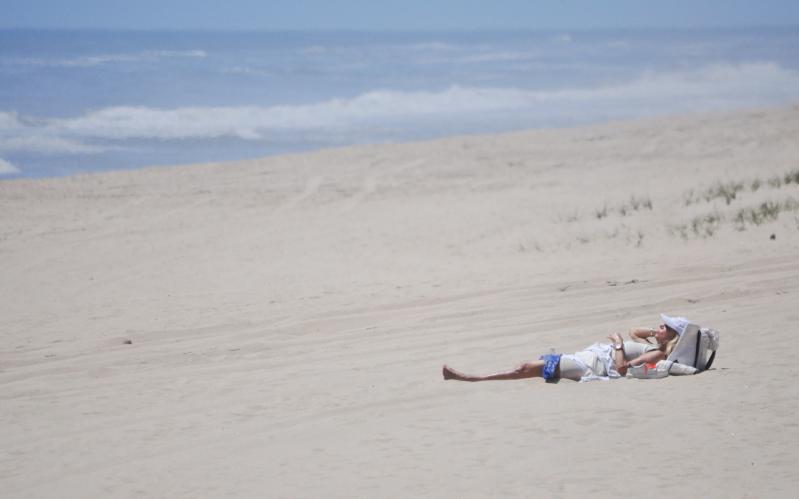 Lifeguards will not be on duty at the town's bay beaches until June 20, and bathrooms will be closed. Gin Beach on Block Island Sound and the downtown Montauk ocean beach from Kirk Park to South Edison will also open on June 20.
Bathrooms will be disinfected throughout the day and locked at night. 
Beaches will have one lifeguard stand to start, and beachgoers will be asked to spread out 25 yards to the east and west from it. Seven or eight lifeguards will rotate shifts on one stand, the others walking the beach, reminding people to maintain distance. Officers will patrol the beach between Indian Wells and Atlantic Avenue on all-terrain vehicles. Lifeguards have received training specific to Covid-19 infection as well as their typical training, according to John Ryan Jr., the town's chief lifeguard, to protect themselves as well as beachgoers.
East Hampton Village beaches will have reduced parking, available to permit-holders only, and will not sell daily parking passes. The deck of the Main Beach pavilion will be closed, but beachgoers will have access to the restrooms and locker room. Attendants will monitor the facilities, as well as the restrooms at Georgica and Two Mile Hollow Beaches to make sure that people are either maintaining six feet of social distance or wearing a mask. 
For more on how the East Hampton Town and Sag Harbor and East Hampton Villages are planning to handle the first weekend of beach season, click here. 
Southampton Town and Village plans can be found here. 
By Carissa Katz, Christopher Walsh, and Jamie Bufalino