David Falkowski, who has operated his Bridgehampton farm, Open Minded Organics, since 2003, has become a bit of a roadside philosopher during the Covid-19 pandemic. 
Some of his inspiration may come from the clients for his CBD products, who have followed him back to the farm from the apothecary shop in Sag Harbor that he closed temporarily as the coronavirus became prevalent here. 
As far as coping with this new situation goes, "You have to take things you are afraid of, take that anxiety, and use that energy to be your motivation. If you feel bad about something, you have to try to find a way to do something good, to participate," he said by phone from the farm on April 23.
He found his motivation in turning the farm into a community resource for fresh food. Customers can purchase a provision box of farm-selected items or a box of items they select themselves, including fruit, vegetables, milk, snacks, bread, and even sanitizer spray. At the same time, he continues to process and offer his CBD products to help people cope.
"We're in good shape. The hardest part is serving the customers in a non-disruptive way." The farmers are equipped with gloves, masks, rubbing alcohol, and strict protocols regarding distancing and not touching credit cards. 
Before the pandemic, his farm was known for its organic mushrooms, produce, and, most recently, hemp. He now gives clients trial sizes of CBD products in sealed bottles for $10, when he once offered free samples based on their concerns in his store. 
"We're not doctors or practitioners," he cautioned. "We can't give medical advice; we can only tell them suggested servings and how it works for ourselves." He has chronic hip and back pain from previous injuries. His wife, Ashley Tomkiel Falkowski, uses it for stress management and sleep. "Now is as good as a time as ever to give it a shot," he said.
Farm work and retail sales in this time are hard. The decision became "run our farm and businesses in this way, or shut them down and a dozen employees go home," he said. "Those are not just mouths, but families we are feeding." He said the choice was either "providing for the community or hoping someone is going to provide for us."
They are hearing some resistance to the new regulations from their customers. "Even if it seems like we're losing our civil liberties, at the core of these protocols and measures is respect for our fellow humans."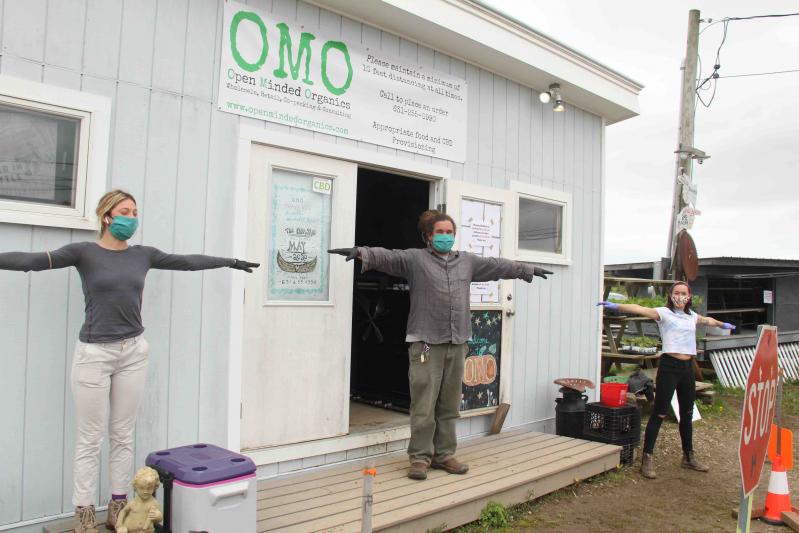 Based on the behavior Mr. Falkowski has seen, he recommended that people be aware of their surroundings and gauge distance from others based on the circumstances — farther than six feet if you are downwind on a trail or in an enclosed space. He said people need to be reminded that masks are there to protect others from their germs, not vice versa.
It's a good time to reinvent yourself, he said. "An engineer friend of mine . . . said a square wheel will work smoothly on a jagged road. When there's hard times and a jagged road, you can reinvent the wheel, take a bad situation, and channel something good."
He noted that some employees couldn't make the transition. Those who did are "more tight knit. We communicate more. It's a bit of a commune. . . . We have to rely on each other, trust each other."
Customers have supported them with tips, and he has bought T-shirts and lunch to boost morale. "Sometimes we knock off at 3 for some wine and throw logs in the fire pit for a decompressing afternoon."
Over the years, Mr. Falkowski said, he has used acupuncture, massage, and yoga as means of coping. He said it has helped having a graduate student in psychology on staff now as a sounding board. "It all starts with our intentions and motivations," he said. "Pills or hemp, alternative or traditional medicines, these are tools, but they're not silver bullets."
How to Do It
Mr. Falkowski recommends shutting off social media and the news. "Be careful digging up skeletons in old photo albums. I'm not a psychologist but have heard some stories about people getting depressed going down memory lane."
Exercise, fresh air, and a healthy diet "allow the body to function properly." Flexing the brain muscle, providing it a challenge, is both a "distraction and utilitarian in a progressive way . . . be part of the solution, participate." Smart minds could help solve challenges like the interruptions in the food supply chain, he said. 
Seeing so many people walking up and down Butter Lane inspired him to propose a "moonlight weeding program," in which people could pull weeds at night when no one is around. He may have been only somewhat serious, but if you're interested, give him a call.