What makes East End Food Institute's East End Food Market in Riverhead so popular among Long Island's indoor farmers markets?
Its variety, for one thing. The market is a rich mix of over 45 vendors. In addition to house plants, produce, pasta, seafood, meats, baked goods, soups, quiches, granola, yogurt, microgreens, eggs, pudding, herbal remedies, spices, pies, and dog treats, as well as local spirits, wines, and beers, you'll find locally made jewelry, soaps, knives, and cheeseboards.
"It's set up so you can really relate to people," said Kristina Tomony, the market manager. A lot of people.
Vendors and patrons come from all over the Island to attend — more than 700 every Saturday morning from late November through April.
Jane Lubben of Sag Harbor, who was shopping on a recent market day, said she finds the scene "just the right amount of busy; busy but not crowded. It's nice."
The market, which is at 139 Main Road, opens at 9 a.m. "Around 10:30, the younger people come in," said Nicholas DiBenedetto of Quogue's Nicholas DiBenedetto Knives. "I have no idea what I'm going to sell — kitchen, hunting, filleting, chopping, cheese knives. I just keep making, because it's like painting — creating something — it's not work. I love it."
Ms. Tomony has a rotating cast of sellers, though many attend every week. Participating farms include Sylvester Manor Educational Farm from Shelter Island, Goodale Farms and 1760 Homestead Farm from Riverhead, Sang Lee Farms from Peconic, South Shore Mushrooms from Moriches, Kalypso Farms Dairy from Dix Hills, Urban Coyote Farm from Wading River, and Mattituck Mushrooms. Two main bread bakers — Blue Duck Bakery from Southold and Jamesport Sourdough — spread the leavened love.
Aki's Kitchen from East Quogue offers soups, salads, sweets, and sauces. There are gluten-free offerings from SquaredGF, whose owner, Patricia Conforti, produces lemon squares, brownies, and blondies inspired by her own love of bar cookies and inability to digest gluten. Gut Goodness also hand-makes gluten-free products including buckwheat crackers, breads, crunchy granola, and spreads. And Sag Harbor Honey sells honey that's gathered from local hives, including a "hot honey" produced in the East End Food Institute kitchen in Southampton.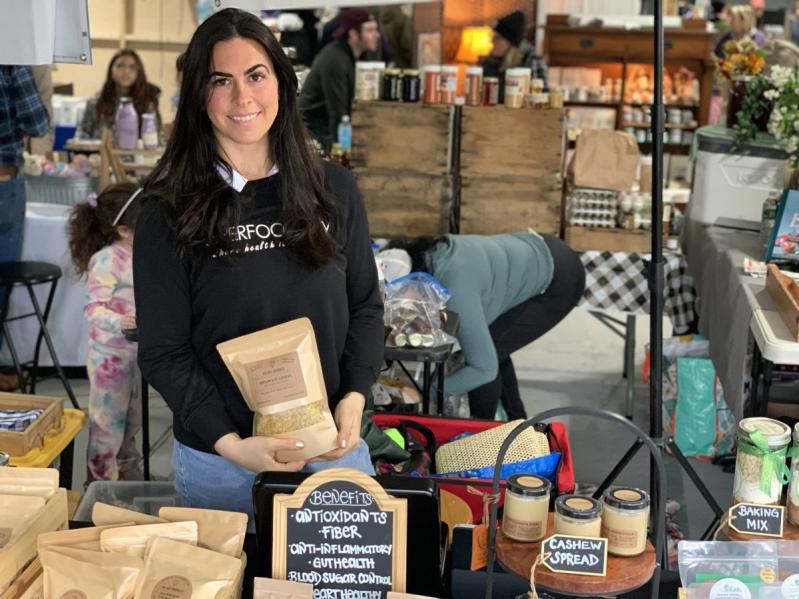 Art Ludlow or his brother-in-law, the chef Stuart Johnson, or a staffer, Charlie Rouhandeh, drives up early on Saturdays from Mecox Bay Dairy in Bridgehampton to unload artisanal cheeses, as well as pork, poultry, and beef. "I love the atmosphere. We're spread out, but it feels very close and social in here, super-friendly," Mr. Rouhandeh said. 
"We get such a different mix of people who come to visit this market," said Jim Walsh of Green Door Woodworks, a Southampton wood block puzzle company. "I like to talk to people here, and I'm not a big talker! My favorite thing is to watch kids play." 
Katherine Barna watched her son, Henry, 3, play with a puzzle. They drop into the market from their home in Mattituck most Saturdays. His favorite thing: The pickles from Horman's Best Pickles.
Jay Lippin, East End Food Institute's executive chef, is a frequent visitor to the market. During the week, he oversees a professional staff in the former cafeteria kitchen at the Stony Brook Southampton campus. His recipes and his team's efforts produce preserves, dips, dressings, and sauces using local ingredients. Many receive East End Food Institute labels and are sold through the institute's market in Riverhead, where the most prominent stall at the market is the institute's own. It offers a selection of pickles, jams, sauces, and preserves. There's also a refrigerator packed with its dips, dressings, pestos, and hummus positioned right by the exit. 
Formerly an executive chef at such prestigious restaurants as the Odeon and Cafe Luxembourg, and a winner on the Food Network's "Chopped" cooking competition, Mr. Lippin embraces the challenge of converting Suffolk County's bounty (Suffolk has the highest agricultural sales of any county in the state) into mainly shelf-stable products. He formulates all the institute's products and works out recipes to scale-up farms' value-added products.
More than half of the kitchen's output is fulfilling custom product orders for local farms, according to the institute's associate director, Bob Hatton. These include a wide range of goods for Balsam Farms and Amber Waves Farm, both in Amagansett. The institute also produces sauces and preserves for the Garden of Eve Organic Farm and Market outside Riverhead.
Last year, its single kitchen received "tons and tons and tons . . . and tons of local produce" — 33,289 pounds of it — Mr. Lippin said.
"Some of this was aggregated and distributed or sold raw, while much of it was processed into value-added products," explained Mr. Hatton, adding, "We also received 2,260 pounds of local honey, meat, eggs, and fish, in 2022. All of which was processed into value-added products."
Since Mr. Lippin joined the staff in 2019, the organization has outgrown its home. 
Like pickles in a jar, it crams four staff members into each of its offices. 
"Six years ago, it was just me in the kitchen with some volunteers," Kate Fullum, the institute's executive director, recalled.
The institute's staff is hands-on when it comes to vendors' products too. Ms. Tomony plans to go out on the North Fork Seafood fishing boat with the owner, Jermaine Owens, soon. 
"It gets cold out there!" Mr. Owens warned.
"That's not cold. I'm from Lithuania!" she assured him.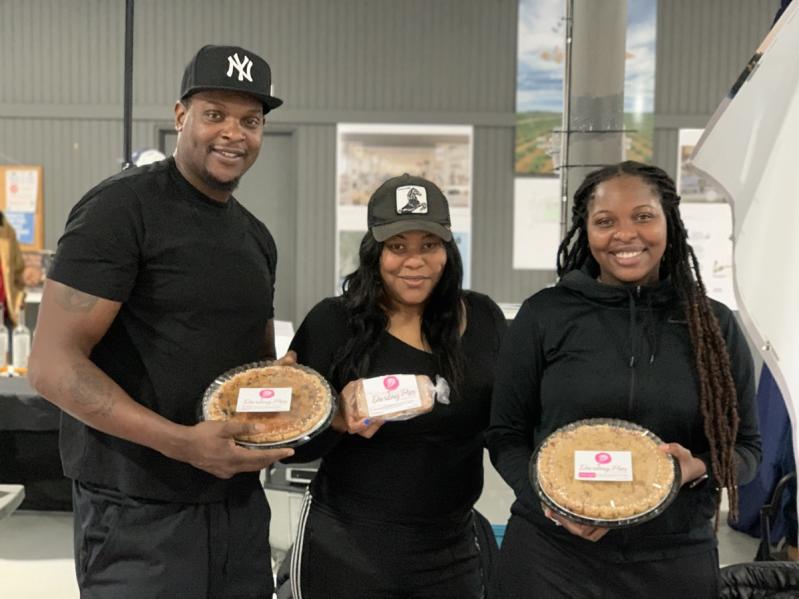 Before the pandemic, vendors who were running the Riverhead Farmers Market on Main Street approached Ms. Fullum. "We came together, came up with solutions," said Ms. Fullum, who has a science background and years of experience working in nonprofits. The institute, which was originally founded in 2010 as the Amagansett Food Institute, took over vetting vendors and maintaining the Riverhead Farmers Market's storefront space. Priority was given to vendors offering locally produced goods. Minority-owned vendors were encouraged to sign on.
During the pandemic Ms. Fullum spearheaded the creation of the institute's virtual farmers market for local producers: Shoppers could place orders and have them delivered. Now orders may also be picked up from the brick-and-mortar market on Saturdays.
What's next? A $25 million expansion.
"When the former Homeside Florist and Greenhouses site became available, we were very lucky to be able to use it for this market," Ms. Fullum said. It places the East End Food Hub she is now raising money to build at the base of both Forks.
The East End Food Hub is being realized in stages. First, the current market space will be improved: Vendor stalls will become permanent and will feature hand-washing stations so that food samples can be prepared onsite. Then the kitchen area will be expanded into a certified, and rentable, community kitchen.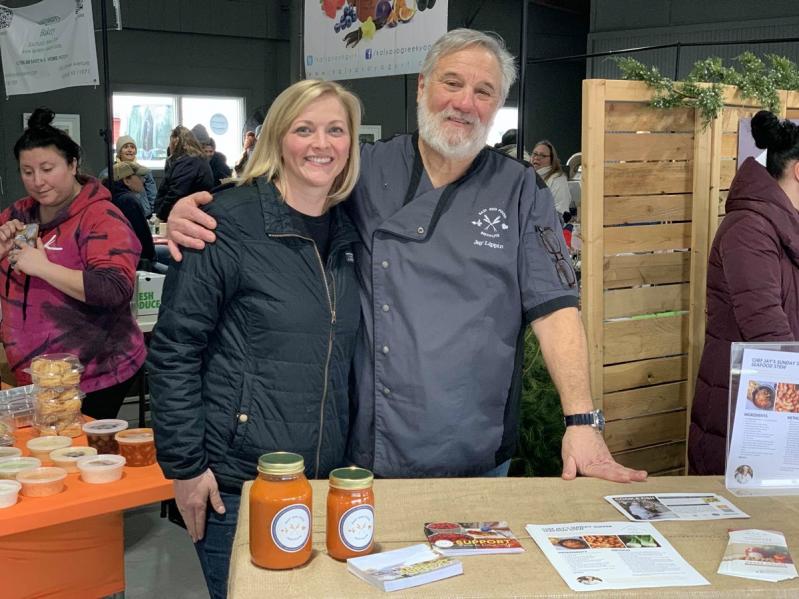 The final planned phases will see new buildings rise on the site with a huge commercial kitchen and walk-in freezers to capture local produce from both Forks. And the institute's composting program will be housed onsite. Last year, the institute composted 4,665 pounds of food waste at its Hampton Bays and Southampton sites, through its partner, Ecological Culture Initiative.
The institute now packages and delivers meals for the Shinnecock Nation Boys and Girls Club, the Town of Southampton Senior Services, and for events such as the annual Long Island Agricultural Forum, a conference held at Suffolk Community College in Riverhead. In addition to vastly increasing production numbers, the East End Food Hub will allow Mr. Lippin and his team to produce even more meals from local ingredients. 
Mr. Lippin is taking an active role in designing the kitchens with architects from Garnett DePasquale Projects. 
The Hub will help build "a more year-round economy," Ms. Fullum said. "Preserved foods last much longer than fresh." We'll see local produce go from farm to hub to local grocery stores in canned and frozen formats, reducing food miles from the Forks to forks, and more local food jobs will also help to feed the local economy.
Construction on the Food Hub should start this summer. Continued funding will come through grants, donations, sales of products and services, and fund-raisers. Events in the works for the current market space — outside of market hours — include breakfasts and dinners, live music, tasting events, and a paint and sip.
Like the produce that inspired the Food Institute itself, good things grow bigger in time.
---
Stacy Dermont is co-author, with Hillary Davis, of the best-selling regional cookbook and wine guide "The Hamptons Kitchen" (W.W. Norton & Co.). She will be at East End Food Market on Earth Day, April 22, for a book signing.