Some people may think that the frantic relaxing stops out here after Labor Day. Well, think again. This past weekend over on the North Fork, the streets of Greenport were blocked off for the Maritime Festival and down the road in Southold, Sparkling Pointe Winery was hosting an oyster showcase.
The showcase took place under a tent outside the massive tasting room and offered pairings of local oysters, raw and cooked, with six of Sparkling Pointe's sparkling wines. (They are champagne in style, but champagne can't be called champagne unless it is made in the Champagne region of France. Semantics.) Six of the best restaurants and caterers of the North Fork prepared dishes to match the wines.
The weather cooperated enough that day, the rain ended, and the wind kicked up a bit, but not so much that one couldn't enjoy being outside slurping and sipping the deliciousness of our terroir and merroir. Terroir is the word used to describe the environment and climate in which the grapes (and everything else) are grown. The North Fork grape growing region is known as maritime terroir due to being surrounded by water, salt air, the changing seasons, and glacial soil, which produce wines with higher acidity and a whisper of salinity. Merroir is the term used in aquaculture to describe the waters where the oysters are grown, resulting -- in this case -- in the briny, umami flavors of the Fire Island Blues, Peconic Gold, Violet Cove, Oysterponds, Great Gun, and Founders Oyster Farm oysters we were about to savor.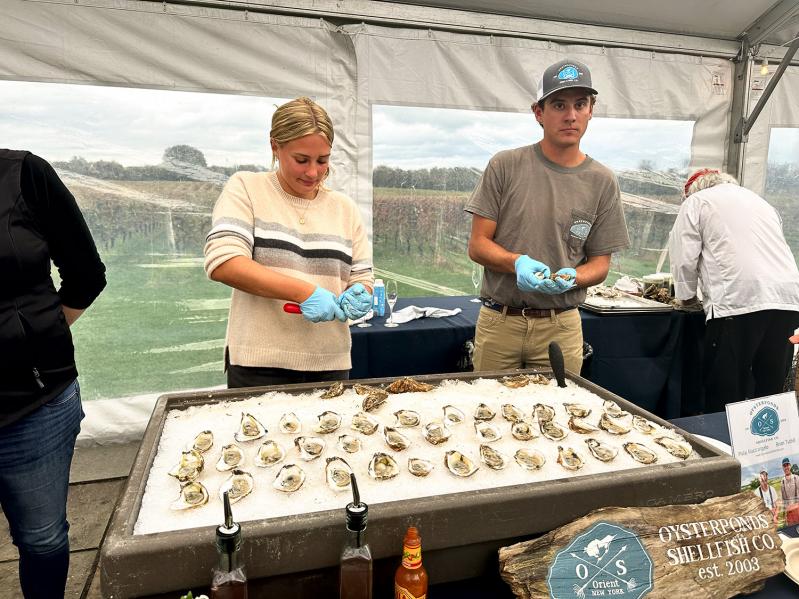 First up was Fyr and Salt, a North Fork catering company started by the chefs Jonathan Shearman and Max Mohrmann. Their mobile wood-burning arrosticini grill was set up outside the tent, where they prepared little aluminum pans of Fire Island Blues oysters in a compound butter finished with a dainty splash of 2019 brut. This was one of the best pairings we tried, and they were all splendid.
Each station was set up with raw oysters and their accompanying condiments, the chef's preparation for said oysters, and the corresponding sparkling wine. Guests would get two of each at each station, resulting in a satisfying 24 oysters per person. I am not enough of a connoisseur of oysters to recognize the "crispy texture and whispers of celery on the finish" of the Fire Island Blues oysters, but they sure were delicious.
Next was Frisky Oyster restaurant's oysters Frickafella, their riff on oysters Rockefeller -- Peconic Gold oysters on a bed of garlic spinach with chipotle and Parmesan aioli. These were paired with Carnaval Blanc, a slightly sweeter wine with "notes of honeysuckle, tropical fruits, and liquor de dosage of young Muscat adding a lift of orange blossom."
Then we tried the offering from Claudio's, which was one of the more unique creations. The restaurant paired Great Gun oysters with 2020 Topaz Imperial wine ("hibiscus, ripe strawberry, white cherry, delicate and persistent," ha ha, like me!). I am a member of Sparkling Pointe's wine club and Topaz Imperial is one of my favorites. The Claudio's cooked offering was fried oysters in a battered nori seaweed taco shell with cabbage and chipotle aioli.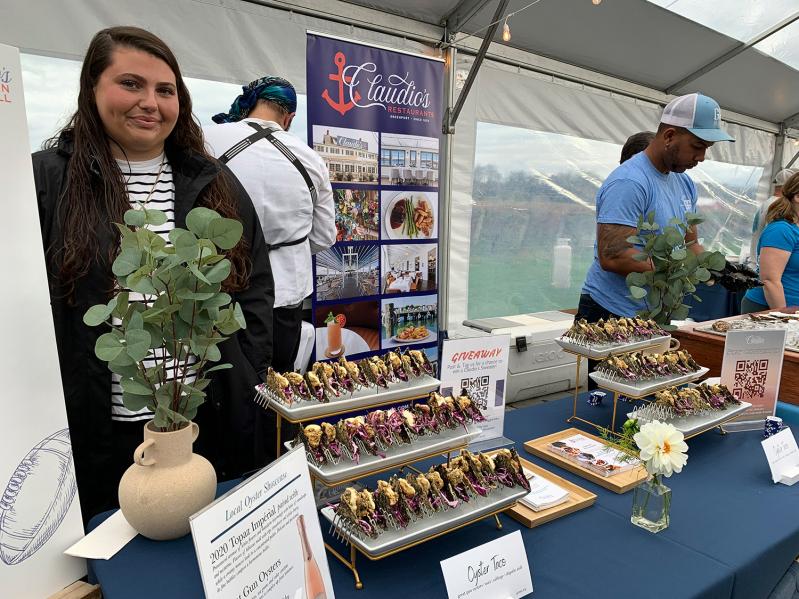 It is worth mentioning all of the condiments and accoutrements that were served with the raw oysters. Every station had the predictable accompaniments like lemon wedges, Tabasco sauce, cocktail sauce, horseradish, and mignonette, but a few had some unique toppers. Claudio's had a beautiful herbal green chimichurri for dabbing onto the Great Gun oysters. Violet Cove had a slightly sweet-tart mignonette with tiny diced apple in it along with shallots.
Next up was Oysterponds Shellfish Company's Oysterponds Select oysters with 2017 Boisseau ("aromas of vanilla bean, Honeycrisp apple, jasmine, butter croissant. . . ."). These oysters, bright and briny, were enhanced by A Lure Chowder House's Oysteria Chowdah by Tom Schaudel. It was a lot more than a chowder; it was a rich curried, saffrony soup with diced vegetables into which the oysters were dipped at the moment of serving. Simply divine.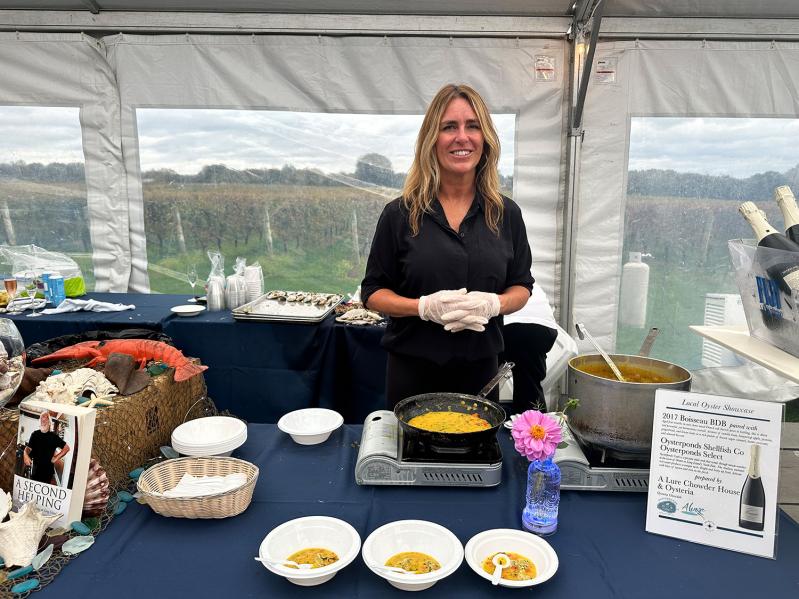 Mr. Schaudel, who has been a chef-restaurateur on Long Island for decades, has always been a big supporter and promoter of local wines and their complimentary locally grown and raised foods. "What grows together, goes together" is the saying often used by farmers and winemakers of the region.
Violet Cove oysters were joined by 2018 Blanc de Blanc ("tree blossoms, apple compote, toast, quince") and prepared by First and South restaurant. This offering was super crunchy fried oysters with a sprinkling of gremolata and a dab of lemon garlic aioli. These oysters were one of our favorites, both the raw with apple mignonette and the crunchy fried.
Lastly but not leastly was Samy Sabil's North Fork Shack's version of fish and chips made with Founders Oyster Farm Founders oysters with Carnaval Rose. This wine is a bit sweet ("strawberry shortcake drives to a bright clean finish") so the Shack's preparation of lightly fried oysters served in paper cones with sweet potato chips drizzled with Samy's sauce, an organic honey spiced with turmeric, cumin, ginger, and lemon, was a perfectly balanced combo. The sauce was so good I bought a few mini bottles.
The event at Sparkling Pointe was very well attended and well run. Every table under the tent was filled, with the rest of us spilling out toward the field of grapevine rows with a view of the winery's mini version of a "Christ the Redeemer" statue that towers over Rio de Janeiro in Brazil.
It was a perfect day -- educational, fortifying, delicious, and bubbly. To paraphrase the aforementioned expression: "What grows together goes together -- straight into my grateful belly."