Le Fin Kitchen
474 West Lake Drive, Montauk
631-668-8344
Daily, 11 a.m.-10 p.m.
Like the calm after the storm, Le Fin Kitchen takes over from Swallow East on West Lake Drive in Montauk.
While the latter was a boisterous restaurant/bar with live bands and late night carousers, Le Fin is a quieter, more laid back experience -- or at least it was on our two recent visits. But then who knows? It's only June with an East End summer building like a tidal wave.
And it is a lovely setting. The interior is a cavernous, airy space with tons of light and two massive bars. There are two patio spaces, one directly on the deck overlooking the harbor and fishing boats below, and another open-air, but more protected, inside/outside space that is perfect for windy days. It also provides protection from predatory seagulls, Montauk's notorious flying gourmands who nibble on unattended plates.
The vibe is of a seaside bistro along the Cote d'Azur, and while the French-trained chef James Tchinnis makes a few nods to French cuisine -- there are steak frites and a very nice salad Nicoise, for example -- more often his menu goes for East End simplicity. Oysters on the half shell, steamed mussels, and simply grilled fish and meats abound.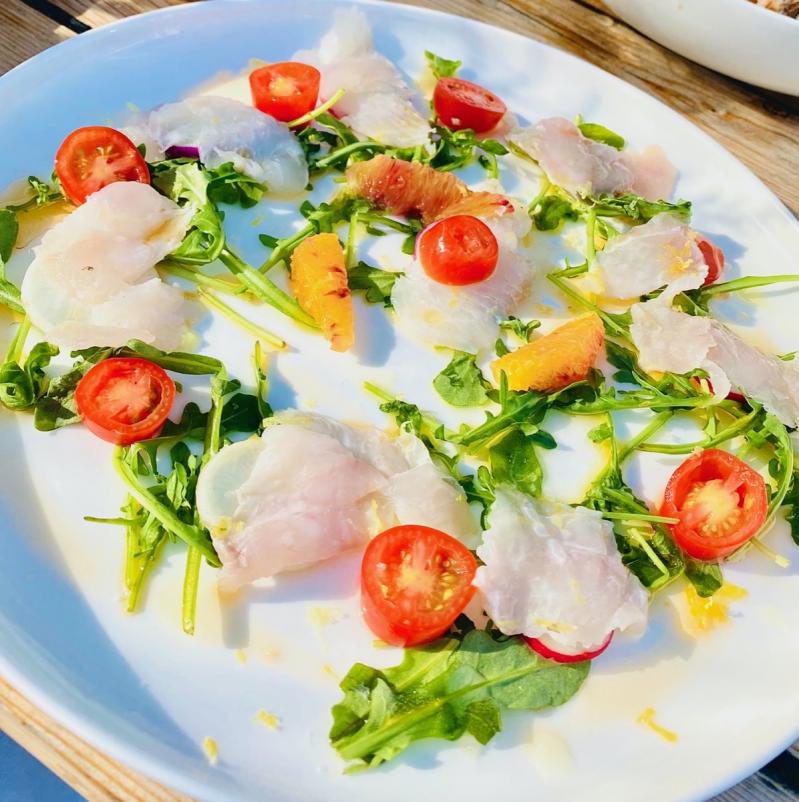 Le Fin works closely with a number of local farms and fishermen, so the idea of a chef getting out of the way of fresh ingredients is admirable. This austerity also means very little on the menu has that "wow" factor that transcends simple preparations. Local oysters were undoubtedly fresh and cold, and a bowl of steamed mussels were plump and plentiful. A crudo of local fluke with blood orange segments, however, was under-dressed with the advertised chili oil and citrus, and also needed salt. Tuna tartare with cucumber capers and olives arrived with a dull grey hue, perhaps from over-marinating in the lemon/olive oil dressing.
An entree of organic roasted chicken breast was simple and very good, the skin nicely crisped and served with perfectly crunchy green beans and baby carrots. And a pan sauce had a nice tang from Dijon mustard.
A server-recommended entree -- the coriander steamed fluke bowl -- was, I'm afraid, a misfire. The vegetables, which included bok choy and julienned carrot, were crisp and fresh. But the two baby fillets of fish seemed a little skimpy, and the brown rice noodles beneath were overcooked, sitting flaccid and mushy in the ginger-infused broth.
For larger parties, there is a whole grilled local black bass with leeks, tomato, and local potatoes, or a grilled 32-ounce cowboy ribeye served with black truffle butter and asparagus. Local fish can be pan roasted or grilled, with toppings including corn salsa or olive tapenade. If this menu begins to sound a little familiar, it is. And just as you wonder if Le Fin is worth a special trip out to Montauk, or whether you can get the same fare more locally, the chef pulls a few tricks out of the bag.
First is the eggplant meatballs, tender and flavorful and served with a fresh and tangy tomato sauce. Second is something called cauliflower flatbread. Completely vegetarian, the flatbread becomes like a mini-pizza, topped with roasted tomato, zucchini, caramelized onions and basil, and is an utterly inspired and tasty surprise.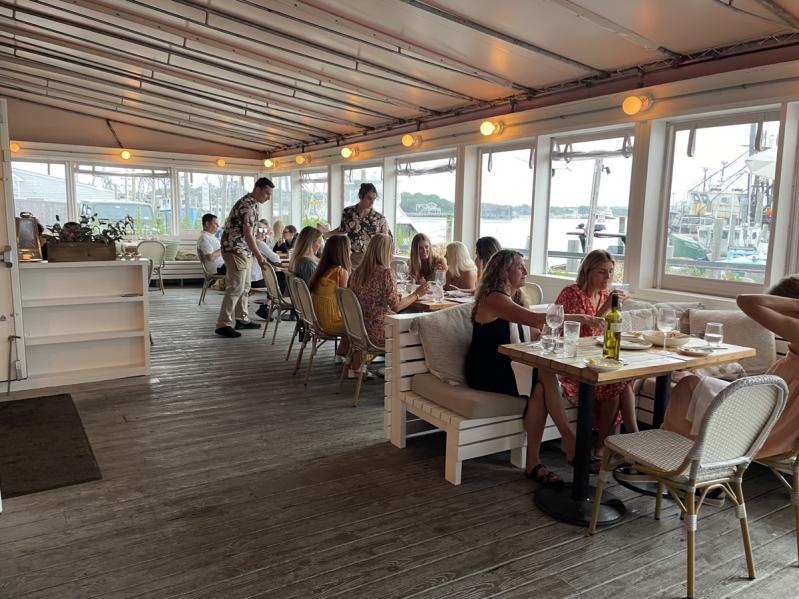 Oenophiles will find a haven at Le Fin. The beverage manager Eric Swain's wine list is just large enough at around 100 bottles and lovingly curated, mixing new and old world wines with a special emphasis on rose. Since this is a French restaurant you may want to splurge for the Domaine Ott from Provence, $110 per bottle, and generally considered the King of Roses.
Like most restaurants, the house cocktails are hit and miss, as the mixology often lands in the hands of mad scientists given too free a reign. An Apres Soleil -- vodka, basil, strawberry, and lemon -- seemed bland and uninspired. Much better is the Fleur de Sel, which mixed gin with fresh mint, lime, sea salt, and ginger beer.
There are crepes for dessert, with berries and hazelnut, but I was out-voted and we ended up with a merely serviceable chocolate trifle with peanut butter mousse.
So, pack the car and immediately rush out to Le Fin? I'm not so sure. But those who find themselves in Montauk have a solid new addition. It is a handsome restaurant with great views and plenty of fresh seafood. Just keep it simple -- and get back to me about those crepes.