Sitting with your feet in the sand while watching the water is a perfect way to unwind at the end of a day -- the summertime equivalent of a fire in the fireplace. After a stop at a nearby eatery for picnic provisioning, you'll be set to bask in the glow of the sunset over the bay or catch an inspiring moonrise at an ocean-facing beach.
Wicker baskets kitted out with plates and glasses are a charming way to keep organized, but you can easily fill a canvas tote with a tray, corkscrew, cheese knife, and reusable glasses to be ready for a spontaneous beach picnic. Several local shops offer inspired non-breakable dishware to use throughout the summer, and reusable makes a picnic feel special and avoids needless waste from single-use plastics. Cloth napkins are not just a lovely touch but also a wise idea, considering paper napkins all too frequently blow away in a breeze.
No doubt there are many other options, but perhaps this inspires you to enjoy the salty evening breezes and sunsets. Some meals don't translate as well to a casual setting: best to avoid sauces that may drip, dishes that require cutting, or bites that may tumble off a fork. Out of respect for Mother Nature, remember to leave no trace: After you've packed up your picnic, scan the sand to ensure you've left nothing behind. Perhaps that's why the iPhone flashlight feature was created.
The world is our oyster, as they say, so enjoy the summer.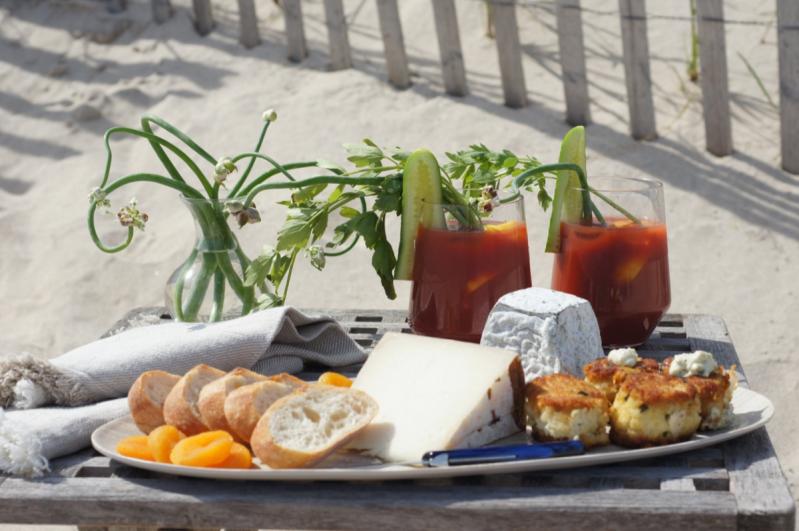 Sunset Cocktails
Let spontaneity be your guide and skip the made-to-order meal. Duck into Cavaniola's in Sag Harbor or Amagansett or L&W Market in Bridgehampton for some nibbles that will make for a lovely spread. Both Cavaniola's shops offer enticing cheeses, prepared foods including crab cakes, and chilled beverages. They also have more elaborate cheese platters if you plan ahead. Stop for a bottle of wine or take a small pre-mixed batch of your favorite cocktail.
Crowd-Pleasing Picnics
If your family or friends opt to catch up on the beach, a little bite will keep the gang happy. A group order streamlines planning and can accommodate a range of peckish eaters or ambiguity in head count. Consider a selection of mmm-worthy tacos from K Pasa in Sag Harbor or Amagansett's La Fondita, or flavorful prepared foods from Harbor Market in Sag Harbor. Elaia Estiatorio in Bridgehampton offers a selection of spreads, small plates, and decadent baklava. Pizzas from Fierro's in East Hampton, Sag Pizza, or Bridgehampton's American Pie or World Pie all translate to an easy crowd-pleasing evening.
There's Always Seafood
Many of us have likely spent the long winter daydreaming about our first lobster roll of the summer. Most hamlets and villages have options near a scenic beach. Given there's no shortage of choices, we have the whole summer ahead of us to enjoy our favorite or discover a new one. If you'd like to change it up, the lobster B.L.T. from the Clam Bar on Napeague is stuffed with chunks of lobster playing nicely with thinly sliced bacon and ruby red tomatoes. The fish and chips from the Corner Bar in Sag Harbor is a simple pleasure, too. The cedar-plank salmon from Stuart's Seafood Market in Amagansett is perfect served cold on its own or over greens or sesame noodles.
Just the Two of You
What makes for a romantic picnic? Knowing what makes your partner happy. Does trying something new excites their taste buds? Or, perhaps a familiar dish from a favorite restaurant will be most appreciated. Unwinding together in a warm breeze is a welcome counterpoint to a busy day. Remember to pack a blanket in case the temperature drops along with the setting sun. If you aim for candlelight, opt for a hurricane lamp with tall sides that will keep your flame burning.
-----
Sarah Alford is a writer and photographer specializing in food, gardening, and sailing. Her work has previously appeared in The Star's Garden Book. She lives in Sag Harbor.