Every great South Fork pizza place has its share of stories.
Alda Stipanov recalled that when Astro Pizza and Felice's Restaurant in Amagansett first opened in the 1970s she had to explain to her mother, Onofria Lupo, that the nice man who came in often with his family was Paul McCartney. "I think he absolutely knew she didn't know who he was. He came in knowing he wouldn't be bothered," said Ms. Stipanov, who now owns the restaurant and pizzeria with her husband, Nado Stipanov, her brother, Tony Lupo, and her sister-in-law, Allison Lupo.
At Pizza Village in Montauk, what started as a summer delivery gig paying for college tuition -- and surfing outings -- turned into full-time ownership years later for Mike Rawiszer, a graduate of East Hampton High School. But being in the food business was practically his birthright; his parents had owned the Doughnut Factory in Bridgehampton and Michael's Restaurant in Springs, and his father and brother opened Pepperoni's in 1983. He's pretty much as hometown as hometown gets.
Marinara also runs through the veins of Diego Belfiore and Joe Belfiore, the owners of La Capannina in Wainscott, who were inspired to get into the business simply by their love of pizza, and who are inspired to stay in the business by their loyal customers.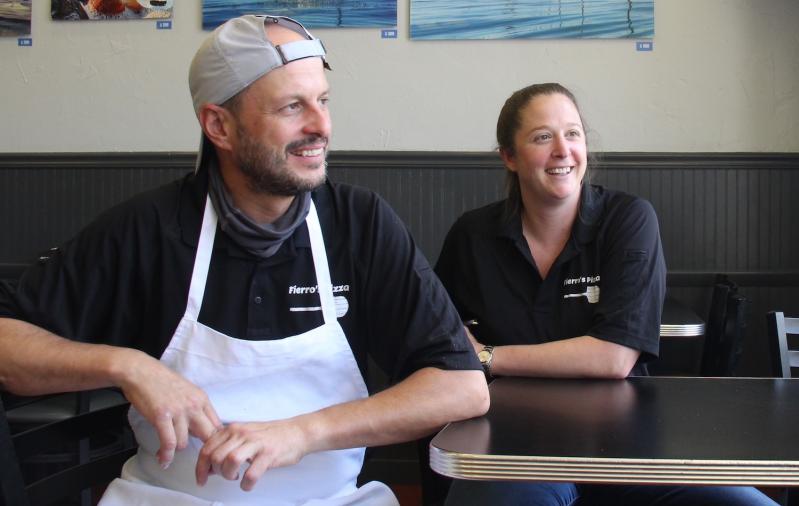 And at Fierro's Pizza in East Hampton Village, two lifelong friends, Emma Beudert and Joe Kastrati, went from longtime patrons to partners in ownership when they bought into the business in May just as Al Fierro, an original owner since 1983, was retiring.
These aren't the only iconic pizza places on the South Fork, of course -- Sam's Restaurant in East Hampton Village also comes to mind, having opened in 1947, and La Parmigiana in Southampton Village opened in 1974, both becoming favorites of locals and visitors alike, and there's the newer Sag Pizza, at the site of a longtime Sag Harbor mainstay Conca D'Oro. But no matter how you slice it, these pizza places have staying power, and a key ingredient in their recipes is the bond that holds a family together.
That connection is evident at Astro and Felice's, which is celebrating its 50th anniversary on Amagansett's Main Street this year. Mr. Lupo is the pizza maker, Mr. Stipanov is in charge of the restaurant's kitchen, and Ms. Lupo and Ms. Stipanov oversee just about everything else. Another sister, Angela Parisi, who works as a school guidance counselor, helps out when it's really busy. Two sons wait tables, and nephews make deliveries and help in the kitchen.
On Aug. 28, 1971, when it first opened, the house special there was two slices and a small Coke for 75 cents. Felice and Onofria Lupo, both now deceased, also owned an Italian deli on Main Street, where the nail salon is now, and the original pizza place was a little way down the street, next to the Stephen Talkhouse, before it was consolidated with the restaurant. Mr. Lupo, who said he used to stand on a stool to help make the pizza, recalled that "the first customer who walked in was a tall guy with a cowboy hat on. He paid with a $1 bill, and my father put the date on it. When he died, we put that dollar in his jacket."
The ovens are original, as are the dough and sauce recipes, but over the years there have been additions, such as gluten-free menu options. There are still nightly, three-course specials, now $17 on weeknights and $19 on the weekends. Hanging on the walls are Ms. Stipanov's photographs, taken over years of traveling during the off-season months when the restaurant is closed. The phone rings and Ms. Lupo takes an order, telling the customer on the other end, "Nice to hear from you. How's your wife?"
After 50 years, the Lupos and the Stipanovs are seeking new owners to continue Astro and Felice's legacy. "I want to enjoy the grandkids," Ms. Lupo says.
When told there was a pizzeria and restaurant for sale a few miles east of Wainscott, Diego Belfiore said, "Really? Anything's possible. Hmm, you never know."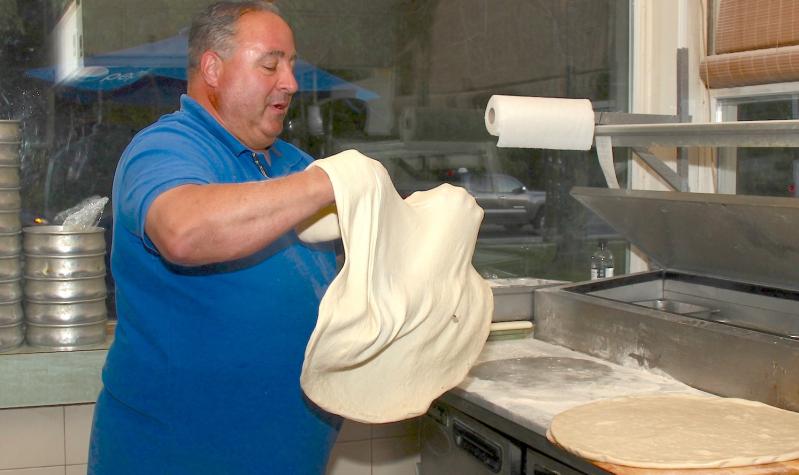 He and his brother took over La Capannina in 1998, five years after the original owners opened it; their sister restaurant, in Holbrook, was sold to new owners about six years ago. A cousin, Tomasso Renna, makes most of the pies. "Business is good -- busy," Diego Belfiore said. "We buy the best ingredients we can buy, and try to make sure everyone gets good service. . . . We cater more to the local people who live here year round." He called them family. "It's nice; it's a community out here. Everybody kind of knows everybody."
A popular specialty pie is the fried calamari pizza. Once, for St. Patrick's Day, they made a corned beef and cabbage pizza. It was not a success. But what is a success is their Sicilian pie -- those thick, cheesy squares that are the stuff that kids' dreams are made of.
Speaking of children's dreams, Fierro's is now serving ice cream, fulfilling a need in the village that arose when Scoop du Jour closed late last year. But the pizza is still the bread and butter of the business, with recipes unchanged since Ms. Beudert and Mr. Kastrati, both East Hampton High School alumni who were regulars at Fierro's back when they were kids, joined Steve Hickey as owners.
"Steve says he will put our cheese slice up against anyone, anywhere," Mr. Kastrati said.
Ms. Beudert said she likes feeding locals -- from people on their lunch breaks to kids after school to entire construction crews ordering for their job site. "The fact that this can stay in local kids' hands is unusual in this day and age. It reminds us that this is a small town and that so many people are eager to see locals succeed," she said.
One of the first things the new partners did was learn how to make the dough -- which they also sell on its own, oftentimes to parents eager to make their own pizza at home.
Mr. Kastrati can still be seen tending bar at The Palm five nights a week, as he has done for many years, and Ms. Beudert has consolidated her catering business, the Lobster Limo, into the Fierro's kitchen. The employees at Fierro's sport spiffy new shirts, and Grubhub is now delivering. Sidewalk dining may also be in their future.
Just as Fierro's benefits from the bustling East Hampton downtown, Pizza Village benefits from its proximity to the beach. "I've always loved Montauk. It seems to get harder and harder business-wise due to the lack of housing out here. The workers are like family to me," Mr. Rawiszer said. "We stay open year round. I like being open for the community when it snows and there aren't many people around."
When it first opened in 1957, Pizza Village was strictly about pies and slices. It has since expanded its menu to include wings, chicken fingers, salads, and gluten-free options, but pizza remains the staple.
"I've always liked regular cheese slices myself, and a grandma slice, but if I had to pick a specialty pie, I like the chicken and bacon with ranch dressing," Mr. Rawiszer said.
He still surfs, but "not as much as I used to because it's hard to find the time."
Of the more recent pizza practitioners, Sag Harbor's Sag Pizza is busy growing a following. Frankie Venesina, of the family that used to run Conca D'Oro, now owns Shelter Island Slice. Bridgehampton's American Pie and World Pie have excellent reputations, and in the place of Primavera Pizza in Montauk now is Blade and Salt. And Best Pizza & Dive Bar, deemed "a delightful surprise" by Laura Donnelly in a 2019 review for The Star, is still putting out pizzas in one of the previously cursed spaces on Napeague.
From the old-timers to the new arrivals, one thing is clear -- the popularity of pizza endures.