Annabel DeGroot moves around a kitchen with ease, oftentimes with a particular playlist of music in the background. She listens to jams by Mumford and Sons and the Wood Brothers, while handling tiny jars of actual jam -- strawberry and fig -- that are destined for a place in her work-in-progress. Her finished project is a charcuterie board that almost looks too good to eat.
Ms. DeGroot is an artist and photographer who bakes some mean madeleines, but her true passion lies in cheese and all of the fruits, cured meats, and herbs that complement it.
"I love the taste of cheese, honestly," she said in a recent interview. "What I really love is that there is so much variety. It's one of my favorite foods."
In the Covid-19 pandemic, Ms. DeGroot moved to Bridgehampton from New York City to live with her family. Aesthetics are in her blood; she had been working as a fashion photographer and photography assistant. She also dabbles in flower arranging and food styling.
Ms. DeGroot is now gearing up for the East End summer season with her new business, Annie's Charcuterie, for which she creates centerpieces for intimate gatherings, gallery openings, and backyard parties.
"At first it was a hobby, but everyone's turning their quarantine hobbies into side businesses, right?"
She recalled falling in love with the world of cheese while taking a college semester abroad. In London, at Sotheby's Institute of Art, she immersed herself in wine-and-cheese culture -- there was an entire class on that -- which would serve her well later on when she worked for the Grenning Gallery in Sag Harbor.
That love deepened during a trip she took with friends while they were students at the University of California, Santa Barbara. She had just turned 21. They drove her boyfriend's pickup truck through Napa Valley, her first time there. They marveled at the cliffs by the water in Big Sur and sampled all the culinary delights the region had to offer, not only wines but also cheeses at artisanal creameries.
Ms. DeGroot graduated from college in 2019 with a degree in art, art history, and English. The eldest of four children, she comes from a family of foodies who cherish each other's company over a great meal. Their favorite places are Estia's Little Kitchen and the Candy Kitchen.
"That's kind of our love language," she said. "My parents are really big on cooking, but we also like to go out a lot, which gives me a lot of ideas."
Her parents, Doug and Kathryn DeGroot, own the Buckskill tennis club and ice rink, and her brother, Jonny, started an herb farm soon after he graduated from the Bridgehampton School in 2019.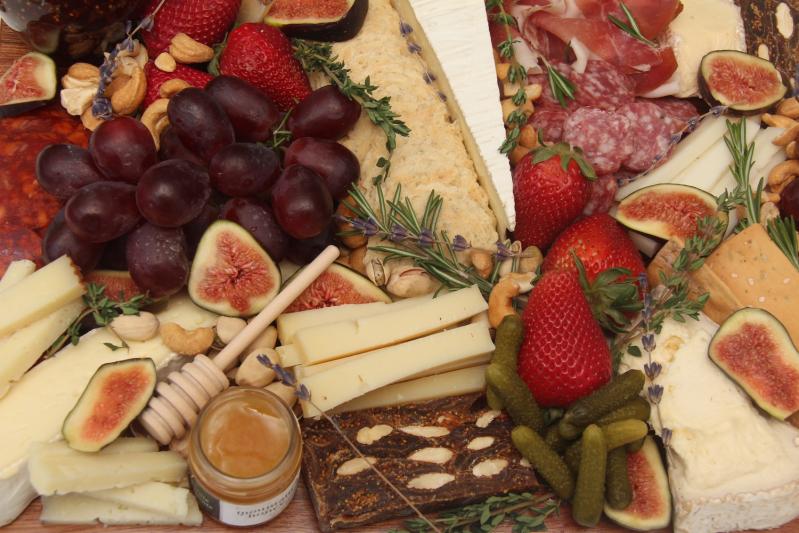 Ms. DeGroot uses sprigs of her brother's lavender and rosemary as garnish on her charcuterie platters. She also has help from Andrew Leiweke, a woodworker who makes the wooden boards they come on -- an art form unto itself. He uses a food-safe finish so the boards can be washed and reused, therefore cutting down on waste, which is important to Ms. DeGroot.
"The other thing that's important to me is using cheese from small creameries, things people don't try," she said. "They tend to stick to what they know."
Recently, Ms. DeGroot has added cheese varieties such as Delice de Bourgogne, Mt. Tamalpais, and raw-milk Manchego, plus three selections from her favorite cheesemaker, Cypress Grove Creamery of Arcata, Calif. to her boards. (She hopes to tap local producers like Mecox Bay Dairy and Catapano Dairy Farm for partnerships soon.) The assortments also included Dalmatia and black figs, rosemary sea salt crackers, chestnut-tree honey, grapes and strawberries, cashews and pistachio nuts, prosciutto, sopressata, and spicy salami.
"Some people are scared to try weirder cheeses," Ms. DeGroot said. Her boards allow customers to sample them without "committing to buying a whole round."
Her offerings include a mix of soft creamy cheeses and hard cheeses. She also offers gluten-free, vegetarian, and vegan options. No two platters are ever the same. She can also create "maps" of her boards so that discerning epicureans can identify what they're eating and note what they like best. Her prices vary by cheese selection and the size of the wooden boards. Clients can see her work on Instagram and can reach her by email at [email protected].
The number-one rule of enjoying charcuterie, she says, is to "sample a little bit of everything, but give everyone the chance to taste it all." They should also be served at room temperature. (Other rules apply, too; think cutlery and plates, particularly in pandemic times.)
Among the many fine food producers and caterers on the East End, Ms. DeGroot seems to have found her niche.
"It almost feels like an art project," she said. "It's a useful talent."