It might have been inevitable that Gail Watson would return to baking, even her famous wedding cakes, after a self-imposed hiatus in 2012, but it didn't always seem that way.
At the height of her eponymous New York City wedding cake business, she was featured on Oprah, Good Morning America, the Food Network, Wall Street Journal, The New York Times, and Martha Stewart Living and Martha Stewart Weddings, and had an enviable client list that included Uma Thurman and Ethan Hawke and Sarah Jessica Parker and Matthew Broderick. "And then I burned out on it, because I worked every weekend. It was hard on the family."
First, the East Hampton resident -- who grew up in Greenport in her parents' restaurant, the Cinnamon Tree -- received a master's degree in nutrition and exercise physiology at Columbia University. Then in 2013, she started Healthy Hunger, a business helping private clients with chronic illnesses through whole food and plant-based eating. In a similar vein, she worked on recipe development and testing, and product photography for several cookbooks and media outlets (she studied art photography as an undergraduate, and it's well in evidence on her website and Instagram feed). There was even a stint in Louisiana before coming back North and out east.
For the past several months, however, she is baking again, this time for Gail Watson Bread, a micro-bakery she started from her house with a cottage license.
She and her wife, Mary Sculley, have been full timers since September 2019, when Ms. Sculley retired from WarnerMedia. "We actually were out here before the pandemic but then of course, you know, we've definitely been here since the pandemic." Even before their permanent move here, they were very involved in the community, "it was not just our summer retreat. It's where we're from. Mary is one of the mayors in town. She knows everybody."
Last year's obsession with sourdough bread baking, engendered by the pandemic's shutdowns and dearth of yeast, drew her back to baking. It was a different approach and a fun way "for me to rebuild a business in a different way."
Thinking back on the old days, she said, "it was more like, I had to feed my kids," three of them from a previous marriage, who are now grown and have children of their own. "Now I'm doing it from the perspective of what people are really looking for, and what makes sense, and in a more balanced way from my own life."
She said she is enjoying collaborating again with clients, finding out what they like and working with the feedback. "They've been supportive and very enthusiastic. . . . I feel like I'm not doing this all by myself. It's a community effort."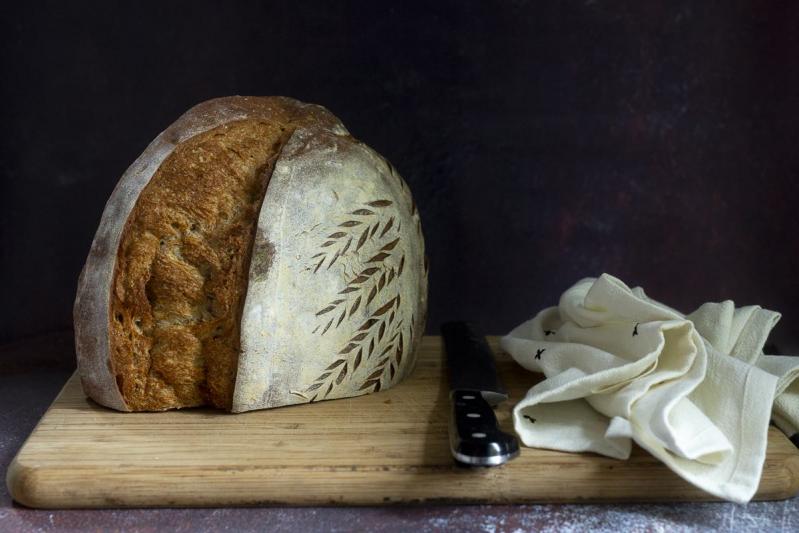 For the past several months, she has been offering plenty of riffs on the traditional sourdough boule made with different stone-milled organic flours from small producers in New York State. "Environmental nutrition was a big part of what I really loved at school," meaning farming practices, distribution, and sustainability. "We now hear about it in terms of climate change . . . but it's even bigger and broader than that."
Her latest additions are onion loaves in white or wheat and bagel-store-inspired favorites like the everything bagel loaf and loaves with just poppy or sesame seeds. Staple flavors such as aromatic rosemary, black olive, fig and walnut, fennel and raisin, and chive Parmesan with black pepper round out the menu.
In addition, there is a chewy, but light in texture, ancient mixed grains loaf made of red fife, spelt, and einkorn flours. A stand-alone einkorn loaf offers the most protein and nutrition of all of the options and is one of the easiest to digest for those sensitive to gluten. All of the loaves are available "tinned" to form the shape of a more traditional sandwich loaf. To accompany the bread, she offers homemade organic fruit jams made without pectin, in flavors like blueberry, strawberry, and cherry apple.
Another menu star is the superfood granola. Unlike the expected sweet crunchy pebbles, her version is light, crispy, and flavorful. The golden granola offers anti-inflammatory ingredients such as turmeric, ginger, and goji berries, flavored with vanilla. It's surprisingly addictive. Not so surprising, the peanut butter flavor with chia, chaga, ashwaghanda and cinnamon is very popular and also highly addictive to clients who are weekly purchasers. Other flavors are chocolate espresso, fall spice, and salted maple, each with their own blend of flavorings and superfoods.
Their popularity has surprised her. "I think they're good, but I make them up like crazy" because the demand has been "amazing. There's a real passion for it and I think people also really appreciate that it's chock full of all this other good stuff." Like almost everything else in the bakery, it is the result of her culinary and nutrition background, and a commitment to plant-based eating.
The exceptions are the traditional bakery sweets such as cakes and brownies. While she would rather shift most things to a healthier zone, she said "if I'm going to make a cake, I don't really want to do it gluten-free, dairy-free. . . . I come from a food background and I do want things to be delicious and good."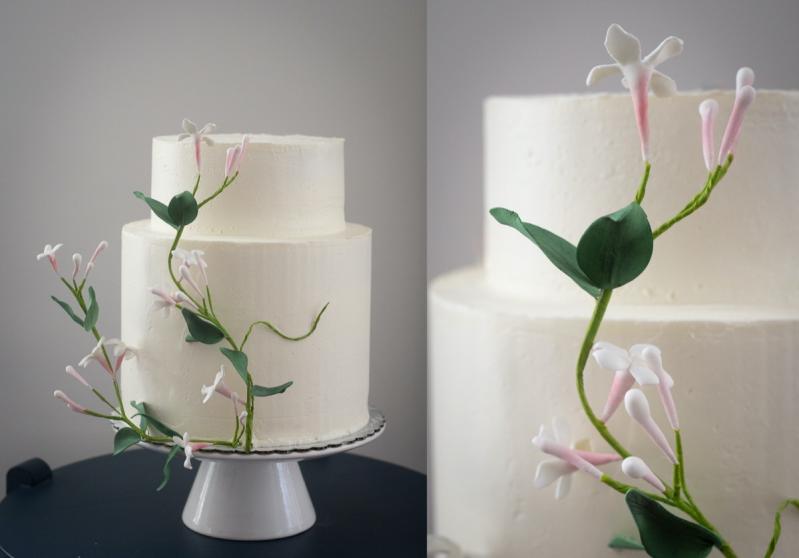 Ever so slowly, she has begun shifting back into making wedding cakes again. It started after some caterers and other people she knew from back when noticed she had returned to baking and made inquiries. Although she will offer those services, she said she's not going back to the 80-hour work weeks of the past. It will be "a lot more thoughtful and more creative."
Her breads and bakery items can be ordered and picked up weekly and she also ships her products. While the bakery has really taken off, she still enjoys working with clients on nutrition and exercise. Whether working one-on-one or for books or magazines, she likes the challenges of coming up with menus and recipes to suit their needs. The parameters, such as amount of time, all the dietary restrictions, certain levels of taste, and accessibility, "are a little puzzling game, which I like."
One issue with veganism and plant-based eating that concerns her is the increasing popularity of high-fat and highly processed products mimicking meat like the Impossible Burger and Beyond Burger. "That's really not what you want to be eating," she said.
While it is an easy backup, particularly when eating away from home, and it "falls into the parameters of plant-based, it is not necessarily healthy." From time to time, they're fine, but "you don't want to eat those things as a way of living."
She doesn't see the point of making the commitment to such a restrictive diet if you're eating "crappy food" and not going to "feel any better for doing it. It's kind of a pain in the ass, so then why bother?"