Richie Daunt Jr. has had two real passions since childhood, fitness and cooking. He has recently brought the two together in Montauk Fresh Eats, a venture he started last year right before the Covid-19 shutdown.
A personal trainer and an amateur boxer, he said he started working in Montauk restaurant kitchens when he was 13, and went to cooking school at Suffolk Community College right after it started the program.
At the age of 24, "I started competing in boxing and realized I couldn't do both."
Lately, he has been focused on personal training to earn a living, but he was still cooking all of the time. Then, Tommy Haynia at Hill Street Boxing "suggested I start a meal prep business. He said, 'I'll put in a fridge. Let's get it done.' "
Not long after, the gyms had to close, but he continued delivering meals such as healthy versions of General Tso's chicken, burritos, salmon risotto, sweet Thai chili shrimp, and more -- all from a recent menu -- directly to clients' houses instead. "It's really picked up and it hasn't been a year yet."
When the gyms opened up again, he returned to them, dropping off meals for clients who have subscription services, but he also continued home delivery. He currently has relationships with Body Tech, which has locations in Montauk and Amagansett, Hill Street Boxing in Southampton, and 937 Fitness in East Hampton. To help promote the gyms, he is offering discounted rates to members there, five meals for $65 and 10 meals for $110. "The idea is when you start eating healthy, you'll also start working out."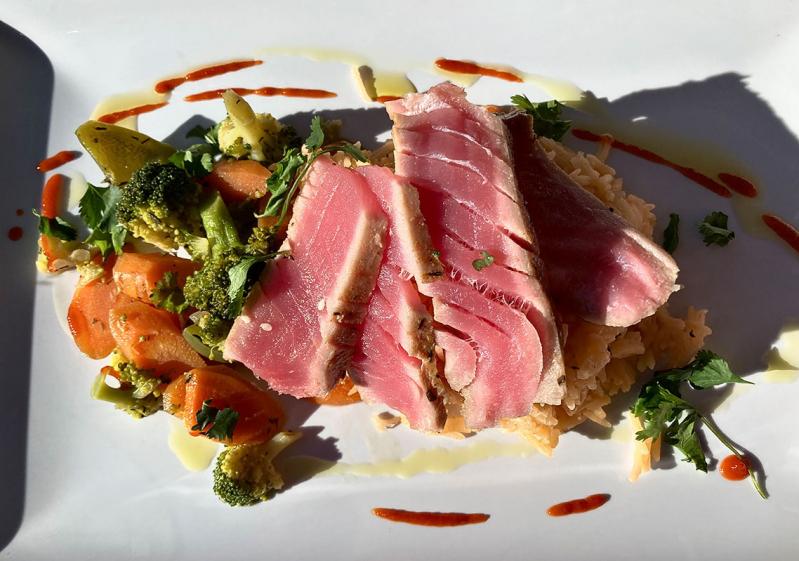 Otherwise, his menu offers items priced from $11 for chicken vegetable soup to $22 for ahi tuna with quinoa and a vegetable. Subscribers of at least five meals a week for at least three weeks receive a discount on each meal ranging from $3 to $7.
The model for his meals is four ounces of carbohydrates, four ounces of vegetables, and six ounces of protein. "This way, you're not eating too much or too little." Mr. Daunt said most of the ingredients are organic and there are vegan and gluten-free options. The specials change twice a month but the staples are salads, veggie bowls, soup, and dishes featuring shrimp, tuna, chicken, salmon, and steak. He also offers chocolate chip protein muffins. Menus are posted at MTKFreshEats on Facebook and Instagram.
The meals ditch the butter, heavy cream, and unhealthy oils often found in restaurant cooking. The emphasis is on virgin olive oil, coconut oil, and using fresh and dried herbs and spices to punch up the taste. "You wouldn't know it's not soaked in butter."
Recently he started making fresh pressed juices using vegetables like beets, cucumber, and celery, as well as ginger shots, which are thought to build up immunity. He's adding them to orders at four for $25. The ginger shots are $5.
He rents out a commercial or church kitchen once or twice a week, collecting orders a few days before. Mr. Daunt and his girlfriend, Ashley Rey Cassar, do most of the preparation, but sometimes they bring in extra help to make up to 400 meals in a session. Some of the meals can be frozen, and most have a shelf life of at least five days. They are delivered the next day. Before he started, he received a food manager's certificate from the county Health Department. "Sometimes I'll pick up a shift in a restaurant kitchen and tell the chef I'm going to throw on a few of my meals," he said.
He said the orders have been consistent since he started, but this month has been his busiest yet. "I'm guessing because it's January, everyone is trying to eat good," he said with a laugh. Demand has increased from the gyms and from his other clients. He said he has received inquiries about stocking his juices in East End markets as well.
Additionally, he's making meals for pets. "We started the pet meals so dogs could eat well too." He makes versions with fresh chicken and salmon and sells them in packs of 10. "When we pull up to the client's house, the dogs are waiting for us," he said.