The original idea was to write about, and review, all manner of baked clams: baked stuffed, oreganata, casino. I'd bop around towns and villages and hamlets sampling a randomly selected group of markets and restaurants, along the lines of past stories on the best local hamburger, lobster roll, fried chicken, and pizza by the slice.
Then I realized that all that bopping around might not be so prudent. Duh. So instead, this is about various ways to bake or grill clams at home. Nothing could be easier or cheaper, especially if you have a clamming license and dig your own.
One of my favorite teenage summer memories was going to Spring Close House for baked stuffed clams with my good friend Michel Plitt. Her parents had an account there and allowed us kids to go on our own! What was also mind-boggling at the time, the management and chef would allow you to order the clams in advance and pick them up to finish cooking at home. The trust! The sophistication! (Looking back, I guess my parents didn't take their spawn out very much.) I distinctly remember the cooking instructions being something along the lines of "drizzle a pound of melted butter over clams before baking." No wonder they are one of my Proustian madeleine memories. The shells were huge, one was enough for an appetizer, the clams were very finely chopped, the filling very bread-y and super garlicky. I don't recall whether or not they had a bit of Parmesan cheese in them, but I do remember the edges having a crispy, chewy crunch.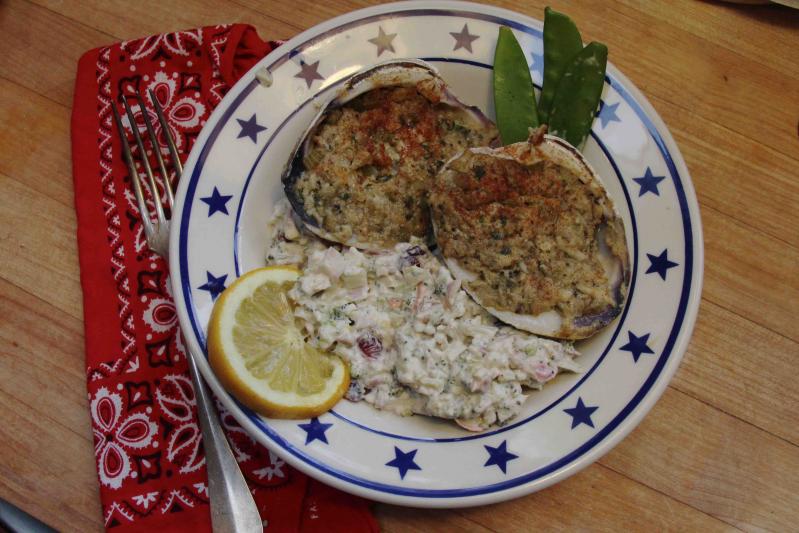 A lot of restaurants out here serve some version of a cooked clam appetizer, and I find it a good gauge of what is to come, rather like a Caesar salad or calamari. It's certainly not hard to make clams casino or oreganata or stuffed clams, but you can tell when a chef or cook is paying attention to the ingredients and cooking time.
Grilled clams are the easiest, simplest, and probably my favorite. Plus, you are not heating up the kitchen or soiling a skillet. Littlenecks and cherrystones are best for this. You don't even need a recipe, a sentence will do: "Put clams on grill, close cover, remove when opened, and serve with a seasoned butter for dipping." Please be sure to use a very fresh, high-quality butter. There is nothing worse than old, rancid butter. It will ruin your clams or steamed lobster.
The other evening I started off with a simple predictable lemon garlic butter for the grilled clams. But I had an extra slice of orange, so I squeezed that into the little pot. Then I contemplated adding some heat so I threw in about a half-teaspoon of Aleppo pepper flakes, which also turned the butter a pretty color. Aleppo style pepper comes from a dark burgundy chile also known as Halaby pepper. The flakes are half as hot as most red chile flakes and have a faintly cumin-fruity flavor.
Next time I am going to play with Taiwanese, Thai, and Vietnamese flavors, adding variations of lemongrass, shallots, ginger, lime, fish sauce, Thai basil, oyster sauce, and sesame oil. Another recipe that caught my eye is the Sicilian-style clams in Joe Gurrera's "Joe Knows Fish" cookbook. This version is steamed, not baked or grilled, but it sounds wonderful, pairing highly seasoned mashed potatoes and string beans with capers, clams, garlic, and lots of fresh lemon juice.
A lot of the Asian clam recipes call for Manila clams because that's what is available regionally. Charles Phan, the chef/owner of Slanted Door restaurant in San Francisco explains in his cookbook that because of its French Colonial roots, Vietnam is one of the few Asian countries where butter is used. His clam recipe includes rice wine or sake, Thai chiles, and Thai basil leaves, bringing East and West together with the addition of butter to create a rich and spicy beurre blanc.
Clams oreganata is an Italian-American invention, made with whole or chopped littlenecks or cherrystones, combined with sautéed onions and garlic, parsley, bread crumbs, lots of chopped oregano, baked and broiled and served with lemon slices. The creation, or more accurately, the evolution of clams casino is up for debate. A fellow named Julius Keller claimed that he created it for a fancy lady's luncheon at the Narragansett Pier Casino in the late 1800s. Eater's senior critic Robert Sietsema, a big clam fan, said in a 2015 article about clams casino that "they are just a gussied up substitute for regular Italian stuffed clams, but clams casino are mainly about the bacon." Clams and pork have quite an affinity for each other, in baked clams, chowders, and pies. It's fun to try variations on bacon, like pancetta, prosciutto, and chorizo.
Clams are a low-fat source of protein, vitamin B12, and are rich in minerals like zinc, iron, and selenium. They are cheap, plentiful, and easy to prepare. Or not prepare.
One of the advantages of just having become an old bat (65 years old) is I no longer have to pay for a shellfish permit. And there are no "secret spots" for clamming, all you have to do is check out the Town Shellfish Hatchery's seeding maps and do the math. Free, nutritious food, available year round. What's not to like?!
Here are some fun and easy recipes to inspire you. Make up your own, I'm going to try pine nuts and lemon thyme in my next batch.
Clams Baked with Garlic and Parsley
This basic but quite rich recipe for clams baked with parsley and garlic is from James Peterson's "Fish and Shellfish" book.
Makes six first-course servings. 
36 littleneck or cherrystone clams, scrubbed and rinsed
1/2 cup dry white wine
6 garlic cloves, finely chopped
3 Tbsp. finely chopped parsley
1 cup heavy cream
Salt and pepper
Steam the clams in the wine in a covered pot for about 10 minutes, until they all open. Scoop the clams out of the pot and remove and discard the top shells. Carefully pour the liquid into a clean saucepan, leaving behind any sand. Crush the chopped garlic into a paste and add it to the liquid along with the parsley. Boil down to half its original volume and add the cream. Continue boiling the sauce, keeping a close watch so it doesn't boil over, until it thickens slightly. Season to taste with salt and pepper.
Preheat the oven to 400. Arrange the clams in their bottom shells on a sheet of crumpled aluminum foil on a baking sheet. Spoon enough sauce into each clam to fill up the shells. Bake for about five minutes, until the sauce bubbles, and serve immediately with little forks or spoons.
Clams with Butter-Lime Sauce 
This recipe is from Charles Phan's "The Slanted Door" cookbook.
Serves four to six. 
2 Tbsp. canola oil
1/4 cup thinly sliced yellow onion
1 Tbsp. chopped garlic
2 pounds clams, scrubbed and purged
1/4 cup rice wine, such as michiu or sake
3 Tbsp. lime juice
1 Tbsp. fish sauce
4 Thai chiles, halved lengthwise
2 Tbsp. unsalted butter
4 or 5 Thai basil leaves, coarsely chopped
In a large skillet or sauté pan over medium-high heat, warm the oil until shimmering. Add the onion and garlic and sauté for two minutes. Add the clams, rice wine, lime juice, fish sauce, and chiles. Cover and steam until the shells have opened, about two minutes. Add the butter and Thai basil and stir to combine. Taste the sauce and adjust seasoning, adding more lime juice or fish sauce as necessary. Ladle clams and sauce into bowls and serve immediately.
Grilled Clams with Aleppo Chile and Lemon Butter
Here is my made-up grilled clams recipe.
Serves four as a first course. 
30 littleneck clams
6 ounces butter
2 cloves garlic, coarsely chopped
1/2 tsp. Aleppo pepper (or substitute about 1/8 tsp. red chile pepper flakes)
1/2 tsp. fennel pollen salt
Approx. 1 Tbsp. fresh lemon juice, or more to taste
1 tsp. fresh orange juice
Place clams on hot grill, close lid, and check occasionally over the next five to 10 minutes, removing clams as they open completely. Transfer them to a bowl.
In a small saucepan, heat all remaining ingredients. Allow to bubble a little bit, taste for seasoning, and then remove and put in small bowl for dipping or several bowls for people to share. Serve immediately with extra slices of lemon on the side.