Flying in and out of J.F.K. on JetBlue at ungodly hours in both directions gave me the excuse I wanted to stay at the TWA Hotel. Twice.
The first leg of the trip began with the most harrowing ride on the Hampton Jitney on Jan. 18. It was snowing and nobody on the L.I.E. can handle the concept of slowing down, so there were many, many accidents on the road. By the time I arrived at the hotel in JetBlue's Terminal 5, I for sure needed a retro cocktail in the restored Lockheed Constellation L-1649 A, better known as Connie.
The Connie is one of only five Starliners left in the world. In the late '50s, it was a rock star, a quad engine prop aircraft that was one of the first with pressurized cabins. Unfortunately, its large square-shaped windows kept getting sucked out and it did not have the most stellar safety record. This particular model spent her last years depositing drugs in Colombia. Also, the Boeing 707 jet was introduced in 1960, followed shortly after by the 747, and these jets were too big for the Teeny Weenie Airlines custom-designed terminal. The Eero Saarinen-designed terminal had been empty since 2001, when American Airlines bought TWA.
Now it has been reopened and restored to its magnificent nostalgic 1962 glory. The hotel wings attached to the former terminal are brand new, spanning in two opposite directions the Hughes wing, named after Howard Hughes, and the Saarinen wing. The lobby alone is 200,000 square feet with museum-quality displays of old cars, Hughes's and Saarinen's offices, the uniforms of the stewardesses throughout time, many designed by the designers of the time — Oleg Cassini, Valentino, Don Loper, Howard Greer, and Pierre Balmain.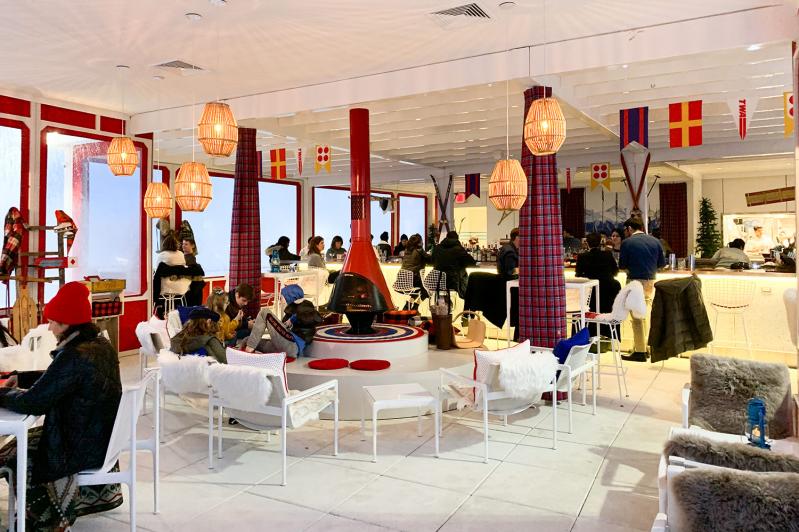 I boarded the Connie for a quick martini (seemed appropriate) and marveled at the familiarity of the fabrics and spaciousness and groovy cockpit. I grew up in the '60s, so everything about this hotel/plane was nostalgic. The paper flight plans are laid out and there is even a navigator's window (like a moon roof in a car) used by the crew to look up into the night sky and use the north star for guidance. There were children hyped up on cocoa on the plane and couples trying to enjoy their dates, sitting in forward-facing plane seats, hilarious.
Next stop was the pool bar, currently a ski chalet themed temporary space next to the infinity pool overlooking a runway! Yes, you read correctly. The infinity pool is kept at a toasty 95 degrees and there were intrepid young water enthusiasts in it both times I visited, even this time in the snow. The ski chalet was very entertaining. This part of the TWA Hotel is the brainchild of the Gerber Group and MCR Hospitality. The staff is dressed in vintage Alpine ski sweaters, there is a real fireplace, and you can get warm pretzels, fondue, and hot toddies, among other drinks and eats.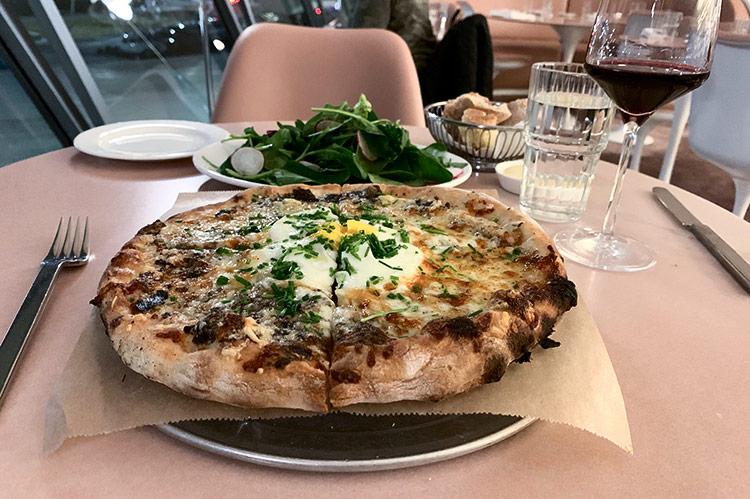 Lastly was my early bird dinner at Jean-Georges Vongerichten's Paris Cafe, back in the groovadelic terminal. I had read some terrible reviews, mostly on Yelp, that internet megaphone for the perpetually disgruntled customer. I have, on occasion, been under-impressed by some of Jean-George's establishments, even Topping Rose House in Bridgehampton, one of his 38 locations. But I was delightfully surprised by the food and decor at the Paris Cafe. The kitchen is huge and open, there is a curving counter around the kitchen, then tables and a few rounded booths in the iconic Frances Knoll-Eero Saarinen collaboration of tulip chairs and tulip tables. The cushions and carpet are a color I couldn't quite put my finger on, a pinky-taupe, so I settled on "1962 nude denier nylon stocking."
I ordered a shaved broccoli and kale salad, vegetarian curry, and mashed potatoes. Mashed potatoes can be a great way to judge a restaurant, I believe.
As soon as you sit down in your swiveling tulip chair you get a basket with a warm brioche roll, a crisp baton, and a round slice of fresh, unsalted butter. The salad was excellent, in spite of being made with curly kale, which can be brutal to chew. It was finely shredded, nicely dressed, had a shower of "mimosa" hard-boiled egg, and tiny bits of homemade croutons, more like migas de pan. The vegetable curry was spicy and excellent, full of romanesco broccoli, carrots, cauliflower, and radishes. The mashed potatoes were also excellent, served piping hot and in no need of additional salt or pepper.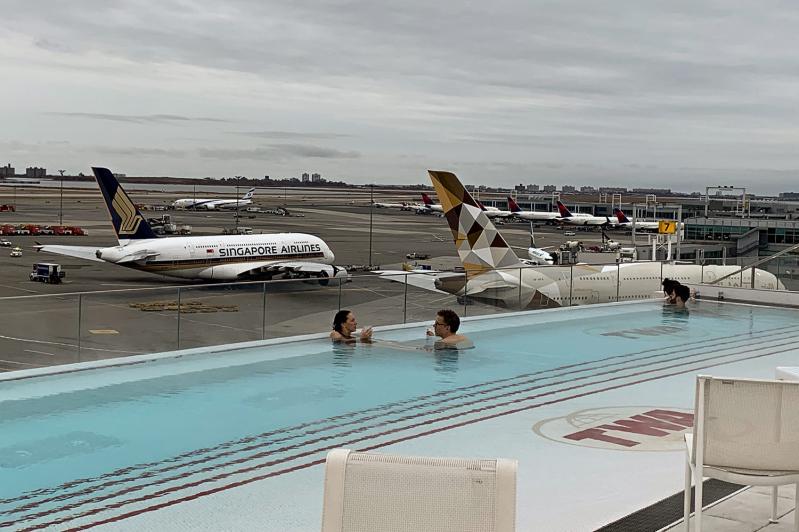 There wasn't much evidence of a manager type in the restaurant, although toward the end of my meal a heavily cologned gentleman did stop by my table, probably because I was enjoying my swivel chair too much. It was still snowing outside, the view inside and out thrilling, and yet most of the other single diners in the Paris Cafe were deeply engrossed in their heavy metals, especially the women. What a pity, perhaps they pass through this airport on a weekly basis and just ignore the glorious restoration. Prices at Paris Cafe are: appetizers and salads $14 to $22, pizzas, burgers, tacos, and other mains $16 to $42, and sides $8.
The airport hotel is so big and there is so much to see and learn, I actually got lost a few times. When I returned to the hotel again 12 days later I felt like a pro. I booked a room with a runway view and watched planes come and go for hours. F.Y.I.: If you ever have the good fortune to stay here, the windows are not one-way glass. Everyone driving, flying, and walking by can see you, too. But they are almost five inches thick and very soundproof.
First, I went back to the rooftop pool and ski chalet bar to take more pictures. I spied two exceptionally handsome, nattily dressed African-American gentlemen and took their picture, assuming they were famous. Then they came over to talk to me. Perhaps I got their attention because I had that "I can't believe how cool this place is" expression on my face. It turned out that Russ Perry and Ivan Cesar are the hospitality manager for the entire Gerber Group and general manager of the Sunken Lounge (and other bars within the hotel), respectively. I learned that this is the first hotel of its kind in the world and Russ pointed out the value of it being a place where "you can learn and gather information about history" in such a unique way. We pondered why the restaurant has received negative reviews and I shared my theory that it is not a destination but a way station, and travelers tend to be cranky. Then I was off to my second meal at the Paris Cafe.
This time I had the house salad and black truffle pizza. The green salad was mostly spinach and arugula with a bit of radicchio mixed in, not the typical mesclun mix. There were some paper-thin slices of radish as well, and it had a good soy sauce, almost Asian-style dressing without any overpowering sesame oil. The truffle pizza was also great, with very thin crust baked in a wood-burning oven. I kid you not, I'd put this pizza on a par with 1943 Pizza in Greenport. It was topped with an egg, a current fad I could do without, but I figured, "Hey, free protein, whatevs."
The restaurant was only moderately busy both nights I visited, but again I was there for the early bird shift. Nonetheless, there were tables with groups celebrating birthdays, couples on dates, and families with small children. The menu manages to serve all these guests' needs, from a quick burger to a lovely mushroom-crusted salmon with herbs.
The entire experience of the hotel, the Connie, the reproduced offices of Hughes and Saarinen, the soundtrack playing throughout ("Mack the Knife," "Girl From Impanema," Motown, Beatles!), the pool, chalet, display of uniforms, and yes, the Paris Cafe, all of it was stimulating, fun, and educational. If ever you have the necessity or desire to pass through J.F.K., JetBlue Terminal 5, and want to have a blast from the past, this is it.