It has been said that opening a restaurant is rather like having a baby: tortuous, but then you forget about the pain and do it all over again. Lee Hanson, a longtime Hamptons weekender, with his co-chef Riad Nasr, opened Frenchette in TriBeCa in 2018. After 26 years in the kitchen, they have worked in some of the most buzzworthy restaurants in New York: Balthazar, Minetta Tavern, Pastis, and Schiller's Liquor Bar.
Frenchette, however, is notable not simply because it is very good (it won the 2019 James Beard Best New Restaurant award and three stars from The New York Times), but because it is the first for the duo as co-owners. For the last 20 years they were tied to Keith McNally, the Englishman who, together with his brother Brian, reinvented glamorous Manhattan dining in the 1980s and '90s. Their thrumming hot spots were defined by the times, if not the food, and by the aesthetically pleasing staff waiting on Manhattan's stylish, jabby-elbowed crowd. "Bright Lights, Big City," Jay McInerney's hedonistic novel of the era, even featured a photograph of Odeon, a McNally restaurant, on its cover. Many notable chefs passed through the McNally portfolio, but Mr. Hanson and Mr. Nasr stayed on, honing their skills while hoping to open their own place one day. By all accounts, it was a tangled relationship with the McNally empire, and breaking free was complicated.
"Yes," admitted Mr. Hanson, when we met recently in Greenwich Village. "It's still a bit of a shadow on us," he said of his association with the McNally restaurants — which came to be famous more for the fashionable vibe than the food —- "but hopefully we'll shake that."
Frenchette, on West Broadway, is every bit as stylish — a curvaceous Deco-styled bar in the front room leads to a conspicuously underdesigned main dining room with generous red leather banquettes and smaller tables and chairs. But it's the food that's drawing the crowd.
"We started from a very familiar place of French cuisine, as that's what we've been doing for all our lives," he continued. "But we're trying to break the bistro mold. Throw in a twist here and there. We have to set ourselves apart." That includes lighter, less fussy fare. On the menu, one might find duck frites, charred carrots, Persian-inspired Tomate Farcie, whole turbo fish for two, and a North African-spiced artichoke couscous (delicious — I tried it).
Frenchette paired up with the Dock to Dish program, which connects small fisheries — in this case, some from Montauk — to local restaurants. They receive 50 pounds a week of East End seafood, including sea bass, scallops, and sea bream. "It's super fresh, tasty fish," said Mr. Hanson. And, like most conscientious chefs today, the duo serve only grass-fed beef and weave seasonal magic with the finest locally foraged ingredients.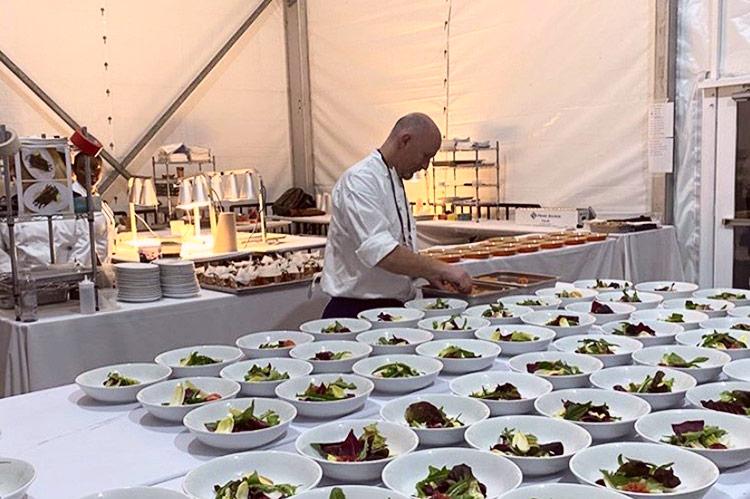 The culinary life for Mr. Hanson took root early. He was born in New York, but moved out west, with only his mother while he was in elementary school, first to Oregon and then to South Pasadena, Calif. "I went to seven schools in 12 years," he said.
Finding school less than interesting, Mr. Hanson began working at the age of 14, during weekends and summers, in an Italian restaurant called Josephine's — "veal parm, lasagne, deep-dish pizza. . . ." By 16, he'd worked all the stations. Mother and son moved back to New York for his senior year of high school, after which he joined the Culinary Institute of America and underwent a 21-month program plus a 6-month apprenticeship, graduating in 1987. His first job was at Le Cirque, a restaurant so sought after that a few V.V.I.P.s were given a secret telephone number for reservations. Next, he cooked at Aureole, another top-notch eatery where the expense account crowd flocked. In 1993, he became a sous-chef at Daniel, the eponymous restaurant helmed by the master chef Daniel Boulud. And there, he met Mr. Nasr.
It wasn't the only partnership that formed at the time. "I liked his knife skills," said Kathryn Kellinger, Mr. Hanson's wife of 20-plus years and the outgoing, witty counterpart to his soft-spoken, shy demeanor. It was 1996 when they met; Ms. Kellinger was a kitchen helper at the New School, where her future mother-in-law also worked, as a cooking assistant. Ms. Kellinger has authored several cookbooks, including one for Balthazar, others on homemade pizzas and sandwiches, and one for George Foreman called "Indoor Grilling Made Easy."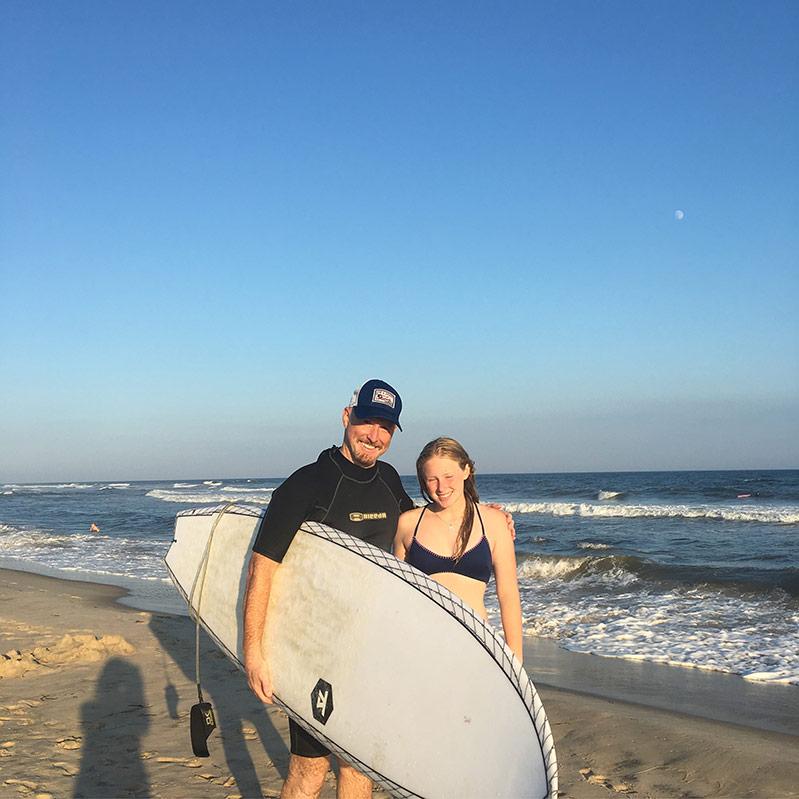 For many years, the couple, who have two teenage girls, enjoyed a weekend home in Northwest Woods. "We socialized more out east," Ms. Kellinger said, mentioning some of their favorite restaurants: The Hideaway in Montauk, the Clam Bar, Dockside, and Beacon, for the sunsets. Last year, however, they decided to sell the house and rent a place for the summer only. "Because of work," said Mr. Hanson. "We just couldn't use it much all year round."
"My normal day is from 10 a.m. to 11 p.m.," he explained. It's full-throttle every day, he said, especially during an opening, which is "grueling," though having a partner to share the burden is a huge help. "It's another set of eyes, and it also allows each of us to take a real day off without worrying about what's happening at the restaurant."
I had to ask about Mr. Hanson's temperament in the kitchen, having watched endless TV food shows set in the professional kitchen, where pans clatter, flames leap, and furious star chefs bark their orders to culinary wannabes who jump to it, stopping only to mop their brows and mutter to the camera about hopes and dreams.
Not him, he said with a smile. "I'm not a tyrant in the kitchen. Riad yells more regularly. So if ever I do, people definitely pay attention."
With starry reviews in the press and culinary accolades bestowed, the duo recently stuck another feather in their toques: They were awarded the catering assignment for Vanity Fair's annual party at the Oscars two weeks ago. It was a sit-down affair for about 130 Hollywood A-listers, followed by a post-award mingling for 800, from 9 p.m. to 2 a.m.
"It felt like we were part of a concert," Mr. Hanson wrote in an email. "Exciting and nerve-wracking. This huge event space was built out over two weeks, multiple crews overlapping with everyone trying to be ready on time. And just like that, it was our turn to go on. The crazy rush, with everyone running around trying to get the food out. It wasn't until later when the enormity of the event and who attended, set in. Kind of surreal, but a whole lot of fun!"
The Frenchette empire is now poised to expand, taking over Le Veau d'Or, a tiny Upper East Side bistro that has been a mainstay for more than 80 years, as well as the soon-to-be-shuttered 18,000-square-foot Brasserie Ruhlmann in Rockefeller Plaza.
Perhaps an outpost out east?
"I've definitely thought about it," said Mr. Hanson. "Montauk is where I'd love to end up."