Do you remember the "Cooking With the Anal Retentive Chef" skits on "Saturday Night Live"? The late great Phil Hartman played a mincing effete chef named Eugene who never really got around to cooking. He just kept cleaning up his counter space, agonizing over unsymmetrically cut bell peppers, uneven numbers of lady fingers, and disposing of bits of food in such an elaborate and fussy way, he never got around to actually cooking. He had ruffled flowery valances over the kitchen window, storage jars neatly arranged on the counter, and a tape dispenser cozy.
"Isn't it pretty?" he asks. "I made it myself out of some toothpicks, felt, plain old buckram, a couple of pearl buttons, and some eyelets." Naturally, the "program" is on PBS, made possible by a grant from the Chubb Group.
I see nothing wrong whatsoever in his behavior, other than the fact that he never gets around to completing, or even beginning, a dish. He reminds me of my mother, one of my brothers, me. My mother would wrap certain unsavory drippy bits of garbage before putting them in the trash bin. The counter was wiped down constantly, the sink sparkled, the refrigerator contained nary an expired speck of cheese or meat. Is this O.C.D., control freak, or anal retentive behavior?
None of these! It's simply being meticulous, tidy, and fastidious. Hasn't Marie Kondo of the KonMari Method "The Life Changing Magic of Tidying Up" made millions of dollars from this behavior? If that three-week-old green pork chop doesn't spark joy, throw it out.
I recently read a checklist of indications or symptoms of being obsessive-compulsive. They included making a grocery shopping list in order of where the items are in the aisles of the store. That's just logical, I thought. Organizing dollar bills in your wallet in order of denomination. Simply makes sense, I mutter. Rearranging everything in the dishwasher after someone else loaded it incorrectly? Damn right, who are these monsters?!
In the realm of food magazines, the now defunct Gourmet magazine could be described as adventurous, full of exotic recipes, stories, and travel photography. Cooks Illustrated, on the other hand, would spend four pages telling you how to make the perfect chocolate chip cookie and describe all the failures they endured to get there. Any Cajun cooking show, even Julia Child's programs, could fit into the Oscar Madison category of cooking, whereas Martha Stewart (pre-incarceration and Snoop Dogg) and "America's Test Kitchen" are definitely in the Felix Unger row.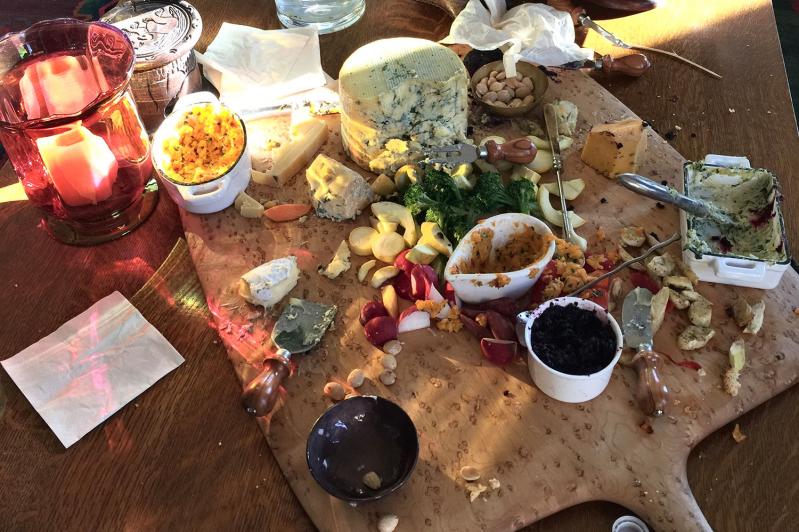 I am a good cook. I am a fast cook. My food is savory, gutsy, salty, oily, spicy. Yotam Ottolenghi, Sami Tamimi, and Alice Waters are idols. Charlie Trotter and Art Culinaire magazine just frighten me. So I'm not completely off the rails in regards to my control-freak cooking. My meals may be exotic or exciting but I can assure you, they were prepared in a spotless, organized, pristine, immaculate, efficient, orderly, spruce, natty little kitchen.
Years ago, I did a short series of cooking shows for LTV, the focus being on a diverse variety of guests and local products.
On my first visit to the studio kitchen I noted that it was filthy everywhere, with sticky potholders and stained dish towels. The "producer" suggested I just remember to hide the towels and potholders from the camera while filming. Really? You try doing a cable show by yourself, cooking, talking to a guest, watching the clock, and trying to hide the dirty side of a dish towel. I ended up cleaning the kitchen before and after each taping and buying the kitchen all new towels and potholders.
At the end of the last show, the "producer" came up to me, grabbed me by the shoulders and said, "You know what? You complain a lot." I was very traumatized by this, but like all good control-freak, anal retentive, O.C.D. chefs, I dusted off the counter, gave the sink a jaunty Ajax scrub, neatly folded my apron into three sections with the ties tucked inside, safely wrapped my very sharp Wusthof knives in a clean, dry dish towel, stacked my laminated recipes in a neat pile, and went on my merry, well organized, mapped-out route home. 
Being a fusspot stickler bordering on mysophobic has stood me in good stead as a pastry chef and occasional restaurant reviewer. I always immediately inspect the cleanliness of the flatware, glasses, napkins, and especially the bathrooms. If I were to describe to you some of the grubby, bespattered latrines at a few local restaurants, you'd be appalled. (One of the few silver linings of Covid-19 is the more meticulous cleansing of every touchable surface everywhere.)
You'd think that when two control freak cooks get together, it could be a problem, but in fact, once dominance is established, the lesser of the two is quite happy obeying orders. When I visited my friend Tommy in the Bahamas a few years ago I was forbidden from cooking, wasn't even allowed to wash dishes. The only chores he trusted me with were removing the little stickers from produce, making ice cubes, and keeping the water filtration system full. Once my bruised ego recovered from not even being allowed to whip up a vinaigrette or key lime pie, I relished my mundane chores, pointing to my aesthetically pleasing fruit basket, sparkling and abundant ice cubes, and almost overflowing water jug.
I'm too old to analyze this behavior/condition, I don't care if it's nature vs. nurture or my training in cooking school or restaurants, and I think Freud's theories about such things are a bunch of hooey.
Now let's wash our hands, pull our hair back into a ponytail, put on our aprons, and get cooking. Just remember, dish towels are for drying, paper towels are for cleaning up messes, stainless steel utensils should not touch silver in the dishwasher, napkins should be folded just so, that's a dessert spoon, not a soup spoon, I think those mushrooms have deliquesced, and how old is that milk? Stay safe and clean, my friends!
In some ways, control freak cooking is more about the journey, the process, than about the end result, so it almost doesn't matter what recipes I share here. Therefore, I'll just share a few favorites, as usual.
Wild Mushroom Cakes with Avocado Pesto and Red Pepper Coulis
This recipe is from a 2010 Bon Appetit magazine. It is one of my favorite recipes but is somewhat labor intensive and requires a few superfluous ingredients. Why do you need two tablespoons of milk in a red pepper coulis?
Serves four.
Red Pepper Coulis
2 red bell peppers, roasted, peeled, seeded, coarsely chopped
2 small cloves garlic
2 Tbsp. milk
Mushroom Cakes
2 Tbsp. butter
2 Tbsp. olive oil
2 8-oz. packages sliced button mushrooms (slice your own, I say!)
2 large portobello mushrooms, about 6 oz., gills scraped out, sliced
8 oz. shiitake mushrooms, stemmed, sliced
2 garlic cloves, minced
2 large eggs, beaten to blend
2 Tbsp. finely grated Parmesan cheese
2 Tbsp. each chopped fresh basil and chopped fresh parsley
1 tsp. salt
1/2 tsp. freshly ground black pepper
1/2 cup panko bread crumbs, plus more for coating
Avocado Pesto
1/4 cup toasted pine nuts
1 cup coarsely mashed avocado (from about 2 large)
1/4 cup finely grated parmesan
2 Tbsp. chopped cilantro
1 Tbsp. chopped Italian parsley
2 tsp. fresh lime juice
1/4 cup plus 2 Tbsp. olive oil
1 Tbsp. butter
To make coulis, puree all ingredients together in blender until smooth, transfer to bowl, check seasoning. This step can be done two days ahead. Cover and chill.
To make mushroom cakes, melt butter with oil over medium high heat. Add all mushrooms and saute until browned and edges begin to crisp, stirring often, about 14 minutes. (Oh, I love the specificity of that number!) Add garlic, stir one minute.
Transfer to food processor, and add eggs, Parmesan, herbs, salt, and pepper. Using on/off turns, process until mushrooms are coarsely chopped. Transfer to large bowl, mix in half a cup of panko bread crumbs.
Divide mushroom mixture into eight equal portions, a quarter to a half cup each. Form each into a three-quarter-inch-thick cake. Spread additional panko out on plate. Coat cakes with panko. Place on rimmed baking sheet. (These can be made a few hours ahead.) Cover and chill.
Avocado Pesto
Place pine nuts in processor and grind up coarsely. Add avocado, Parmesan, cilantro, parsley, and lime juice, Process to blend. With machine running, gradually add a quarter cup of oil through feed tube. Transfer to bowl and taste for seasoning. (This can be made two hours ahead.) Cover and chill.
Preheat oven to 300. Melt butter with two tablespoons of oil in a large skillet over medium heat. Working in two batches, add mushroom cakes, and cook until browned and cooked through, about five minutes per side. Transfer to baking sheet, and place in oven.
To serve, spoon about a quarter cup of avocado pesto onto center of each plate. Using back of spoon, spread out to a five-inch round. Place two cakes on each plate and drizzle with red pepper coulis.
Linzer Cookies
This is a recipe from I don't know where that I have adjusted. Remember to make an even number of linzer cookies so you can stack them in pairs. Use a medium-sized heart-shaped cookie cutter for the cookies and a tiny heart shaped cutter to cut center out of half of the cookies. Also have some good raspberry jam on hand to put tiny amounts on each bottom cookie and then top with top cookie with tiny heart cut-out. Sprinkle with confectioner's sugar when done. These will be crisp when first made, then become softer from the jam center after a day or so. They are good either way.
Number of cookies is dependent on size of your cookie cutter and thickness of dough once rolled out.
1/2 cup almond flour
2 1/4 cups flour
1/2 cup packed brown sugar
1/2 tsp. baking powder
1/2 tsp. salt
1/4 tsp. cinnamon
1 cup butter, softened
1 egg
1 tsp. vanilla
1 1/2 tsp. honey
Beat butter with sugar until fluffy. Add egg and vanilla, and mix again. Add almond flour, then flour. Mix until just blended, scraping down bowl of mixer. Chill the dough in two equal portions. Roll out as thinly as you can on floured board, cut into heart shapes, then cut a tiny heart out of half of bigger cookies. (You can reuse rolled dough to cut out more cookies.)
Bake at 350 for approximately 8 to 10 minutes. I usually bake them a little longer to crisp them up. When cool, put a tiny dab (about half a teaspoon) of raspberry jam in center of whole cookies, then top with the cutout cookies. Sprinkle with confectioners sugar. Store airtight.