A thriving gourmet shop and catering business that Jeanine Burge opened here in May, Silver Spoon Specialties had a modest start 10 years ago with a food truck.
At the time, Ms. Burge was a respiratory therapist and event coordinator for the Child Development Center of the Hamptons. The East Hampton resident decided to return to what she had loved best from her childhood in an Italian household in Garden City: cooking. Acting as her own general contractor, she was able to have a truck built in Georgia in six months, and all applications approved by the summer of 2010.
Peddler's permit in hand, she was off to the races -– make that beaches -- and the venture took off. In 2015 her son David Gaviola of Sag Harbor, who'd gone to culinary school in the south of France, built his own truck and joined the business, taking it, she said recently "to a different level."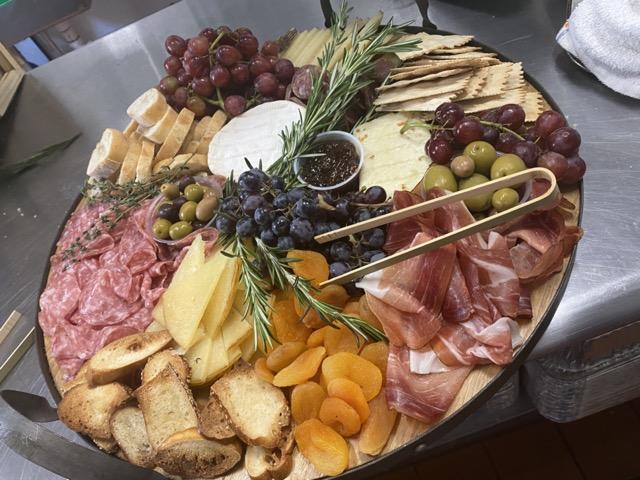 Working together, the pair built it into a popular catering concern; in 2019 they catered 70 large events. In January, Ms. Burge set her sights higher yet. With her son and her husband, Charlie Burge, who owns a glass business, she found an empty 1,100-square-foot building on Race Lane that allowed them to build a proper prep kitchen. They put in walls, electricity, plumbing, floors, all with what she called a "rustic industrial look." They built the countertops and designed the space as if they were living there. The lease was signed on March 1, just before the pandemic hit.
The Covid-related restrictions that followed delayed the process, but the village was cooperative, Ms. Burge said. "With no down time, it took two months," to a mid-June opening.
Everything sold at the Silver Spoon except the bread is made in-house. The range of meat, seafood, and vegetarian options includes mini lobster rolls, seared tuna tacos, cilantro-lime rice with black beans, cheddar cheese, pickled onion, and grilled tomato salsa. A Korean hot chicken sandwich, with brined and fried chicken thigh meat, spicy slaw, and poblano avocado sauce, was said by a first-time customer to have "knocked [her] socks off," Ms. Burge said, grinning.
There are salads, smoothies, flatbreads, and side orders of truffle fries with garlic-herb aioli; and edamame, shrimp, or chicken dumplings, as well as steak, pork, shrimp, chicken, or veggie quesadillas. As of this weekend, there will be a considerable Thanksgiving menu for preorders as well as seasonal soups and pot pies.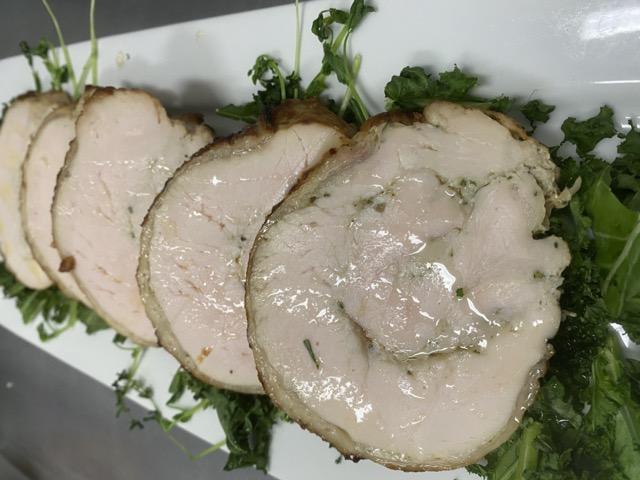 Ms. Burge's 16-year-old daughter, Charley, worked in the store all summer, along with four of her friends; she's there part-time now that school has started. Another son, Ian, who is 15, "has a unique talent in cooking as well," said his mother. The only family member not involved is her 27-year-old son Nick, who lives in L.A. and works at Tesla, but "he is also a great cook," she said.
Catered affairs of 50 to 150 people were the norm until this year. With Covid-19, it's more like 10 to 15 people now, sometimes 20 but never more than 50, in keeping with state regulations. This summer the business catered two dozen weddings of 10 to 25 people. The staff wears masks and gloves and the store is sanitized on a regular basis. "The retail section being open for takeout as well as selling on site has helped pick up the slack of what has been lost" to less volume, Ms. Burge said.
Her prior experience as an event coordinator has been invaluable in her job as the event-planning specialist at Silver Spoon. She's often called upon for advice on the least risky ways to entertain or how to adapt a big bash for a pared-down guest list. Mr. Gaviola runs the kitchen, but his mother is in the building most of the time, tasting, making suggestions, and, first thing in the morning upon her arrival, cooking something -- usually the meatballs and marinara.
"The girls from Urgent Care come in three times a week, John Marshall teachers, the dentist's office, vets, employees from VJS Studio, all come in." This fall and winter Ms. Burge is planning to make some deliveries herself, to the schools and the Pantigo Road medical buildings.
Because of the pandemic, David Gaviola will not be traveling to the Far East this year as he has been doing for long stretches in the past, learning to prepare Asian specialties. That's just fine with his mother. "My strengths are his weaknesses and vice versa," she said. "We really are a good team."