"Long Island and the Sea"
Bill Bleyer
History Press, $21.99
Long Islanders take a lot for granted — a wonderful climate, challenging golf courses, great pizza, the best bagels — and some residents spend an entire lifetime sadly ignorant of our remarkable historical relationship to the sea that surrounds and defines us. Fortunately for these citizens, as well as for the rest of us, there is now a perfect antidote — Bill Bleyer's new book, "Long Island and the Sea." From start to finish, Mr. Bleyer places our fish-shaped, almost 120-mile-long island squarely where it belongs in both local and national maritime history. 
He begins with the Native Americans and their dependence on fishing, the "oldest maritime activity on Long Island." The coastal Algonquians used dugout canoes carved from hollowed-out logs, the fragile appearance of which belied their stability. They went whaling with them, too, driving the whales onto the beach and attacking them with spears.
The Europeans eventually took over whaling, and by the 17th century the industry was second only to farming in importance on Long Island. By 1687 Southampton was home to 14 whaling companies that produced 2,148 barrels of whale oil that year. Three of our ports — Sag Harbor, Greenport, and Cold Spring Harbor — were among the most productive in the nation far into the 19th century.
Mr. Bleyer leads us from the demise of the whaling industry to the rise and fall of shipbuilders and boatyards. Oyster Bay, Port Jefferson, and Northport dominated the industry until around 1850. Although shipbuilding declined in the 20th century, there are still about two dozen small shipyards still working, building small craft and repairing them.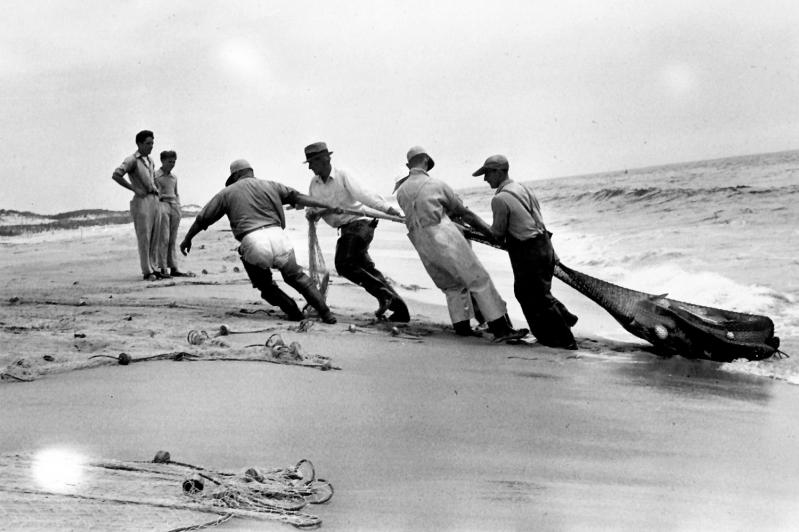 And that is one of the book's strengths: presenting history in an eminently readable form while relating its importance to the present day. The sea offered sustenance, through fish and shellfish — and yes, there are still lots of oysters in Oyster Bay. The sea offered drama, and there is a compelling chapter on shipwrecks, and tales of fire and plunder and lives lost and saved. There were thousands of shipwrecks off Long Island's shores, even after the advent of lighthouses provided some navigational guidance. When many of the 21 Long Island lighthouses became obsolete because of the development of more sophisticated navigational methods, they were repurposed into museums, thus artfully preserving their historical significance.
The sea offered transportation, bringing settlers and fueling economic development. Steam-powered ferries began service in the early 19th century, providing transport of both passengers and goods from the North Shore of Long Island to Manhattan. And, of course, the sea offered entertainment and recreation. Huntington and Port Washington became popular spots for speedboat racing in the early 20th century, and the famed America's Cup, managed out of Newport, R.I., has traditionally had strong ties to Long Island, including sails made in Port Jefferson, boats made in Greenport, and that village's Capt. George S. Monsell, a three-time Cup winner.
The sea has influenced education on both local and national levels. In 1947 the Webb Institute of Naval Architecture moved its campus to Glen Cove, to the former estate of Herbert Lee Pratt and his wife, Florence. And in 1936 Congress appropriated money to establish the Merchant Marine, which moved to its home in Kings Point in 1942. The Merchant Marine Academy prepares students for careers on merchant ships and in the maritime industry ashore.
The sea led to the development of important technology. A submarine developer, John P. Holland, established a marine base on Cutchogue Harbor in the late 19th century, and the gyroscope, an instrument that made navigation safer, was developed by Sperry Gyroscope in Lake Success.
The book is beautifully illustrated, with depictions of ships and sailors on the high seas, as well as photographs of present-day efforts to preserve the shipbuilder's art. Despite its flowing narrative, it is so chock-full of statistics and facts that it could almost qualify as a reference book. There are several small maps, but the narrative would have benefited from more, especially for readers who are unfamiliar with place names. And the chapter on pirates was disappointingly short.
The foreword by Billy Joel of Sag Harbor, who defines himself as "as an islander from a place with a maritime history," reinforces why preserving that history matters. "It's important for other people to understand the region's maritime history. It lets people realize how precious the resources that they have are, that they might lose them," he advises.  
In his closing remarks, Mr. Bleyer states that his book is "part of an ongoing effort to ensure Long Island's maritime history is not forgotten." To that end he has done his part beautifully.
---
Antonia Petrash, a former library director, is the author of books on remarkable women in New York history and Long Island women in the suffrage movement.
Bill Bleyer was a Newsday staff writer for many years.