"Texas Flood"
Andy Aledort and Alan Paul
St. Martin's Press, $29.99
I remember, like it happened last night: weeks from high school graduation, the pressure off, one night four or five of us shooting pool in the dormitory's common room. Sid, one of the better guitarists among us, brought a boombox into the room and said, "Check this out."
"Love Struck Baby" knocked me over like a wave, the speed, tone, and precision of electric blues guitar over a bare-bones rhythm section's insistent train-beat shuffle difficult to fathom. I hadn't recovered when "Pride and Joy" began, and the guitarist's swaggering ferocity and absolute control of the instrument knocked me over again. Who was this force of nature?
I remember, like it happened this morning, barely six years after that first jaw-dropping exposure, my friend and then-bandmate Chris ending a call with our bandmate Sean, who had heard the news on the radio, and turning to me. This time, it was another emotion that felled me. Stevie Ray Vaughan, just 35 years old, was dead.
Between the shock wave of that first listen to "Texas Flood," Vaughan's first album, and learning of his death, 30 years ago this August, we were gifted with several more albums, along with vague reports of how the guitarist quit alcohol and drugs before returning with his finest offering, 1989's "In Step." He was playing better than ever, many of the new songs' lyrics reflecting on the person he had been and, in embracing sobriety, the better person he had become.
Nine months after Chris, Sean, and I were among the 20,000 left speechless at a Madison Square Garden performance, and just a few years after he had descended to the very bottom before soaring higher than before, Vaughan was gone, killed instantly in a helicopter crash. What a vicious and unfeeling world this is.
In "Texas Flood: The Inside Story of Stevie Ray Vaughan," Andy Aledort, a guitarist, music educator, and journalist who between pandemics performs regularly on the South Fork, and Alan Paul, a fellow guitarist and journalist, have written the definitive story of a life. The book is an oral history that draws together those who knew him best, including friends, bandmates, managers, fellow guitar heroes, and, crucially, relatives, among them his older brother, the guitarist Jimmie Vaughan, whom he worshiped.
Mr. Aledort, who interviewed and played with Vaughan several times, and who recorded and performed with his band, Double Trouble, after his death, and Mr. Paul, the author of "One Way Out: The Inside History of the Allman Brothers Band," have assembled a colorful and lively biography of a complicated, obsessed, spiritual, and immensely talented musician.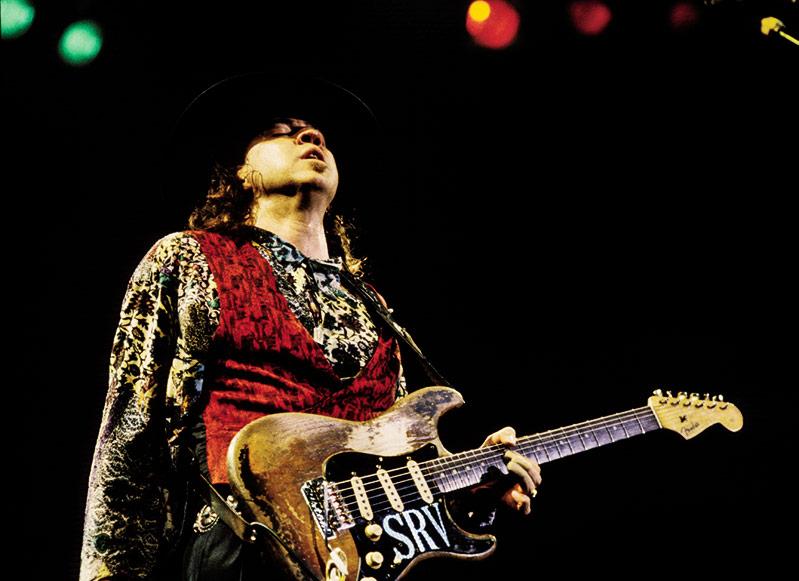 Those who were around him describe a sometimes difficult childhood in the Dallas suburb of Oak Cliff, "which became internationally known on November 22, 1963," when Lee Harvey Oswald was arrested at its Texas Theatre. Vaughan's father, who was known as Big Jim, sometimes drank excessively, the outcomes sadly predictable. But two guitar-playing uncles on his mother's side taught 7-year-old Stevie his first chords and licks, and "members of the country and western swing legends the Texas Playboys, who were major innovators and stars, visited the Vaughan family home often for card games and dominoes. These gatherings often included off-the-cuff performances that young Steve and Jim watched and soon participated in themselves." He was 10 when he gave his first public performance.
By adolescence, Vaughan was immersed in the sounds of the Lone Star State's prodigious crop of blues guitarists, including Albert Collins, T-Bone Walker, Johnny Winter, and Freddie King, the Mississippi-born blues royalty Albert King and B.B. King, the explosion of British guitarists influenced by them all, and another American who in his own brief life had reinvented the instrument, Jimi Hendrix.
"I was two years ahead of Steve at Kimball High, which was pretty redneck," remembers Roddy Colonna, a fellow musician. He describes Vaughan as "a weird-looking little guy wearing hip-hugger bell-bottom jeans, a paisley shirt, teardrop sunglasses that were too big for his head, and a little sash around his waist." Vaughan's home life was difficult, Mr. Colonna recalls. "From when I first met him, he always talked about how mean his dad was."
Vaughan fled Oak Cliff, following his brother to Austin and the clubs where he would sharpen his absurdly outsized skills. By the late 1970s, he was well known there and had invited the drummer Chris Layton to join his band. They would play together until Vaughan's death. But "around this time, Stevie's increased drug consumption and erratic behavior had drawn his bandmates' concern and criticism," the authors write.
Finally, in 1982, "several events conspired to give the band" — Stevie Ray Vaughan and Double Trouble, now including Tommy Shannon on bass — "a feeling of momentum." Vaughan's manager gave a VHS tape to Mick Jagger, who invited the band to audition for Rolling Stones Records in New York. The producer and label executive Jerry Wexler saw Vaughan in Austin. Astonished, he insisted that Claude Nobs book him at his Montreux Jazz Festival, in Switzerland. There, Jackson Browne offered the band free time in his Los Angeles studio, and David Bowie sought an audience, telling Vaughan, according to Mr. Layton, "that he was doing an R&B record and he'd love to have him take part in the recording sessions. . . ."
Bowie's 1983 album "Let's Dance" introduced Vaughan's Albert King-esque tone and feeling to the world via the title track and two others. Meanwhile, Double Trouble's recordings made their way to the legendary Columbia Records executive John Hammond, who had signed Billie Holiday, Bob Dylan, and Bruce Springsteen, among others.
A familiar but unique story follows, of a life on the road, of addiction slowly strangling the spirit. A near-death experience, the consequence of far too much cocaine and whiskey, finally led Vaughan to rehab and sobriety. His tumultuous marriage over, he began a new, healthy relationship. "In Step" showed him that he could play without drugs, and slipshod management had given way to a professional operation. The Vaughan Brothers even embarked on the project they had long discussed, an album together.
An ever-expanding vista before them, Stevie Ray Vaughan and Double Trouble toured and toured and toured some more, all the way to the Alpine Valley amphitheater in East Troy, Wis., as summer's end drew near.
"A flower that dies on the vine just falls off and is dead," Mr. Layton says in the closing chapter. "This was a dying flower that came back to life and had blossomed into something more beautiful than ever. Then suddenly . . . pow! It's just gone, and all that we had together, an active, living thing, is not there."
Once a mortal, now eternal. The memory, and so many recordings, remain. "Texas Flood: The Inside Story of Stevie Ray Vaughan," a story of the guitarist, but also of the blues and America, is an illuminating adjunct, a chronicle of the hero's journey to infinite potentiality.
---
Andy Aledort lives in Sea Cliff. His family has a house in East Hampton.