The first time Tripoli Patterson went to Australia was in 2003, when he was 19 and competing in the World Qualifying Series, a surfing competition. He didn't do well in the two events he entered.
"It triggered me in my mind," he said in a phone conversation. "I didn't want to find myself constantly in that situation where I was relying on judges for my career. It propelled me to want to become an art dealer. Instead of being in front of the camera, and being the talent, I wanted to be able to highlight other people's talents." 
The following year he organized his first exhibition in the Hamptons, and in 2009 he opened the Tripoli Gallery on Job's Lane in Southampton. The gallery relocated to a large warehouse space in Wainscott in 2019.
During that phone conversation, Mr. Patterson was in Byron Bay, Australia, where "Love Ranch," an exhibition he has organized with Justin Crawford, will open tomorrow. "We've been working on the space, and we're launching it as Tripoli Gallery. But it's actually a pop-up in what will be called fallenBROKENstreet Gallery." The space is around the corner from a hat shop of the same name run by Mr. Crawford and Diva Cory.
"The Australian gallery idea started four years ago, when I was starting to poke around to find out about the art scene there. My dream has always been, since I started doing my first shows, to have galleries around the world. And I figured what better way to start than to make the second gallery as far away from New York as possible."
On that trip, the Australian surfer Stephanie Gilmore, a friend, urged Mr. Patterson to meet Mr. Crawford, an artist, photographer, and surfer in addition to owning the hat company. "I asked Stephanie if he was related to Peter Crawford, the renowned surf photographer, and she said he was his son. I was, like, no way!"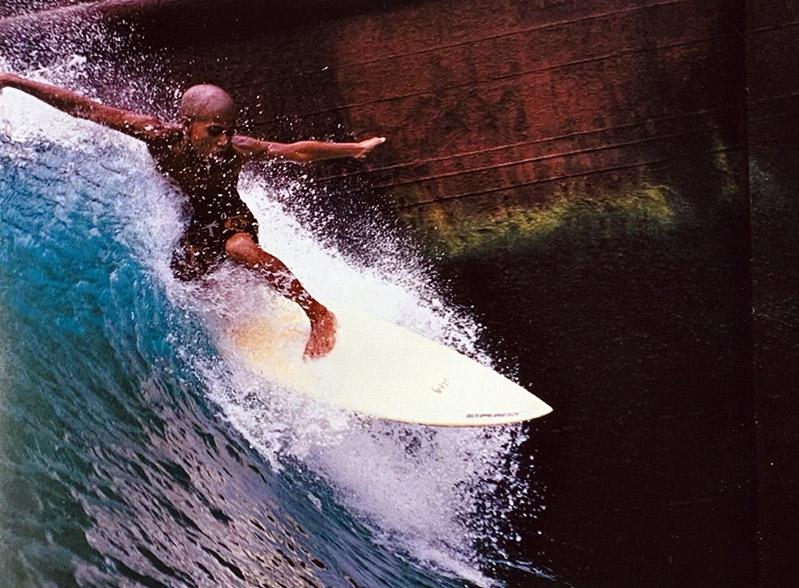 The elder Crawford, who died in 1999, had photographed Mr. Patterson, who was then 14, when he was surfing in Bali, riding a wave that had formed off a big, rusty barge, which provided an unusual background. The photograph was published in a magazine.
In 2017, Mr. Crawford opened A Spot of Genius, a gallery in a beach shack in Byron Bay showing authentic local culture. After Mr. Crawford and Mr. Patterson were introduced, the Tripoli Gallery began showing the former's work in 2019.
Mr. Patterson noted that Byron Bay, the easternmost village in Australia, has a history as a whaling town, like Sag Harbor, where he was born. "It reminds me of the Hamptons 10 or 15 years ago," he said. And, like the Hamptons, the popularity and pace of Byron Bay accelerated during the pandemic.
When a dealer there told Mr. Patterson he was happy to see another gallery coming to town, "I told him how all the big galleries from Manhattan came to the East End during the pandemic. I feel, in the Hamptons, I'm living in the future of Byron Bay." For the time being, he said, surfing still has more of a following there than art. 
Mr. Patterson has other ties to Australia. In 1980 his father, Leonardo Patterson, an antiquities dealer, brought a big collection of pre-Columbian antiquities to the continent at the suggestion of his friend Willem de Kooning. Its worth was estimated at $2 million.
According to the Australian and New Zealand Art Sales Digest, Leonardo was able to persuade a consortium of business people to buy the collection and donate it to the National Gallery of Victoria.
On his visit there four years ago, Mr. Patterson met Tony Elwood, the National Gallery's director, and asked if the artworks were ever on view. Mr. Elwood told him it was the biggest collection of pre-Columbian art in Australia and that it is permanently installed in a dedicated gallery. 
"Love Ranch," which will run through March 20, includes work by Marty Baptist, Jonathan Beer, Mark Cora-Mooroom Bungaree, Otis Hope Carey, Lottie Consalvo, Justin Crawford, Sally Egbert, Sabra Moon Elliot, Connie Fox, Félix Bonilla Gerena, Judith Hudson, Yung Jake, Benjamin Keating, Laith Mcgregor, Angelbert Metoyer, Miles Partington, Matisse Patterson, José Luis Vargas, Lauren West, Lucy Winton, and Ozzy Wrong.
The exhibition aims to foster an increased dialogue between artists in the United States and beyond, with artists and collectors in Australia. "We might start doing this show annually," said Mr. Patterson