The career of Christian John Wikane, a music journalist and essayist, got an early start. 
"It's because of my parents and their record collection that I had the whole spark of music come to me," he said during a Zoom conversation. "The first song I ever heard was 'Ain't No Mountain High Enough,' by Diana Ross. The drama of that song just opened up a whole world for me." He was 2 years old at the time.
Thirty-nine years later, he interviewed Valerie Simpson. "I said, 'Valerie, it's because of you and Nick Ashford writing that and producing it for Diana Ross that I'm here, right now, in front of you.' "
Mr. Wikane, who since 2003 has interviewed over 500 recording artists, songwriters, and producers, will also be in front of an audience at City Winery in Manhattan's meatpacking district on Nov. 28, with "Unscripted Live With André De Shields." The evening will begin with a one-hour conversation between Mr. Wikane and Mr. De Shields, followed by a 20-minute film, a question-and-answer session, and a reception, "so people can meet the Wiz himself."
"To sit in front of André De Shields" who is currently starring as Ben Loman in "Death of a Salesman" on Broadway, "is to sit in front of a sage," said Mr. Wikane. "He is one of the most eloquent and animated storytellers you will ever have the pleasure of listening to. It will be a rare opportunity to be with him when he's just being himself, telling stories from his career."
(There should be stories aplenty that night. Mr. De Shields, the original Wiz in the 1975 Broadway musical, has had a 50-year career in the theater, including an Emmy for his turn in the televised version of "Ain't Misbehavin' " and Tony, Drama Desk, and Outer Critics Circle awards for his portrayal of Hermes in "Hadestown.")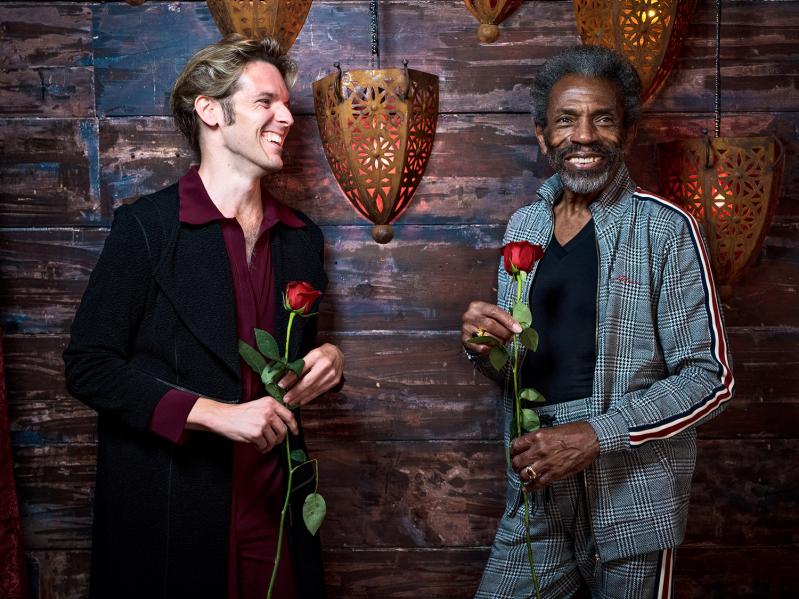 Mr. Wikane was born and raised in East Hampton, where his father worked for the Cook Insurance Agency and his mother was the executive director of the Eleanor Whitmore Early Childhood Center until her death in 2019. His parents, in addition to having an extensive collection of 1960s and '70s music, "embraced my passion. They never said, you've been listening to music for two hours, why don't you go outside?"
During the summers of 1996 and 1997, as an East Hampton High School student, he interned at Guild Hall, working on the Grolsch Summer Concert Series, his first exposure to event production. 
"What I really liked about that series is that it was eclectic. They had Rosemary Clooney, George Benson, Isaac Hayes, Elvis Costello, Squeeze, and John Kelly, who did a Joni Mitchell tribute. I don't know if anything like that has come along in recent years, where you really do have such a variety of acts that are legends, but they represent different points on the music spectrum."
At high school, the future music critic was in the choir and the band, and performed in all the musicals. Once at college, though, at Northeastern University in Boston, he realized he was not a performer. "I didn't enjoy being onstage, I would much rather be in the audience and then take the experience and write about it."
After graduation, he moved to New York City and got a job with a marketing company. "It opened up my mind to what I didn't want to do. Because I wasn't really satisfied, I started writing." His first published piece appeared in 2006 in PopMatters, an international online magazine of cultural criticism.
"I had finally found my home. It was like an oasis, because they ultimately let me write about whatever I wanted to write about." He started with CD reviews, then migrated into artist interviews. He is now one of the magazine's three contributing editors.
Within the first year he interviewed Paul McCartney, who, he said, used to drop by the Dayton farm stand on Route 114 in East Hampton when he was working there. "I told him that I used to get flowers for him and Linda. That was a full-circle moment that bridged growing up in East Hampton with something I'm doing now professionally."
His many other subjects over the years include Janelle Monáe, Donna Summer, Pete Seeger, Annie Lennox, Maurice White, Jimmy Scott, Carly Simon, and Kenny Gamble. 
In 2018, the photographer and filmmaker Sekou Luke began working with him for PopMatters. One of the first interviews they did together was Ariana DeBose, who four years later was to win a best supporting actress Oscar for "West Side Story."
After two years Mr. Luke suggested they film the interviews. That led to the video series "Unscripted," which launched in March 2020. The first season features exchanges with André De Shields, Nona Hendryx, Melba Moore, Ruth Pointer, Valerie Simpson, Kathy Sledge, Bruce Sudano, and Fonzi Thornton; the second includes Joshie Jo Armstead, Cory Daye, Lisa Fischer, Christian Holder, Rahsaan Patterson, Van Hunt, Janice Pendarvis, and Ray Shell.
"Many of these artists are veterans," said Mr. Wikane, "some in the fifth decade of their careers. They have the most to offer, because they have all of that career behind them, and all the lessons that have come from being an artist and having to adapt to the times and reinvent themselves along the way."
Excerpts from each interview are currently available on the "Unscripted" YouTube channel. In addition, PopMatters publishes complete transcripts online. The duo hopes to make feature-length videos of the interviews available eventually, but "we want it to be curated and edited in a way that it could be something on Netflix," said Mr. Wikane.
While he has always been drawn to vocalists specifically, over the years his taste has become thoroughly eclectic. "I'm interested in artists who have a story to tell," he said. "It doesn't mean they have to write the songs themselves, it's just that these songs are an expression of who they are."
He cited Dionne Warwick, many of whose hits were written by Burt Bacharach and Hal David. "Her voice is just in the DNA of those songs," said Mr. Wikane, "and that's why I feel very few people can deliver what she did on 'Walk on By' or 'Anyone Who Had a Heart.' For me, if I'm inspired to learn more about an artist, it doesn't really matter what the genre is."
In 2009, Mr. Wikane published "Casablanca Records: Play It Again," a 50,000-word portrait of the record label that launched in 1973 with Kiss and subsequently recorded Donna Summer, the Village People, Parliament Funkadelic, among many others.
"I like to write the stories that I'm not reading," said Mr. Wikane, "because I feel there is a gap of information, and if I can help fill that gap by speaking to people first-hand, it's sort of like completing the puzzle. People talk about Motown, about Stax, but not many people talk about Casablanca." He interviewed 50 different artists and executives for that story.
Mr. Wikane divides his time between Manhattan and East Hampton, where he and his sister still have the house they grew up in, including the record collection. Being on the East End keeps him grounded, he said, "and it keeps me connected to that 2-year-old. When I'm sitting in the living room writing, it's just in the next room where growing up I would spend hours and hours listening to music. And here I am writing about it."
Tickets to "Unscripted Live With André De Shields" are $40 on the City Winery Website; $45 the day of the show.