The author looks back on a pre-pandemic trip to Morocco now that travel is again possible, at least to ponder and plan.
Like Bogart, we were "misinformed."
Not about the nonexistent "waters" that the cafe owner Rick said brought him to Casablanca for his health, but about the time of a pre-pandemic sunrise at a campsite outside the town of Merzouga, far farther south in the Moroccan desert. 
On the dot as instructed, we thought, we exited our surprisingly roomy and comfortable tourist tent (running water, hot shower, flush toilet). But it was actually moments too late for those very first rosy fingers of dawn.
Still, the fast-spreading light show over red Sahara sand was dramatic, if slightly less so than a crimson sunset the night before, viewed after a short, fists-clenched, back-swaying camel ride into the dunes.
Another delight at the campsite was the unexpected meeting with two fellow Hamptoners also out in the desert for the night: the guitar star G.E. Smith of Amagansett, a former bandleader for TV's "Saturday Night Live," and his wife, Taylor Barton, a singer, songwriter, playwright, and producer. More amazingly, in fact, about half the camp's 14 guests were from somewhere on Long Island.
Ms. Barton had missed the sunrise completely after a late night of local music and dance in the spacious dining tent following a generous meal of regional dishes. Mr. Smith said he "greeted the sun with my usual cheap cigar." 
They both enjoyed the sunset and the camel ride, their first, as it was for me and my wife, Sylvia. "Much easier to ride than a horse," G.E. noted later.
For Taylor, "camping was by far the highlight of our trip. The bed was a bit hard but it was a bed! The food and music were exquisite and they even had a birthday cake made for me." Said her husband: "I found out from 23andMe a few years ago that I'm 8 percent Bedouin on my father's side, so the desert is in my bones. I heard some great local musicians both on the street and in restaurants." 
It was their first visit to Morocco, my third, and I had long touted it to Sylvia as the most exotic destination only seven hours nonstop from J.F.K. We booked our private, two-person trip through Experience It Tours, recommended by our Sag Harbor neighbor Rhea Burns.
As she had explained, our driver, Ali Ben Harrouche, handed us over to local guides at each stop, and from behind the wheel commented expertly on the culture and countryside passing by. He also made our restaurant reservations and paid the bills. The cost of all breakfasts, dinners, baggage transfers, and tips (but not beverages) was included in our tour fee.
The Smith-Bartons traveled with two other couples, her best pals from childhood, and Abderrahim Abdoul, a guide highly recommended by yet another friend. Like us they went from Casablanca to the northern Rif Mountains and Chefchaouen, the Blue City, with a preponderance of walls and buildings washed in various shades of that hue (as, too, the former yellow cabs). Taylor thought it "the most authentic in terms of the real Morocco." 
Sylvia and I particularly enjoyed our lodging at Chefchaouen's 150-year-old Riad Cherifa, renovated 10 years ago with delicately patterned, exquisitely repainted, wooden ceilings. A final dinner on the top terrace of the Restaurant Hicham provided fine views of flaming torch-twirling in the town's main square. Late calls to prayer echoed from surrounding mosques.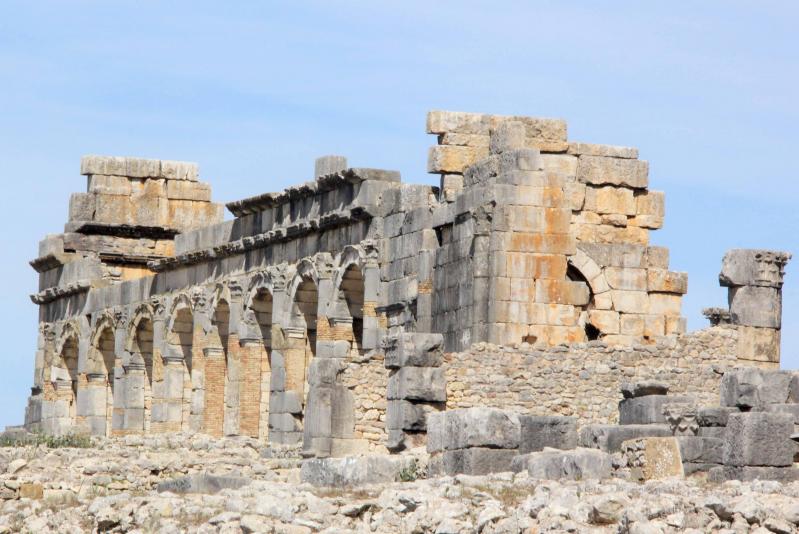 On separate schedules, we and the Smith-Bartons next visited the nation's best preserved Roman ruins at Volubilis, where Taylor was struck by yet another example of Morocco's intruding modernity -- the giant nest atop one towering column in which the resident stork seemed snared by a large plastic bag blown up by the wind. "It was heartbreaking," she felt.
Then it was on to Fes (or Fez), the second largest city after Casablanca. Sylvia and I visited the 11th-century tanneries in whose giant dye pots men in rubber waders stomp natural hues into the animal skins that will become colorful shoes, belts, bags, and jackets. 
On leaving a well-preserved synagogue in the city's Jewish quarter, founded in 1438, we also encountered traditional Muslim musicians celebrating a young couple, their newborn child, and friends.
Dinner for us that night was at the Restaurant Lounge MB (also called Maison Blanche), sleekly modern but with an interior stone wall that linked it in spirit to so much of the local architecture. It was an excellent meal, beginning with my litmus test for Moroccan cuisine: pigeon pastilla.
Not the whole pesky street bird but its shredded meat, wrapped in pastry along with almonds, saffron, and the special seasoning known as "ras el hanout," combining cumin, clove, cinnamon, nutmeg, mace, allspice, dry ginger, chili peppers, coriander seed, peppercorn, and sweet and hot paprika. All topped with powdered sugar!
Then came the long and daunting two-lane road winding southward up and over the Middle Atlas Mountains. Visits to Midelt and Erfoud were on the agenda, but Ali had us stop first for lunch at the barbecue restaurant Diyafa (Hospitality) -- unprepossessing but with delicious lamb ribs right off the grill.
We overnighted in Merzouga at the Riad Madu, looking like a mini-fortress but with palm trees, spacious rooms, a most capable kitchen -- and wine! I managed one lap in the chilly outdoor pool. Next afternoon we headed for the Madu desert camp, the sunset camel ride, and our meeting with the Smith-Bartons.
Again on separate schedules, we and our fellow East Enders started the long journey back northwest toward Marrakesh. Sylvia and I first made brief visits to the holy city of Rissani and deep mountain clefts called the Dades Gorges, then stopped at the delightful L'Ma Lodge in the town of Skoura.
Not a restored mansion like most of the riads where we stayed, it is a restful compound with central gardens, palm trees, modest outdoor pool, and a homey atmosphere designed and built by a French-Belgian couple. Beautiful birdsong filled the air.
We and the Smith-Bartons also made separate stops at Morocco's answer to Hollywood and Bollywood -- Ouarzawood -- movie studios in the High Atlas town of Ouarzazate.
Atlas Studios is the largest in the world, spread over with 322,000 square feet of desert. Its painted plaster imitations of traditional village walls, ancient Egyptian temples, catacombs, and columns for any occasion -- plus mock-ups of military trucks, jeeps, even a jet fighter and Bond-style sports cars -- have provided sets and backdrops for large and small-screen productions from "Lawrence of Arabia" and "Ben-Hur" to "Blackhawk Down," "The Living Daylights," and "Game of Thrones."
In Marrakesh, the Smith-Bartons stayed at the four-star Riad Parco dei Principi, "super cool," Taylor said, with Roman style, a pool, patios for every room, and restful quiet right inside the bustling medina.
A bit farther away, Sylvia and I opted for the palatial La Mamounia hotel, where Churchill, F.D.R., and de Gaulle had stayed. It's still a grand establishment, around whose giant, palm-circled pool one truly gets "the sight of the privileged class enjoying its privileges," to quote "The Philadelphia Story."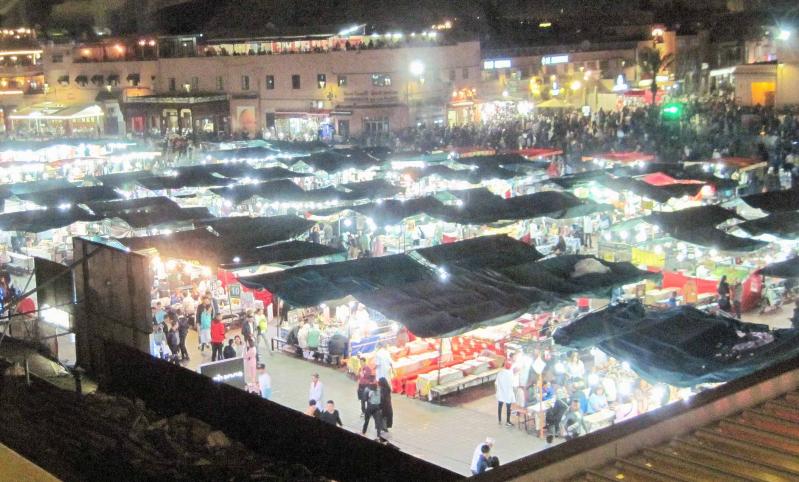 The city's fabled central square, Jemaa el-Fna (also Djemaa El Fna), I recalled as a mad whirl of jugglers, dancers, acrobats, musicians, and snake charmers. But now two-thirds of it seemed filled by ordinary food and market stalls, with only a few swaying cobras, one small band of musicians, and a single young belly dancer, fully clothed.
On our respective flights back to the U.S., we confronted repeated reports of the spreading coronavirus. "It was worrisome to keep hearing newsflashes on the iPhone so we just turned it off," Taylor confessed. "I flew with a mask and scarf wrapped around my face and sanitized my section of the seats." So did Sylvia.
Only days later, safely back in Sag Harbor, we heard the news that Morocco had shut down air, sea, and land links to 29 nations, including France, which would have made our trip home via Paris far more complicated -- if possible at all.
"Inshallah," as the Moroccans kept telling us. "If God wills it."  
---
David M. Alpern, a former Newsweek senior editor, ran the "Newsweek On Air" and "For Your Ears Only" radio shows for over 30 years, now reviews books for The Star, and moderates live and Zoom discussions for the libraries in Southampton and Sag Harbor.
Taylor Barton and G.E. Smith will perform, and she will speak about her new autobiography, "I Pitched a Tent in Hell," on Friday at the East Hampton Library as part of its Authors Night weekend of events.