This year's Guild Hall Artist Members Exhibition is truly a marker of its time. Last year's show opened the weekend before everyone with a summer home decamped to the East End en masse. Like harbingers of doom, within days of their arrival the lockdown shuttered away every nonessential being and emptied every grocery store shelf.
The artwork reads as a reflection of the year that has passed, sometimes quite literally but also subtly, as familiar artists tried new things or turned inward in a time of distance and quiet. 
Parsing through some 420 entrants hung on almost every available wall space in and around the three main museum galleries on Friday was Antwaun Sargent, this year's awards juror. Named a curator and director of the Gagosian gallery in January, he has been a writer, critic, and lecturer for the past decade, with a focus on issues of identity in the work of artists of color.
His choice for top honors, which comes with a future solo exhibition, was Linda Reville Eisenberg for an oil-on-canvas portrait titled "Lee," a portrait of her husband, Lee Eisenberg, an editor of Esquire in the 1970s and 1980s and later Time magazine.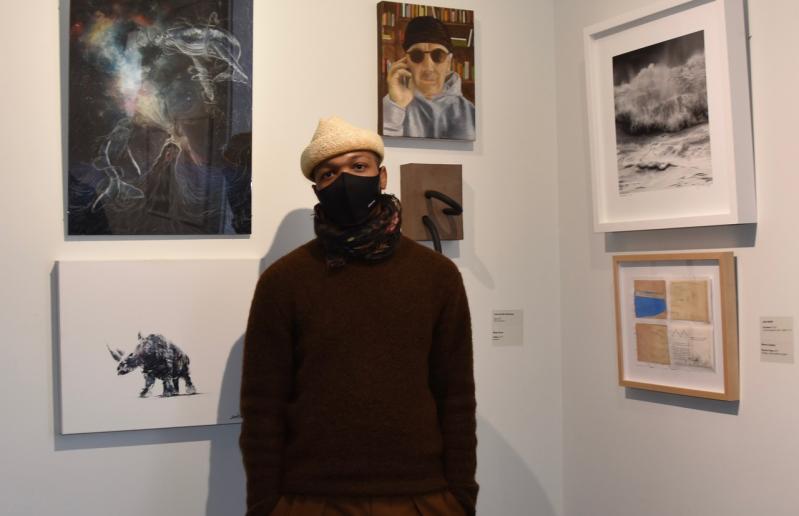 Wearing a tight-fitting beanie and gray hoodie, the subject cradles a cellphone to his ear with a look of intensity on his face. Behind him, a bookcase houses many bound spines. It is a very modern portrait, and the artist's familiarity with every furrow of his face and his defining attire, props, and attributes lends an air of classicism. In this way, it could be right at home in a High Renaissance gallery of the Uffizi or in a later Parisian salon.
"I liked the humor," said Mr. Sargent, who noted that he was paying attention to artists who connected to art history and artists who deviated from it. "I liked her play of color and command of painting."
His approach was to tour the entire show 15 times, putting up Post-it notes when he saw something that spoke to him. "I wanted to get a sense of what stood out without thinking about categories. I thought it would give me a better sense of what I was personally gravitating towards."
In the other categories, he awarded Irwin Weinbaum for best abstract, Doug Reina for best representational, Catherine Berclaz for best photograph, Mahbobe Ghods for best work on paper, Julian Mardoyan-Smyth for best sculpture, Bastienne Schmidt for best mixed media, and Jane Kastan for best landscape.
He gave honorable mention distinctions to work by Mike McLaughlin, Jean Mahoney, Min-Myn Schaffner, Karen Kemp, Gina D'Orazio, Stuart Silverman, John A. Stefania, and Shi.
In looking at all of the work, Mr. Sargent said he was thinking about "some of the formal qualities and then also the social context of the work," as well as originality and whether "the artist's voice was centered in the work."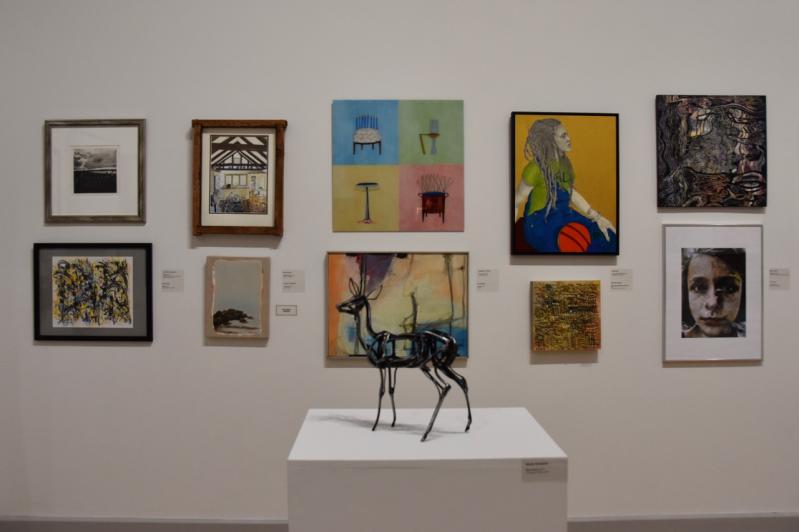 He was struck by the number of landscapes, "beautifully done. There was a lot of fidelity to shape and symmetry in capturing some of the built environment and also nature, being so close to the water." He also "found so much poetry" in an image of the Plaza Hotel by Mr. McLaughlin, an honorable mention. In the abstract works, he said he felt "the energy of the colors radiating from the canvas."
The representational prize winner was a painted image of a truck, just its back wheels and part of its container, "but it felt so vibrant and connected to now. I'm really interested in the ways that sort of small moment on a highway -- that you don't think of as a quotidian moment -- how those moments make up our relationships to work."
In any year, art can be an important marker of a particular time. In 2021, "since we are living through a pandemic, the way the works reflected this moment here" was also a compelling consideration.
Being in East Hampton and at Guild Hall in its 90th year provided further context. "I really like that this museum is about the community and supporting a community of artists. One of the enduring values and lessons from this year is that we have to support ourselves and think of ourselves as a community." He added that he was "honored to be invited in to share my expertise and be a part of the show in a small way."
Not a stranger to juries such as these, Mr. Sargent said each process has its differences, but he values open submission exhibitions. 
"The traditional structure of the art world doesn't always allow for a library of artists to have their work seen by curators, art professionals, and cultural workers," he said. "This sort of exhibition is very important in that it truly thinks about the democratic possibilities of art and how art is a sort of social object that is a reflection of who we are" outside of typical art market concerns. As such, it provides an important balance to them. It also ties in well to the history of Guild Hall and the artist community that it has helped sustain, he noted.
A walk-through of the exhibition with the museum executive director Andrea Grover will take place Friday at noon. A limited number of free in-person tickets are available. The talk will also be offered through Zoom.