The acclaimed American sculptor Mel Kendrick has spent most of the last 40 years taking things apart and putting them back together. Most of those things have been single pieces or blocks of wood. They range from slabs of exotic purpleheart, which according to the artist resembles "a nice piece of seared steak, black on the outside," to hunks of trees massive enough to require the use of a chainsaw to joust with them.
The result is a unique body of sculpture consisting of objects that assume an infinite variety of forms linked by their stubborn refusal to be "a sign of something else," as the painter Carroll Dunham wrote for Bomb magazine about the work of his longtime friend.
Mr. Kendrick was not yet thinking about a career in art while a student at Phillips Academy Andover in Massachusetts. However, "there was a value given to making art" there, he said during a conversation at his studio on the Lower East Side. Little could he have envisioned, though, that a retrospective exhibition of his work would be opening next month at Andover's Addison Gallery of American Art.
He was studying mathematics at Trinity College in Hartford when, during a class in "quantum something, I looked around and realized I really wanted to be down in the art building." The art department had teachers who were based in New York, which "tied us in from early on into seeing the Whitney Biennial, going around SoHo, eating Chinese food."
After graduation Mr. Kendrick headed for the city and enrolled in the M.A. program in studio art at Hunter College, where the faculty included Tony Smith, Robert Morris, and Ralph Humphrey. "My early stuff was process-oriented -- tar paper and wood slats, and that stuff on the floor I developed when I moved into a studio and there were shelves and shelves and shelves, all this old wood that had to be gotten out of there. I had this material."
In addition to the influence of Smith, who was both his thesis advisor and friend, his initiation into the New York art world was accelerated by a brief time working for Dorothea Rockburne, which brought him into contact with such important conceptual artists as Mel Bochner, Lawrence Weiner, and Sol LeWitt. His work in the 1970s also reflected the impact of Minimal Art, although his was not as dogmatic as some others.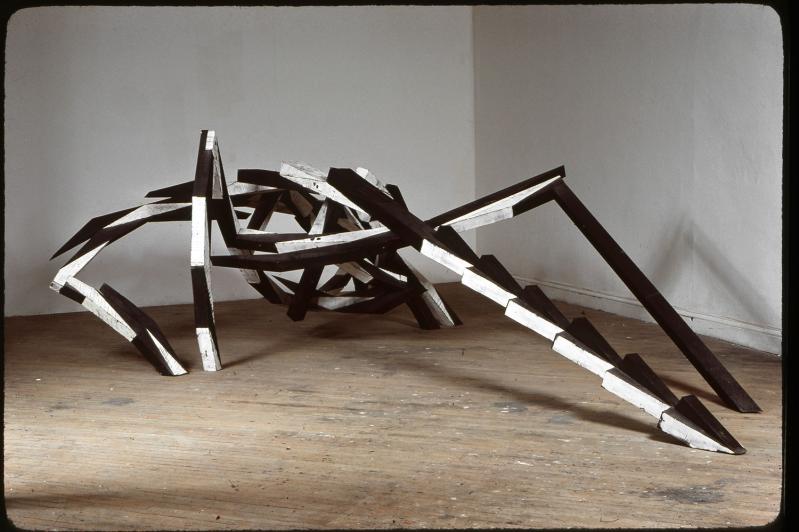 For a 1980 exhibition at the John Weber Gallery in SoHo, the sculptor created a number of large linear pieces from curved laminated wood, many of which seemed to hover, spider-like, just above the gallery floor. One inspiration was Futurism, the early 20th-century Italian movement that emphasized speed and technology. "Those linear pieces had a cube in the center and then lines shooting off at an angle from the cube, which really came from [Giacomo] Balla." He sees those pieces now as helping him work his way out of minimalism.
Mr. Kendrick's sculpture turned vertical in 1982 and has rarely veered since. With verticality came the base. "It's ridiculous to think of having a base as radical now, but as I was going from room installations to objects, I started thinking about how to look at things. Since I was working small, I had to have the sculpture at eye level, but I did not want the white museum boxes, because that immediately takes it from the real world. I got a lot of negative feedback because it sounded like modernism."
Over the years the bases have ranged from welded steel to wooden stands to concrete blocks to metal pipes, at first bringing smaller pieces to eye level, now supporting large-scale wooden clusters. In many works since 2007, a hollowed-out block serves as a base for the interior pieces, which have been glued together into a new configuration or, in some cases, the exact shape they had before being excavated from the block.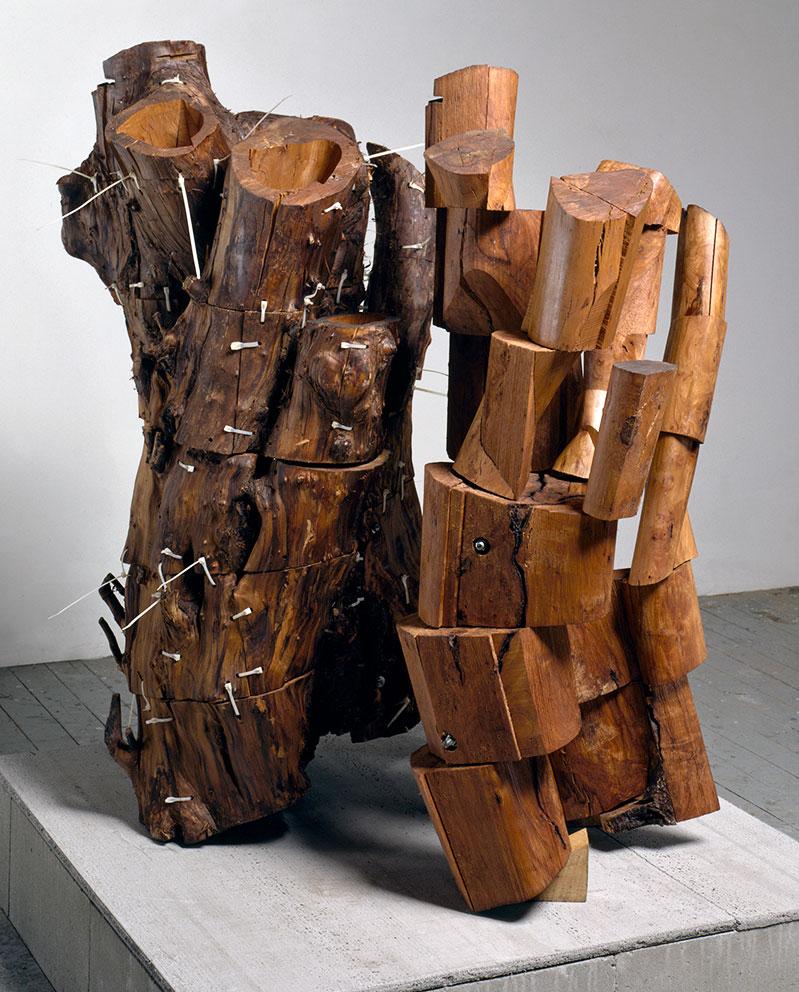 In 2002, Mr. Kendrick showed 10 sculptures he called "core samples" at the Hood Museum of Art at Dartmouth College. His process involved cutting up trees into many small pieces, coring each piece, reassembling the exteriors exactly as they had been originally by using the grain as a guide, rebuilding the core, and showing the outside and inside together.
Those works led up to the "Markers" that were installed in Manhattan's Madison Square Park in 2009, and the "Jacks" that traveled to the Parrish Art Museum in Southampton in 2011. Both installations featured monumental concrete structures, each of which consisted of two parts, one atop the other.
"I thought I'd make a cube, empty it out as the base, and then I would put the insides on top," Mr. Kendrick said. Both installations had alternating horizontal layers of black and white cast concrete, inspired in part by the facades of Italian cathedrals in Sienna, Orvieto, and Florence.
While his wood pieces are resolutely hand-made, no matter the scale, the cast concrete works were derived from large slabs of extended polystyrene foam, cut freehand into pieces in his studio with a hot wire. Those pieces became the molds for the concrete works.
Mr. Kendrick does not make preliminary drawings. Each piece emerges from his engagement with the materials, "slicing them apart, violating them really, and then redeploying the elements in ways that both rebuild and distort the original," wrote Mr. Dunham.
"Sculpture No. 4" from 1991 exemplifies that process. Nine feet tall, made from poplar, oil, lamp black, and pipe, the massive piece is a jumble of the wooden components cut out of the original block, glued together in an almost cubist, plane-shattering conglomeration, and poised atop slender, angled legs -– a base that was "amusing to me because I thought of TV-table legs."
In the catalog for Mr. Kendrick's upcoming retrospective, Terrie Sultan wrote about "Sculpture No. 4": "Ostensibly abstract, it was an aesthetic tour de force of compositional integrity -- the beauty of the work appeared almost effortlessly bred in the bone; the formal aspects of color and composition were perfectly reconciled . . . At the same time it was an intellectual puzzle, its meaning dancing just over the horizon of my perception."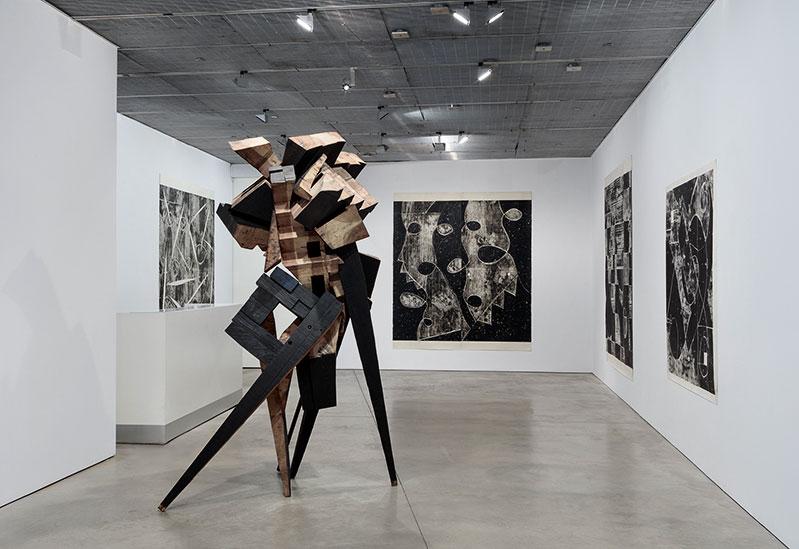 "One thing is that when you cut a piece of wood you can't uncut it," said Mr. Kendrick. "This is very different from working with steel or metal where with welding, everything can be blended together and disappear. With wood, there's a memory there . . . there's nothing to tell you all those pieces are from one block, but I believe that part of why they might work is that in the mind you put together the shapes."
His most recent work features pieces, some wall-mounted, some freestanding, in which the parts of a single block are reassembled in a flatter, more two-dimensional fashion. In some, the hollowed-out chunks form the base for the reassembled parts. "It's an interesting case, going to two dimensions, because I've never done drawings," he said.
Mr. Kendrick was in New York for 10 years before first sharing a rental in East Hampton. A friend suggested that he and his wife, Mary Salter, a film and television producer, check out Sag Harbor. "First of all, I thought North Haven was Shelter Island. When we went to Long Beach, it was hot and muggy. I thought, this is good, but not that great."
After Ms. Salter sold her loft in the city they began to look for a house, and in 1985 bought a century-old carriage house on North Haven -- a "really happy place," but the upkeep was substantial, and after 25 years they moved to a more manageable house nearby.
In addition to five decades of sculpture, next month's retrospective, which will travel to the Parrish Art Museum in 2022, will include Mr. Kendrick's negative-print photography, massive woodblock drawings, and large-scale cast pulp-paper works, created by pressing rubber molds into wet paper paste.
But "pretty much every piece I've ever made is made from a single piece of wood. The work is almost as much an idea of what I want to see as of what I don't want to see. Again and again, I try to fend off any figurative aspects, because I want the objects to be totally self-contained. Everything is there. Any shape you see in one of these pieces, you'll see it somewhere else, either its twin or its negative, and that gives a subliminal cohesion to the object."