There is a photo on the Halsey McKay gallery's website that shows the studio of Colby Bird, its current downstairs artist exhibitor, in Coxsackie, N.Y. It's a small upstate town, 25 miles south of Albany.
The image is an eye-grabbing train wreck. From the objects assembled there or in the process of assembly it is obvious that something transformative is going on. Yet the chaos makes picking out such metamorphoses from the visual clutter similar to a Magic Eye exercise.
It is rather a treat, then, to see that the East Hampton space has done the hard work for us. The curators have assembled a room full of these sculptures in a circular communion, stark but clean against the classic white box setting.
The title of the show, "Unavoidable Blemishes," was taken from a passage in "The Secret Life of Salvador Dali," the artist's autobiography, regarding his mother's death. "I worshipped her . . . I could not resign myself to the loss of a being on whom I counted to make invisible the unavoidable blemishes of my soul."
In their recognition of the permanence of mortal passing and great personal loss and tragedy, the works here have a Frankenstein-like, human-made immortality. They are fashioned out of old pieces of furniture, piping, hair dryers, radios, candles, real and plastic fruit, and more. More means something like the laundry list of mediums in "I Am Not an Animal." Just one example: "pleather, wood, metal hinge, burled wood, linseed oil, wood stain, mineral spirits, wood filler, lightbulbs, paint, burning jealousy, railroad nail, slag glass, electrical switch, bad luck."
The gallery states in a release for the show that the artist has been working in isolation for about four years. That might explain his manifest desire to animate and reanimate these objects, to give him some company. Even as they charm in their 2.0 versions, they have that forlorn, disposed-of quality about them. They're all a bit — if not very — off, not unlike Frankenstein's monster.
But what makes this show truly special is just how quirky and innovative these works are and how their subtexts contribute much deeper meaning. "Portrait of a Drowned Man (After Hippolyte Bayard)" touches on the bringing to life of inanimate objects while reminding or alerting us to the sad and rich history of one of photography's pioneers.
Bayard developed a photographic process believed to have preceded Henry Fox Talbot's and Louis Daguerre's breakthroughs. Yet they became the ones most credited with inventing the technology. Bayard felt ill used by the experience and created his staged photograph "Self Portrait as a Drowned Man" to express his bitterness.
In Mr. Bird's version, executed primarily in bent wood and copper sheathing, a crumpled and abstracted male figure appears to be propped up but lifeless. As activated by the artist (which can be seen in a video playing in the gallery's window), the figure rises and moves using a rudimentary system of balances and rope. Frankenstein lives.
Although the artist is making the figure move in the video, in theory it could be propelled on its own with the addition of real fruit where plastic fruit now sits. Held in place by pleather harnesses at strategic points, real fruit would rot over time, losing its water and weight, shifting the delicate balance to promote the movement of the figure. Most of the work in this series operates with the same catalyst; rotting fruit activates motion, sound, air circulation, and a whole number of interdependent processes ranging from the simple to the complex.
With the centerpiece of the show the reimagining of a staged suicide photo, and the concept of still life being exercised in real life to achieve certain actions, death hangs in the air of the space. But the other works and even the crumpled figure of Bayard offer hope or at least renewal in their complicated chain of actions and reactions. The primary response is one of wonder.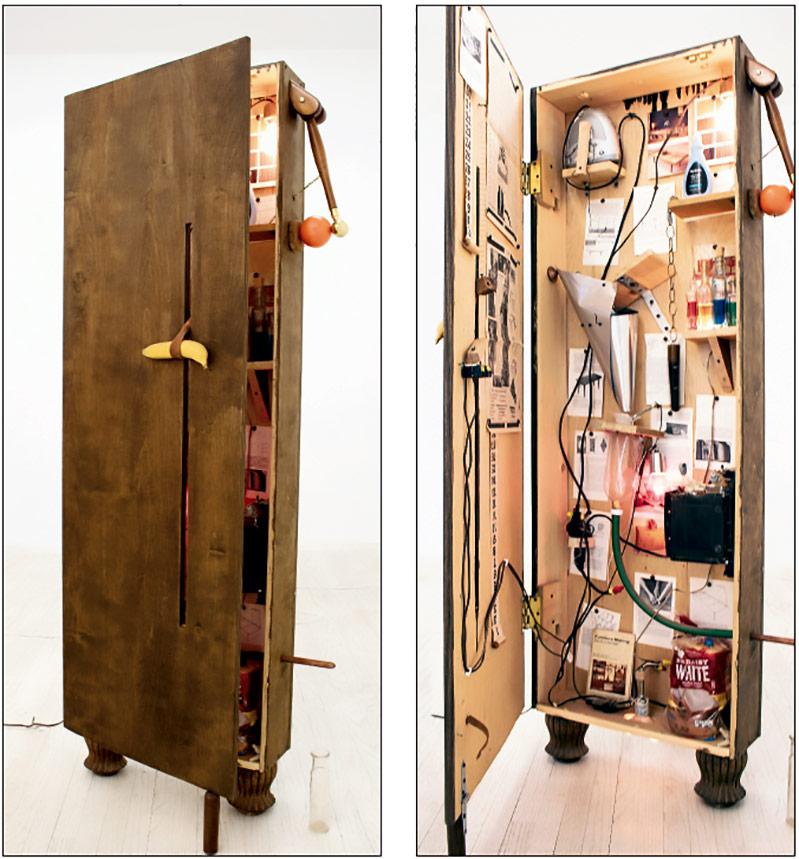 The six-foot-tall "Kiwi Distillery (Culpable Deniability)" could be the hands-down winner in the number of materials used to construct it: "leather, wood, wood stain, linseed oil, alabaster, fruit, brass plumbers chain, brass knob, drywall screws, brass screws, spring, clock radio, methylated spirits, mineral spirits, toaster, glass, antique bottles, the peace that Tracy hoped I'd find, food coloring, bread, plastic, 1960s furniture building manual, 1990s Los Angeles art gossip magazine, copper pipe, plastic hose, lightbulbs, wiring, light fixtures, plaster, paint, wood glue, thumbtacks, lead weight, steel chain, brass ball catch, bocce ball, and aluminum."
In the video, Mr. Bird activates the piece by using a lever to turn on the clock radio (all electronics are in working order), then toasts a piece of bread and sets it as a filter between an improvised funnel over an inverted plastic bottle that helps liquid make its way through. (But first, another piece of fruit must rot.) This liquid drops out through a hose into a small antique bottle placed on the floor as its final destination.
Fans of Maurizio Cattelan might see similarities with the banana Mr. Bird places in a leather strap that would turn the radio on if he was not there, but any fruit could go there, as it could on the side where it would initiate the bottle toppling that starts the falling liquid on its path.
This is one of the most complicated works, but there are plenty that make sounds through radios, bells, or music boxes, or create movement or animation once that ever-present fruit does its thing or the artist or viewer manipulates them. In some cases, there are switches that need to be turned on or a finger is required to be inserted in a blind hole to cause a flower to twirl or a radio to play. 
There is such depth to the show that it's difficult to figure out how to classify it. Is it a somber meditation on loss or death, enlivened by Rube Goldberg ingenuity and a funky, junk shop vibe? Or is it a joyful celebration of reusing, recycling, and repurposing, with a smidgen of somber meditation on the joy and terror of leaving the city for parts unknown? Or is it both, or something else entirely?
Judging by the jaunty kick the artist gives in his video, my money is on the celebration. But the more-is-more theme on display here welcomes a host of takeaways.
Upstairs, Christian Little, an artist who grew up in East Hampton and now works upstate, explores themes related to "maintained appearances," including "vanity, labor, leisure, and perceptions of reality." His acrylic paintings find their origin in his experiences growing up in the midst of privilege in a working-class family. 
Both exhibitions are on view through March 28. Visitors to the Bird show are invited to activate the pieces with the assistance of a gallery representative.