A rainfall of epic proportions fell on the South Fork on Sunday, flooding roadways, art and antiques fairs, and even wooded areas, an event that town officials and others are pointing to as another manifestation of a changing climate.
Abandoned cars, flooded basements, muddy pools, sodden festivals, panicked antiques dealers — those were the scenes on Sunday as the flooding that has overwhelmed parts of New York State's Hudson Valley, Vermont, and many other parts of the world was visited on a South Fork packed with summer visitors.
East Hampton Town Councilman David Lys said on Tuesday that the Highway Department estimated that nearly seven inches of rain fell in a sustained period of perhaps unprecedented intensity. The Suffolk County Water Authority cited a rain gauge in Sag Harbor that put the rain total at 2.67 inches. Dave Collins, the superintendent of public works in East Hampton Village, gave a National Oceanic and Atmospheric Administration total of just 1.96 inches.
The State Department of Environmental Conservation has closed all water bodies to the harvesting of shellfish until further notice "due to the extremely heavy rainfall and extraordinary amounts of stormwater runoff and localized street flooding," which the agency said could render consumption of shellfish hazardous to human health.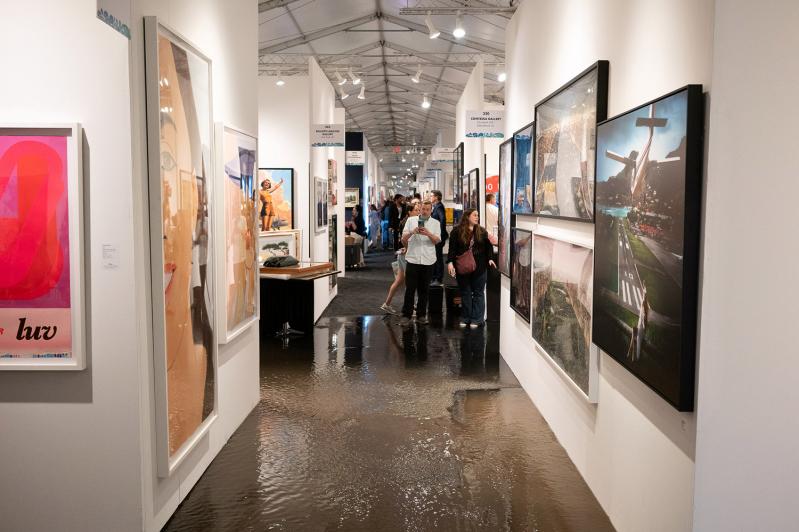 The Police Department had 50 calls for service related to flooding, downed trees and wires, and other conditions over the weekend, according to Chief Michael Sarlo. "Numerous roadways were unpassable for a few hours, and the roadways were dangerous with standing water developing rapidly," he said. Kevin Cobb of the Highway Department said that two small trees were downed on Sunday and staffers were sent to clear them. Crews were out on Monday to answer more reports of fallen trees and limbs. A "very large" tree fell across Three Mile Harbor Road, blocking access, he said, and employees were sent to clear debris from drainage systems.
In one bright spot, drainage infrastructure recently installed on Stephen Hand's Path in East Hampton performed as intended. "It trapped the rain," Mr. Lys said. "The basins that were there in the swales were filling up, but it was still passable the entire way. It kept up, and it dissipated also. . . . There are still other things we need to work on — at the intersection of Long Lane — for drainage, but that worked really well."
Another area prone to flooding, by Rough Riders Landing in Montauk, was passable by Monday, he said. "That rainstorm is something that we haven't been used to seeing, but it's been happening a lot in our geographical region."
Climate change leads to warmer air temperatures, and warmer air absorbs more water, said Gordian Raacke of Renewable Energy Long Island. "As a result, what we're seeing is that there's more water in the atmosphere as the planet gets hotter. That water is absorbed somewhere, then taken somewhere else and dropped there, in some cases as a torrential rainstorm, or across the continent as an atmospheric river."
He likened the atmosphere to a sponge, "and that sponge is getting larger as a result of warming. If you imagine a small kitchen sponge, it can soak up only a certain amount of water if you put it down on your countertop. You take it somewhere else and squeeze it. With warmer air temperatures, we are using larger sponges, as an analogy. That's why we're getting more and more of these torrential downpours." There are other factors in play, he said, "but this is the basic, underlying connection to climate change."
This, Supervisor Peter Van Scoyoc said on Tuesday, is "something we're going to see a lot more of with a warmer climate, the amount of water that can accumulate in the atmosphere and then let go at once." The investments made to improve drainage are paying dividends, he said, adding that he observed inches of standing water in wooded areas of his property, where "there aren't as many trees there to soak up the rain" due to southern pine beetles' destruction of many of them.
Stephen Long, executive director of the East Hampton Historical Society, described a chaotic scene on the second day of the East Hampton Antiques and Design Show, which took place at Mulford Farm. "There were rivers of rain coming underneath the tent," he said. "The dealers were beside themselves. There was a mad dash to get everything off the ground and into trucks, to safety. There were hundreds of thousands of dollars of merchandise at the event. Furniture, artwork, sculpture, cases of jewelry. And these were antiques, they're not machine made coming out of some factory. Some of these items were hundreds of years old."
The water, he said, had risen higher than the bottom of his car, which was parked in front of Clinton Academy in East Hampton Village. He said that once the tents are gone, he has a team ready to relevel the ground, which became very rutted as trucks labored through the mud.
Cynthia Corbett, of the London gallery that bears her name, reported a similar experience at the Hamptons Fine Art Fair in Southampton, which concluded on Sunday. "We seemed to have been at the epicenter of the flooding, but we had experienced flooding a bit on Friday as well," she said. "We were extremely lucky. All the other galleries around us who had not had any water grabbed all my stuff that was on the floor; everyone was so wonderful. We just had to get everything on tables." Only a few art books were damaged, she said, but "all our crates were destroyed," the art she displayed having been shipped from London. They were empty, "so at least the art was safe. I feel very fortunate."
"It was a terrible ordeal," agreed Catherine McCormick of MM Fine Art, Advisory, and Appraisals. "There were inches of rain in the tent. We were lucky because we didn't have much [art] on our floor, all of our work was hanging." The mood was jovial at first, she said, "but then it just got dangerous. It was very chaotic leaving. The field was totally flooded and covered in mud and water. They evacuated the fair and we couldn't go back until the next day." When she returned on Monday, "everything was very moist."
"My friend Chris Catanese is a bubble performer, so he's really in tune with the weather," said Diana Kolhoff, who spent the storm under a tent at the Greek Festival in Southampton with Mr. Catanese. "When it started, he thought it would be over in 45 minutes, but once we got our food and sat, this torrential, exciting rain, like people don't see, just kept going. The band still played, people still danced, and we ate."
But once the rain let up and she went to her car, a Prius, it was half submerged in brown water. She left it, going home via Lyft. When she returned on Monday, her car started, but she had to bail inches of water from the rear floorboards. "When I'm driving, I hear water sloshing in the doors still. I'm just trying to keep mushrooms from growing now," she said.
RELATED STORY: When It Rains, It Pours
Chris Malloy, owner of Malloy Pools and Construction, said, "With a storm like that, people are worried their pools are going to overflow. That's not a problem. The problem is if your pool is in the path of runoff. It fills with mud and debris and could take a week of filtering to clear the water."
"The wildest one was a giant window well that couldn't handle the amount of water," said Keith Schumann, owner of Anchor Homes and Estates. He manages vacation homes and, as a problem solver, was deluged by text messages and emails from clients as waters started rising. "The water collected until it spilled over the windowsill and cascaded into the basement," he said. Because basements on the South Fork are often full of expensive toys like gym equipment and home theaters, "a lot of these issues become time sensitive," he said.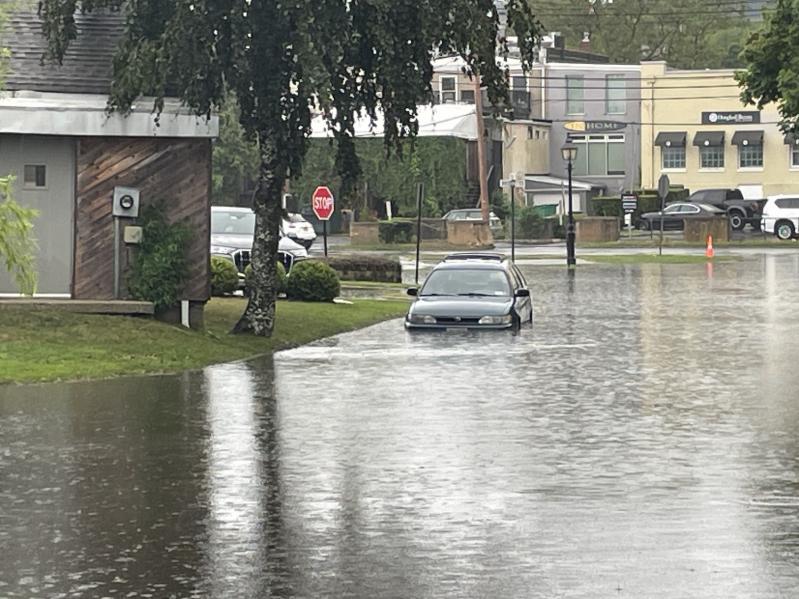 In Sag Harbor, "The entire back lot swamped very quickly, which was pretty startling to see," said Rory McEvoy, owner of Kidd Squid Brewery on Spring Street. "The Police Department positioned a vehicle to block traffic, then set up a sawhorse."
Businesses, lacking competition from the beach, filled up. The Candy Kitchen in Bridgehampton was full. Grindstone Coffee and Donuts, in Sag Harbor, put out its awnings to help keep people dry as they waited in line. Eden Benard, the manager, said the line didn't let up all day.
Mr. Raacke said he hopes such rain "will wake everyone up to the reality that is climate change. This reality is hitting home now, and fortunately East Hampton and the State of New York, and many other areas in the country and around the world, are waking up to reality and are taking meaningful action to mitigate climate change. It's too late to avoid it altogether, but we can still make a big difference if we shift completely away from fossil fuels to renewable energy sources as fast as we possibly can. We're facing a climate emergency."