The horseshoe crab starts its extraordinary annual migration to the East End not in Manhattan but on the continental shelf, in the dark, under hundreds of feet of water. Some ancient instinct, strengthened over nearly 500 million years of life on earth, tells it to begin, and over the course of months it edges closer to our shoreline, until the waters become shallow and the crab's days slowly brighten.
On a full moon tide in May, its journey is complete, and along the bottom of our bays, hundreds pair off. The smaller male attaches to the larger female, who finds a suitable beach to lay her eggs. She buries herself five to 10 centimeters into the sand and deposits upward of 10,000 eggs before the male fertilizes them.
"She drags him around. He's sort of along for the ride," said Matt Sclafani, who works for the Cornell Cooperative Extension, and runs the horseshoe crab monitoring network in New York on behalf of the New York State Department of Environmental Conservation. "The female pumps the water with her gills to help increase the fertilization success." Satellite males, unattached to the female, also can externally fertilize some of the eggs.
It's in this vulnerable state, and under the cover of darkness, that surely the most surprising aspect of this story occurs for 150,000 crabs annually. They are lifted out of the water by their tails and thrown into a trash bin before they are ground into bait for whelk and eel.
"Before the females have a chance to lay eggs they're harvested," said John Turner, a senior conservation policy advocate at Seatuck Environmental Association. "All that reproductive potential is lost. Females are most desired by fisheries because they're larger than males. It's a moral issue. We're allowing the killing of 150,000 animals, not even for humans. They're caught to be put into pots to catch other things we kill and eat. It's pretty wasteful," he said.
According to the D.E.C., 431 commercial horseshoe crab permits were issued in 2023. While the 150,000 annual take may sound high, the Atlantic States Marine Fisheries Commission allows New York to harvest 366,272 annually. Since 2004, the D.E.C. "has voluntarily reduced harvest to 150,000 crabs annually."
Despite that reduction, in 2019, New York State was the only state to receive a "poor" grade by the Atlantic States Marine Fisheries Commission when it conducted its five-year population assessment. New York comprised 21 percent of the entire East Coast harvest of the crabs. "Horseshoe crabs in the New York area are in a state of decline and this trend is primarily attributed to harvest for the bait industry," reads the report.
But commercial fishermen are also in decline and have been since before Billy Joel wrote "The Downeaster Alexa" in 1990. Bonnie Brady, executive director of the Long Island Commercial Fishing Association, said, "We're highly regulated, and New York keeps a real pulse on that." The problem doesn't begin and end with commercial fishermen.
She said the 2024 fisheries commission stock assessment update will hopefully provide more data "that will be able to point towards a specific situation and whether it can be addressed." Some stressors are environmental, she said, and have nothing to do with fishermen. She also mentioned the South Fork Wind farm, which seeks to bury cables under the ocean floor, where crabs overwinter.
"From what we can tell, levels are lower than they were historically, but stable. We would like to see that increase," said Mr. Sclafani. The D.E.C. bases its catch guidance in part on his population findings.
As a response to the poor grade, the D.E.C. started to close off certain beaches to harvesting and prohibited harvesting crabs during the first full and new moon cycles in May and June. This not only helps the crabs, but the shorebirds that rely on their eggs as fuel for their long migrations north in the spring. Many birds are in crisis, but shorebirds are declining at a higher rate than most.
"They're trying to see if that helps the crab stock, but it'll take six to eight years to figure that out," said Mr. Sclafani.
However, the best outcome for the crabs would be if an alternative bait option were found to support whelk and eel fishermen. "Seatuck is very interested in supporting research for an alternative synthetic bait," said Mr. Turner. "Synthetic hockey pucks that could be used repeatedly. They're cost effective and bait effective. That's the holy grail," he said.
Jim Grimes, an East Hampton Town trustee, has monitored horseshoe crab populations in Napeague Bay for the past seven years as part of Mr. Sclafani's program. Horseshoe crabs are counted during full and new moons from May to July and crabs that have been previously tagged with acoustic tracking devices are noted.
Mr. Grimes has noticed crabs with the devices tossed into the dunes, a practice he blames on poachers, who are obviously unregulated. "Our local baymen wouldn't do that. I have a pretty good relationship with the guys who are permitted to collect the crabs. They put the tagged ones back. I don't think they're putting a big dent in the population; there's just not that many guys doing it."
He said this spring was the best year for horseshoe crabs that he has seen in Napeague Bay. "One night we must have had 750 crabs in there. It was like a drug-fueled orgy."
Other crabs aren't harvested for bait, but for their blood. Horseshoe crabs have unique, copper-based blood, which makes them valuable to the medical trade. It's a key ingredient in the Limulus Amebocyte Lysate (LAL) test, which checks vaccines and medical implants for bacterial contamination. An article on NPR.org from June said over 700,000 crabs were drained in 2021, with little regulation.
"Anyone who has had surgery in the last 40 years owes their life to a horseshoe crab," said Mr. Turner.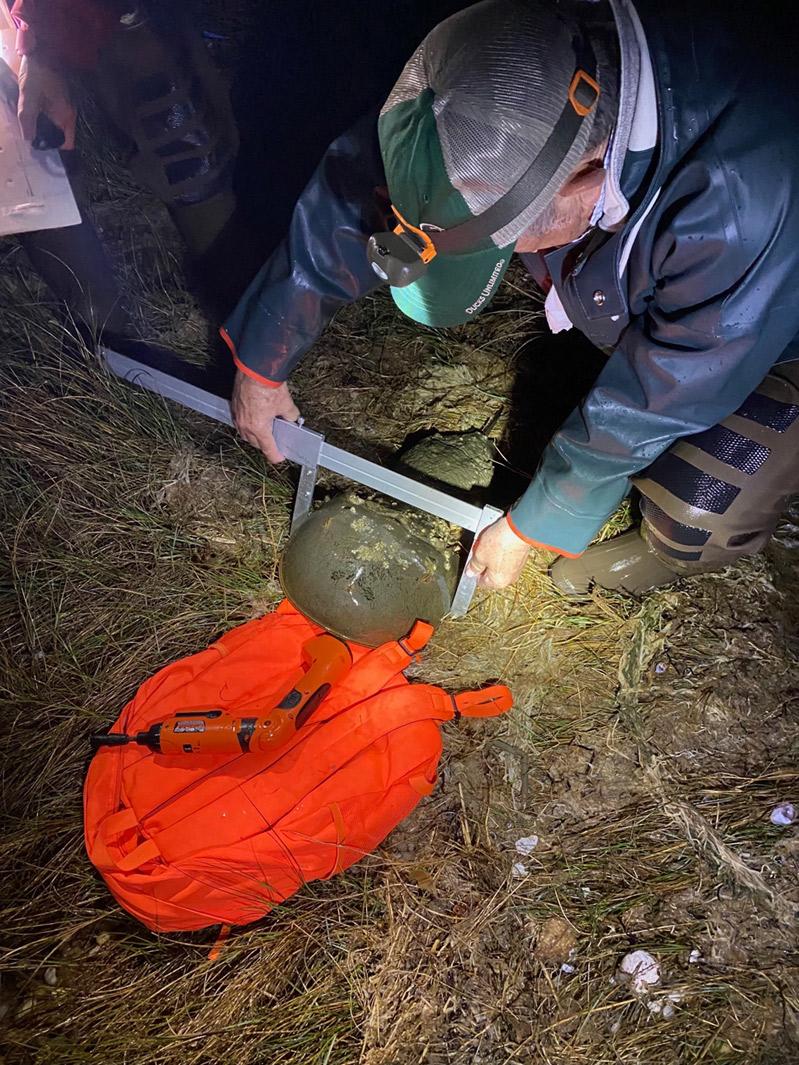 Horseshoe crabs are harvested, bled, and then returned to where they are collected. "Industry will tell you that the number that perish is low, less than 10 percent, but the A.S.M.F.C. documented a mortality rate of 15 percent," said Mr. Turner. Even the 15 percent number could be conservative, as crabs are not monitored after they are returned to the water.
However, like using crabs as bait, this practice may, in time, become anachronistic. In Europe, and "much of the rest of the world," Mr. Turner said, a synthetic alternative to horseshoe crab blood has proven just as effective. "Long term we should reach a day where horseshoe crabs are no longer bled at all."
However, even if science can solve the problems of harvesting the crabs for their bait and blood, there is still the problem of habitat loss.
"If they hit a bulkhead, it might as well be the Great Wall of China," said Mr. Turner.
"I'm more concerned about that long term than anything else," said Mr. Sclafani. "The intertidal zone is critical for them and they're facing intertidal squeeze right now. . . . It's a tough battle that pits owners and their property rights against natural resources that don't really have a say. But we need living shorelines."
Horseshoe crabs are valuable not just to humans and birds, but in their own right as some of the earth's oldest residents. They're a precarious bridge to the ancient world.