The National Hurricane Center in Miami, Fla., revised its prediction for the path of Tropical Storm Henri, projecting a Sunday morning landfall on Long Island. 
As of the 5 a.m. Saturday warning, Henri was expected to strengthen to a Category 1 hurricane, with maximum sustained winds of 80 miles per hour. 
Henri was forecast to drop in intensity as it moves over cooler water near the Northeast coast but conditions will remain dangerous throughout the day on Sunday. 
The Hurricane Center's projected path would put Henri's eye coming ashore in Southampton. The would put all of the South and North Forks of Long Island on the storm's eastern, or more powerful, side.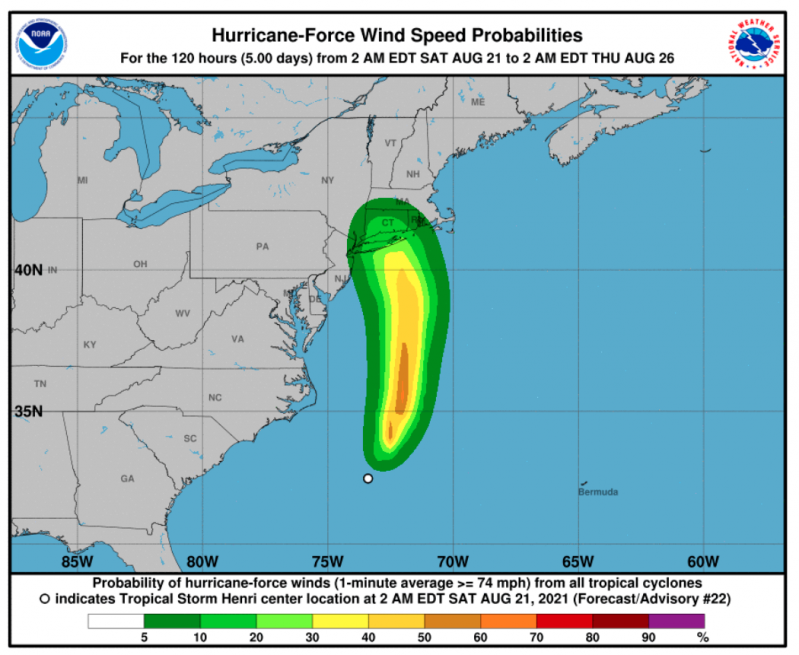 ---
Tropical storm-force winds, of 39 miles per hour or more, were forecast to reach Long Island at about 5 a.m. on Sunday and hit the Connecticut and Rhode Island shoreline about 8 a.m. This would coincide with an incoming tide, which could add to the extent of damage from erosion and coastal inundation. 
With the changed path of the storm, the National Weather Service has increased its peak storm surge projections to 3 to 5 feet on Long Island Sound and along the ocean from Mastic Beach to Montauk Point. Three-to-5-foot surges were anticipated in Narragansett Bay in Rhode Island to Chatham, Mass.