When much of the United States went on lockdown in the early days of the pandemic, animal shelters like the Animal Rescue Fund of the Hamptons, the Southampton Animal Shelter Foundation, Last Chance Animal Rescue, and Gimme Shelter Animal Rescue often had to rely on volunteers to foster the animals they had rescued until they could be adopted. Happily, some of those foster homes became permanent homes. 
"We were always accepting and processing online adoption applications but we didn't adopt out animals (or foster) for about a month, maybe six weeks, at the height of the pandemic for safety of staff and public and the stay-at-home orders," said Jamie Berger, the director of marketing and communications at ARF.
Its Adoption Center remains closed to the public, she said recently, but ARF is processing adoptions by appointment. Applications are available online. ARF's rescue transports are still on temporary hold, and because newer rescues are not arriving, staff are hoping that the older, and often overlooked, animals might "finally find their forever homes," she said.
Such was the story with two of ARF's more unprepossessing rescues: Tucker, a cattle dog-pit bull mix about 8 months old and missing his front right paw, and Sophie, a boxer mix that is almost 10 (more on her later).
Debbie Boehm of North Shirley, a retired assessment assistant for Brookhaven Town for 30 years, had adopted a pug three years ago that ARF had rescued from a puppy mill. She was so touched by how much they did medically for Wednesday while charging only a nominal adoption fee that, once retired, she volunteered for three months to walk ARF's dogs. After having to give that up, she got a call from ARF toward the end of March asking if she would foster a dog. (Full disclosure: She already had three pugs: Pugsley, 15, Wednesday, 10, and Polly, 6, and two cats.)
She and her boyfriend, Craig Hyams, went to pick him up and fell in love: "He was a perfect dog, house trained and lovable." But crate training Tucker, with so much else going on, was one thing too many. On May 21 she took him back to ARF. "Everywhere I looked his toy was there, his bone was there, but no Tucker." Two days later, she decided to go back to adopt him. 
And then there was Sophie. Julie Silcox of Sag Harbor first spotted her in December "tucked into one of the windowed kennels of the ARF van looking sort of like a circus bear on a tricycle." In addition to being older and weighing almost 70 pounds, "she has an amazing underbite, complete with a snaggletooth, and more often than not, her tongue hangs out the side of her mouth. She was quite a sight," Ms. Silcox said.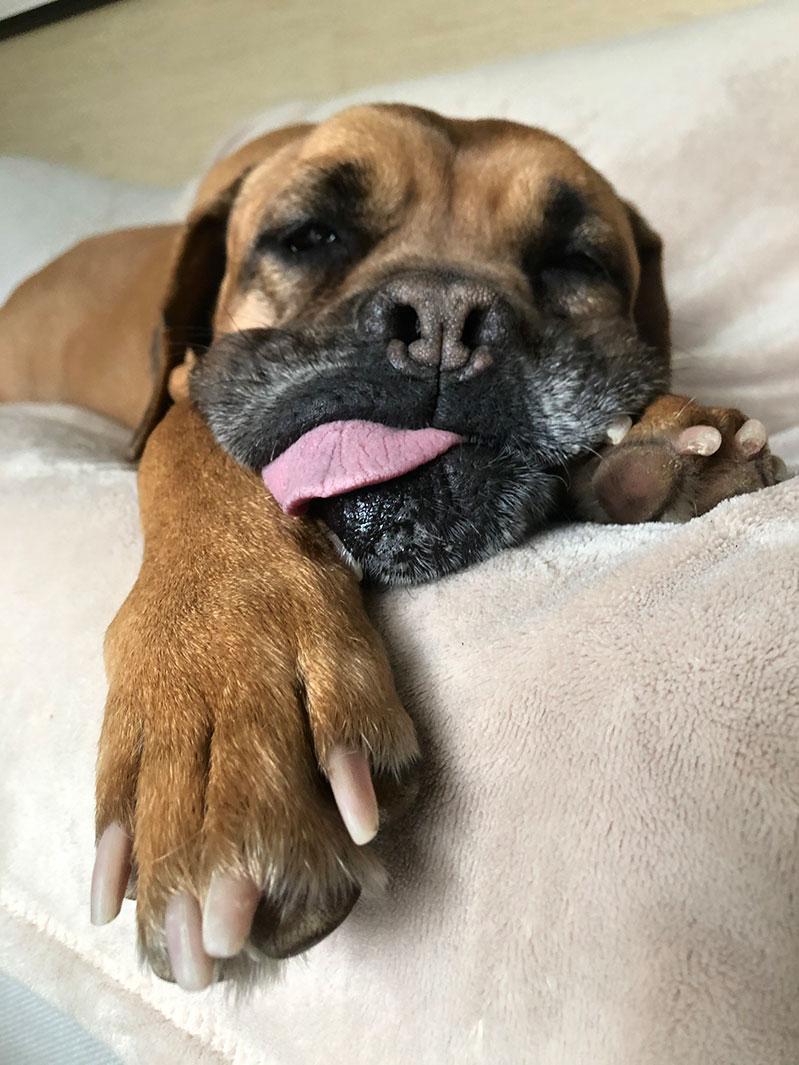 She saw a couple "fawning over Sophie" and heard an ARF person saying to them "She's the best dog, but she's old, so a lot of people don't want her." That broke her heart. She and her boyfriend, Mike McQuade, went on vacation right after that and she couldn't stop thinking about Sophie.
She hoped she had been adopted, but when she checked the ARF site in late February "my heart sank when I saw that she was still there. When Covid hit, I knew we had to get her. We filled out the forms online and an hour later we were at ARF to meet her. She walked over and laid her head on my leg and I fell in love. ARF had to release her to us as a foster [on March 23] because they weren't able to process adoptions because of Covid, but I knew she was never going back. . . . She settled in pretty quickly; I think within 45 minutes she was fast asleep, snoring on her favorite place, the couch. She's almost 10, so she's a grown-up.  She enjoys moderate exercise, unending head scratches, going to bed early and sleeping in late."
Ms. Silcox was amazed to discover how many people recognize Sophie when she walks her. "I've been stopped four or five times on our walks with people asking, 'Is that Sophie? I heard she got adopted!' ARF tried really hard to find her a home -- I feel lucky it was ours."
Last Chance and Gimme Shelter, two other local animal rescue nonprofits, place animals -- many from out of state Ñ in prescreened homes and pay for veterinary care beforehand. Last Chance's pets are in foster homes now and it is doing virtual adoption events at 10 a.m. on Sundays. Both agencies do in-person meetings after that and once all paperwork has been filled out and approved and interviews done, a meet-and-greet is set up, with adherence to C.D.C. guidelines. 
Any dogs that come back to Last Chance are housed in a lifetime sanctuary in South Carolina, said Jude Langmaid, the adoption program director. Gimme Shelter discourages adopters from giving their dogs away to other people; they must return them to the shelter.
The Southampton Animal Shelter Foundation, which has a facility in Hampton Bays, closed on March 17 and a week later launched roadside adoption events, comparable to curbside pickup. Between January and April, the shelter logged adoptions of 156 dogs, 90 cats, and 11 hamsters, guinea pigs, and bunnies. Many more have been adopted since then, and the shelter is beginning to open to the public on a limited basis. In-person events are canceled until further notice; however, potential adopters can make appointments. The fosterers get the first right of refusal before an adopter gets the nod. Cats get Skype and FaceTime with people who might want to adopt them. And adopters can go in on a limited basis to meet the cats, with gloves, masks, and distancing required.