At least 500 people, some say well over 1,000, shut down Main Street in Bridgehampton on Tuesday night during a march to remember George Floyd, the 46-year-old black Minneapolis resident who died after Derek Chauvin, a white police officer, knelt on his neck for more than eight minutes on May 25. The protestors reaffirmed the message of the Black Lives Matter movement, which emerged in 2013 after the acquittal of the man who killed Trayvon Martin, an unarmed, black teenager, in Sanford, Fla.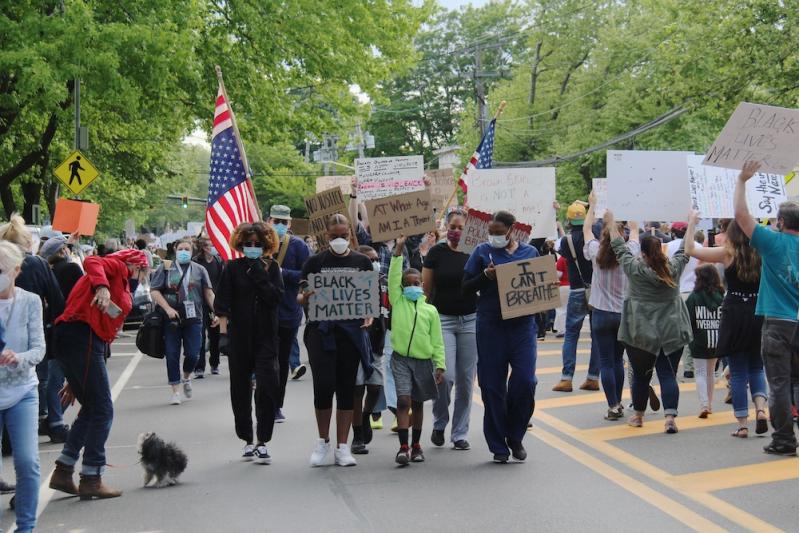 "No justice, no peace, no racist police," the Bridgehampton crowd shouted.
"Say his name. George Floyd," it chanted.
The voices were diverse, the majority of them wearing masks to try to prevent Covid-19 from spreading while they were spreading their messages demanding racial justice. Three people carried American flags at the head of the line. Some lay down in the street in an act of solidarity with protestors around the country and world. But unlike what has transpired in some cities, where demonstrations have been characterized by violence, destruction, and looting, the march in Bridgehampton was peaceful and police officers were helpful.
"We are here to do a peaceful protest. We love our community," said Willie Jenkins of Bridgehampton, who organized the event along with Lisa Votino of Southampton. 
"You're in the company of amazing people right now," Ms. Votino said.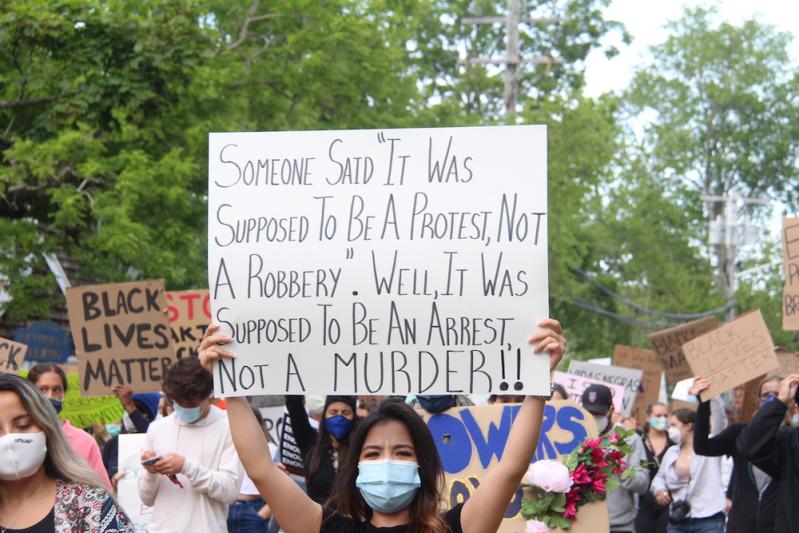 "I really just want to listen and be here for black people," said Bram Dougherty-Johnson of Shelter Island, who was among the crowd with his family. 
Ahead of Tuesday's protest, a group of college and high school students that calls itself East End Against Hate announced it has planned a protest in Sag Harbor on Friday at noon (its rain date is Monday). "We hope to educate those in our community and encourage positive utilization of the innate privilege many of us hold," the group said in a statement. "We are disgusted and outraged by the persistent and radical marginalization, police brutality, and discrimination towards the black community. These injustices have been prominent in our culture for too long."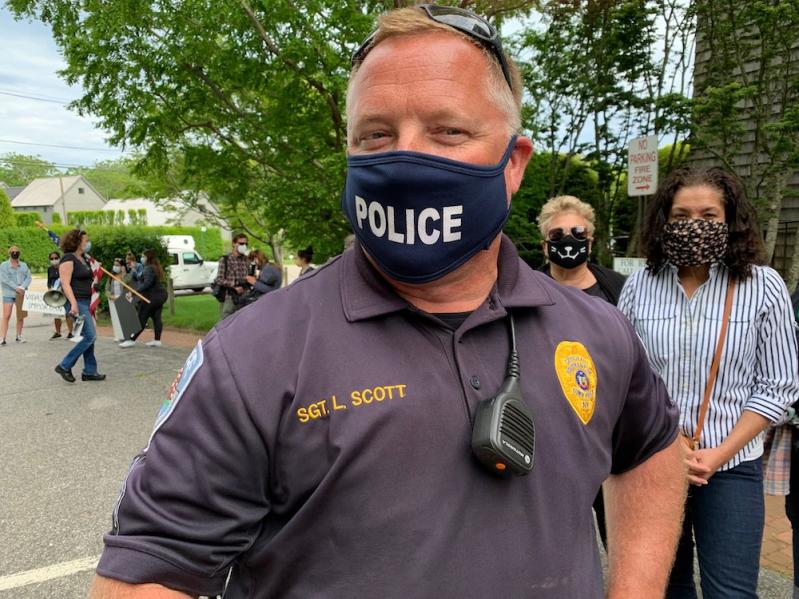 A public gathering for prayer will be held Thursday at 10 a.m. at Agawam Park in Southampton Village, and at 6 p.m., there will be another demonstration led by a group of students. A post on The East Hampton Star's Instagram page also indicates that a group is planning to organize at Hook Mill in East Hampton Village on Sunday. Titled Say Their Names: A Peaceful Rally, it will be from 2 to 5 p.m. 
A small demonstration was held in Sag Harbor on Sunday. Mayor Kathleen Mulcahy said the village administration was not aware it would be taking place.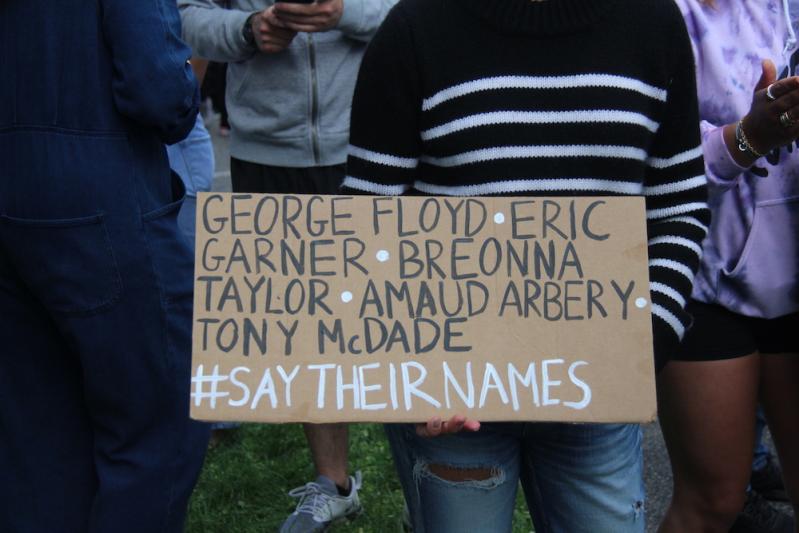 "My impression was that it was wonderful. That's how peaceful protests should be," Ms. Mulcahy said Tuesday. "But we cannot give [East End Against Hate] a permit because that's against the mass gatherings law at the moment, under the state of emergency."
She was referring to the village's mandate in light of Covid-19. Other government officials, including Suffolk County Executive Steve Bellone on Tuesday, similarly expressed support for the protestors' cause in addition to concern over the potential to spread Covid-19.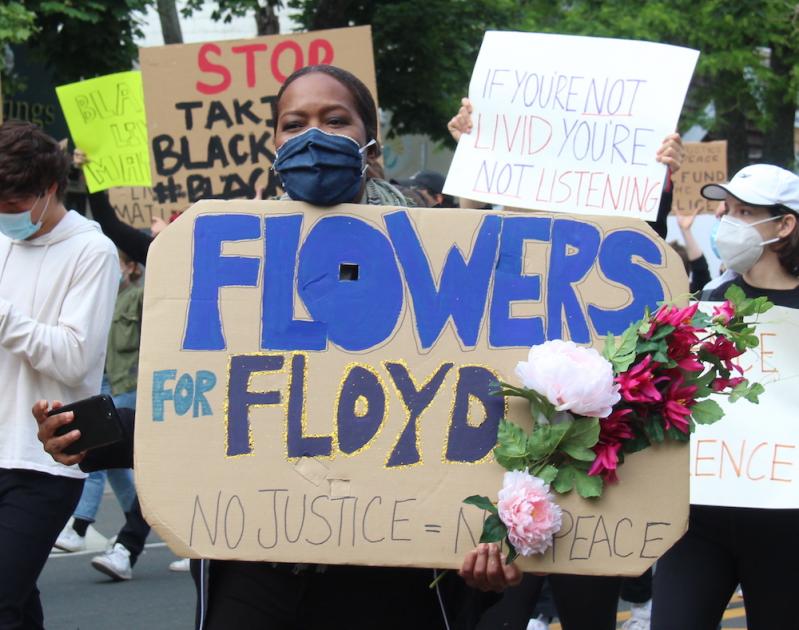 "I thank them and am grateful for them coming out and expressing their First Amendment rights . . . and doing it in a peaceful, nonviolent, nondestructive way," he said, saying it is also a credit to the actions of the men and women of the Suffolk County Police Department.
He described the situation as both a public safety crisis and a public health crisis.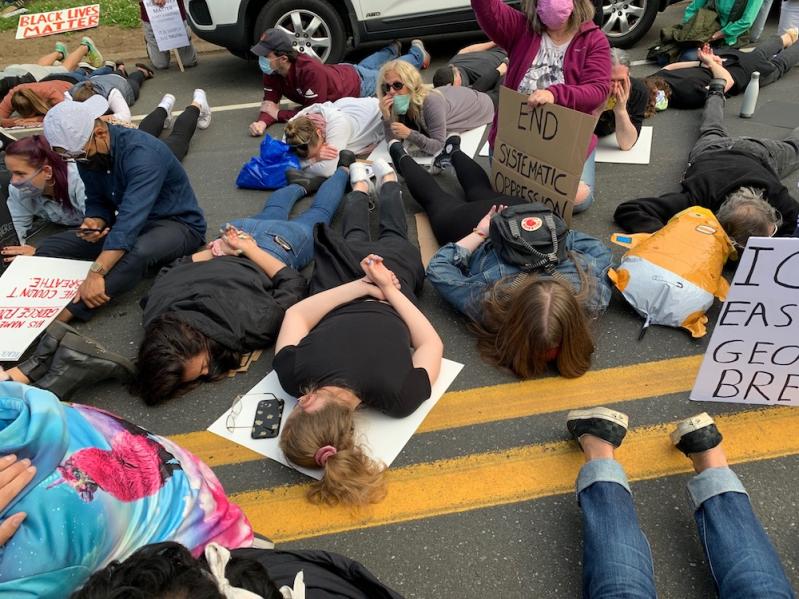 "For the most part, however, we have seen social distancing. It has been a challenge, I would say, but there have been a lot of people wearing face coverings. Not universally," Mr. Bellone said. "When you have gatherings of that size now, when you still have 250 people in the hospital and we're getting [new] positives every day . . . yes, that is a concern. We will be looking 10 days, two weeks out from here to see if there is an impact."
In a press briefing on Sunday, Mr. Bellone said the Suffolk County Police Department has focused on building relationships in every community, and officials have been attempting to root out systemic racism, particularly in the justice system.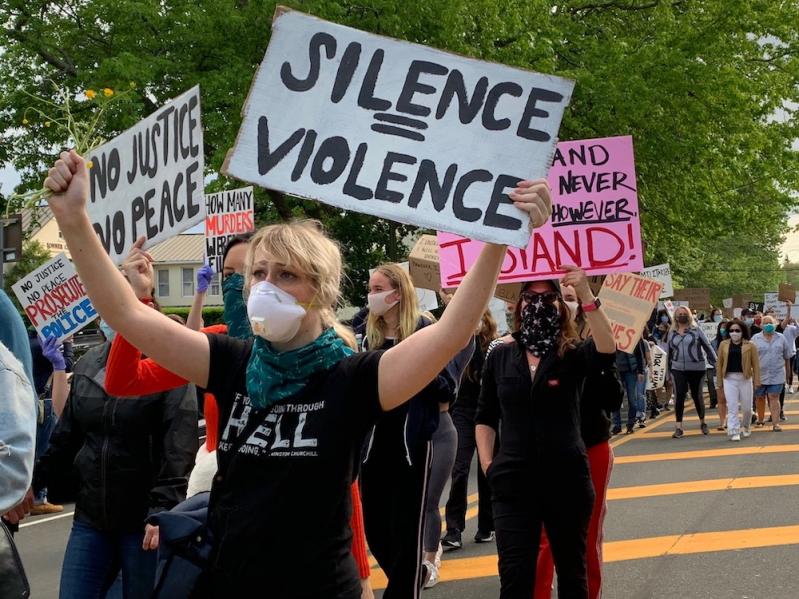 Suffolk County Chief of Police Stuart Cameron, who participated in the briefing by telephone on Sunday, said that the neck hold used by the Minneapolis police officer was not a maneuver that is authorized by the Suffolk County Police Department. The county police were "shocked" to see video footage of the incident, said Chief Cameron, and the force felt "aligned with the peaceful protesters."
"They took this job to help people, and not to hurt people in any way, shape, or form," Chief Cameron said.
East Hampton Town Police Chief Michael Sarlo said in a statement on Tuesday that "the George Floyd incident was horrific, tragic, and unacceptable."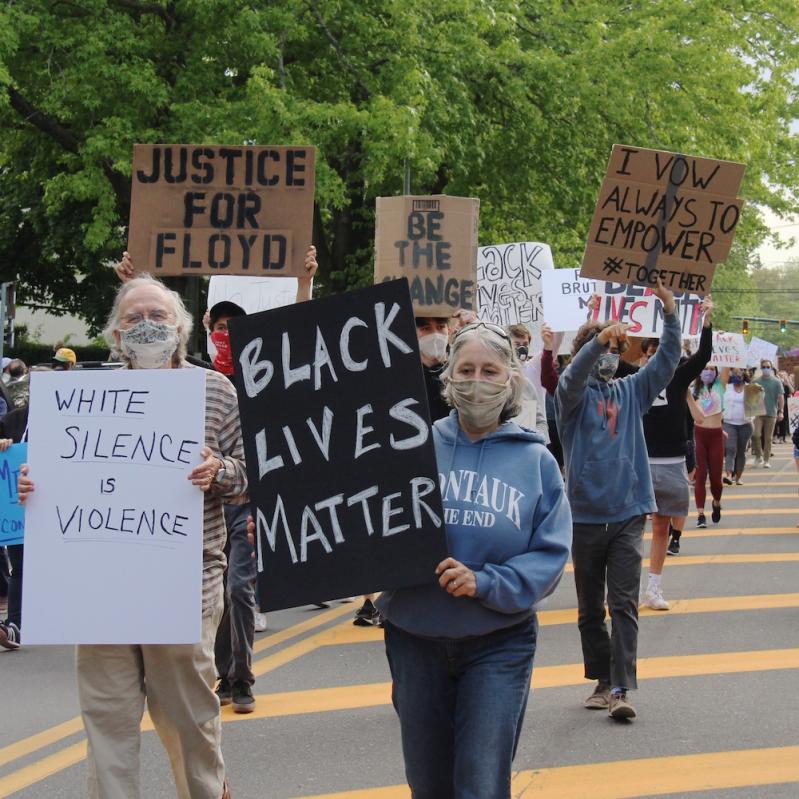 "We have come so far in so many ways in police community relations, as well as accountability for use of force, and incidents like this set us all back and make every good, honest, fair, and decent police officer's job harder," Chief Sarlo said. "The E.H.T.P.D. has a tremendous relationship with the community we serve, and takes great pains to ensure our officers are trained properly, and a culture of equitable fairness is embraced. We must always stay abreast of the national discussion, and we are ever mindful of how implicit bias and stereotypes can play into any individual encounter." 
He called policing "one of the most difficult jobs there is."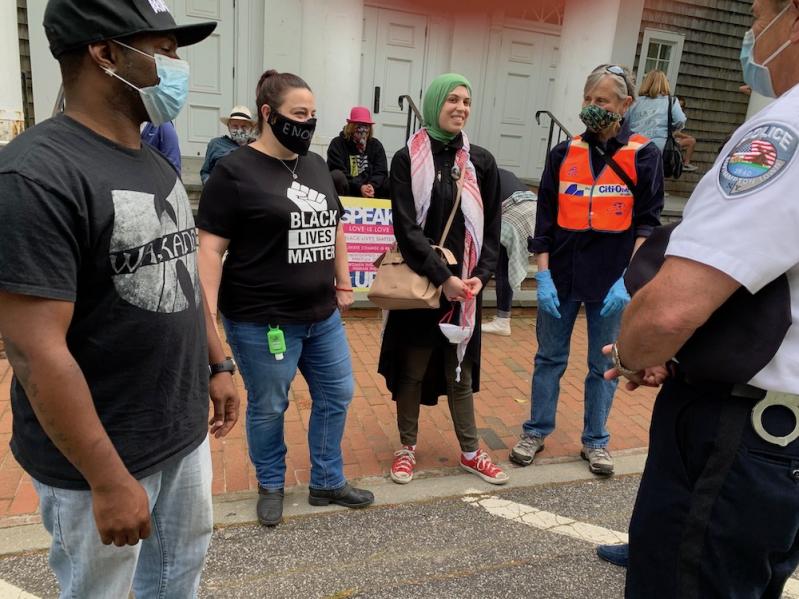 "We are human beings tasked with making life and death decisions, handling crime and dealing with people in crisis, subduing combative individuals, helping the injured, and issuing citations for violations of minor infractions -- all in the name of keeping society peaceful and lawful," Chief Sarlo said. "However, many people inherently resent enforcement actions of any kind, and have animosity towards police in general. The actions of a Derek Chauvin stoke the flames of conflict, bring discredit on the good work of the majority of officers, and continue to divide people."
He said "violence toward police is not the answer."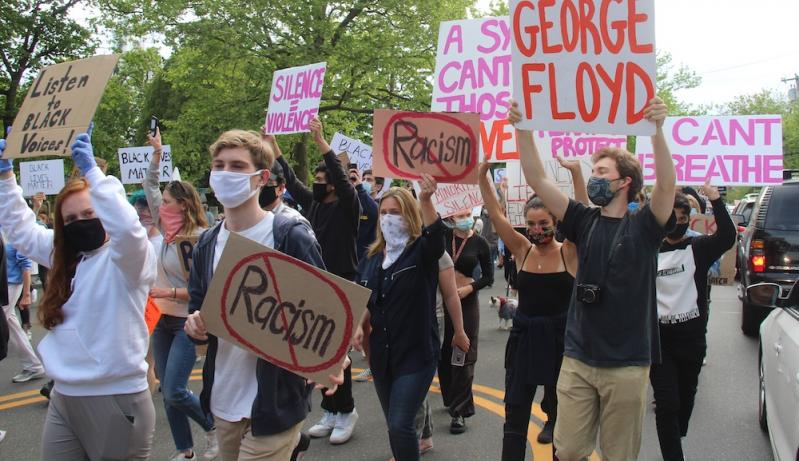 "Our society must always push forward toward equality and fairness, not just in policing. . . . Let's all try to take the tragedy of George Floyd and continue to make positive steps toward progress," Chief Sarlo said.
With Reporting by Christine Sampson